11 Bizarre Ways The U.S. Government Spent Money In 2014
In the final edition of his "Wastebook," retiring Sen. Tom Coburn details how your tax dollars are going toward massaging bunnies, homes for border patrol agents, "poop packs," and of course — porn.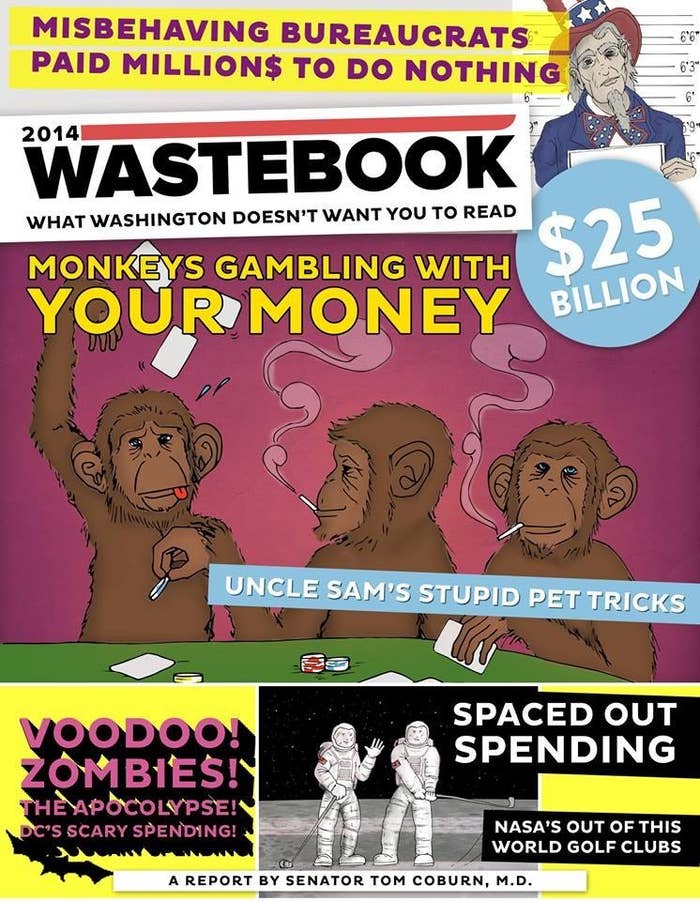 WASHINGTON — Sen. Tom Coburn released the fifth, and last, installment of his annual "Wastebook" on Tuesday, detailing 100 ways he says the federal government threw away $25 billion, ranging from subsidies for Bruce Lee plays to porn.
Coburn is set to retire following the end of the current session. His Wastebook report has become a regular chronicle of overspending and questionable financing by federal agencies.
This year's report covers a gamut of examples of "outlandish" government spending, ranging from from an employee who admitted to watching up to six hours of porn at work every day to federally funded research that involves Voodoo dolls.
The report even left out some things that agencies changed before publication. For instance, in a statement the Oklahoma Republican said after his office reached out to the State Department about a "life size inflatable foosball game" it ordered, the purchase was canceled.
Here are some of the more intriguing examples from Coburn's report:
1.
$19 million in paid leave for government workers "gone wild."
When government workers are charged with bad behavior, instead of getting fired they are sometimes put on paid leave. According to the report, in this year alone 11 agencies spent $50 million on administrative leave, and roughly one third of that was for disciplinary reasons.
Among the infractions a worker was placed on paid leave for? An Environmental Protection Agency employee who admittedly watched up to six hours of porn a day on his work computer.
When an agent from the Inspector General's office approached the worker to interview him about his behavior, the agent said he found the worker "actively" watching porn.
2.
$387,000 on robot massages for rabbits.
The National Center for Complementary and Alternative Medicine of the National Institutes of Health gave funds to a two year project where a "mechanical device that simulates the long, flowing strokes used in Swedish massages" was used on New Zealand White rabbits daily.
The study was meant to test the massage's effect on recovery rates.
3.
$4.6 million on homes for Border Patrol workers.
A Department of Homeland Security report found that when Customs and Border Patrol built homes for agents working in Ajo, Arizona, the agency "vastly overpaid" for them.
In a town where the average cost of housing is $86,500, each home built for the border agents averaged around $700,000.
While CBP had determined agents would suffice with one-bedroom, apartment style housing, they instead build 21, three-bedroom houses with stainless steal appliances and quartz countertops.
The General Services Administration was initially given $1.4 million to complete the project, but at the end an inspector general determined that because of mismanagement an additional $4.6 million was wasted.
4.
$331,000 on a study that used Voodoo dolls
The National Science Foundation funded research that tested the effects of blood sugar on a spouse's opinion towards their significant other.
For three weeks, reserachers gave 107 couples 51 pins to stick into what the report called Voodoo dolls.
The study ultimately came to the conclusion that, on average, lower blood sugar made people angrier, and angrier people stuck more pins in their doll.
Coburn was unimpressed with the study's revelations. "The feeling of anger caused by hunger is so well-known that pop culture has given the feelings their own name: hanger," the report said.
5.
$50,000 for "Poop Packs."
A company received a $50,000 grant from the Department of Agriculture to sell Alpaca manure as plant fertilizer. They called them "Poop Packs."
The report notes that Alpaca fertilizer is fairly common now, "because it doesn't smell as bad as other types of waste, unlike the foul odor of misspent tax dollars."
The company, Virginia Mary's Alpaca, LLC, reportedly claims to make the "perfect POOP."
6.
$41,000 for a Penn State "Shame Study."
Pennsylvania State Univeristy became embroiled in controversy when it was revealed assistant football coach Jerry Sandusky had been abusing children.
Now the federal government is funding a Penn State-sponsored study to look into protecting employees when the institution they work at gets involved in a scandal.
Using the scandal as the foundation of the study, the National Science Foundation is looking to study how to handle employees when "pride becomes shame" at an organization.
7.
$1.1 million in unused or misplaced technology at NASA.
Coburn's report says that NASA has been issuing phones, tablets, and wireless cards to employees without keeping track of them.
According to the report, 14% of the devices owned by NASA went unused for at least seven months from 2013 to 2014. Those unused devices cost an estimated $97,000 a month.
"Top officials were even not sure the agency's contractor — HP — 'could accurately account for the full inventory of mobile devices it provides to the agency,'" the report said. "With NASA in the dark about what it should be paying for, it has no way to verify the accuracy of its payments to HP."
8.
$70,000 to pay for a heavily criticized play about Bruce Lee
The National Endowment of the Arts paid $70,000 to fund a New York City play about martial arts icon Bruce Lee.
Coburn's report says the play was a flop with critics and was actually accused by many of being racist.
Moreover, the report says the play took in $1.1 million in funding overall, and questions how necessary the government's money was.
9.
$18 million to renovate a "low traffic" airport.
The Federal Aviation Administration will cover $18 million of the Friedman Memorial Airport's $34 million renovation.
The airport only averages four daily commercial departures, but the renovations will include a waiting lounge that "will have comfortable chairs and a fireplace."
The airport is located in Sun Valley, Idaho, a popular summer destination for celebrities. Coburn's report lists Tom Hanks, Arnold Schwarzenegger, Bruce Willis, and Ashton Kutcher as popular names that often find themselves in the area.
"Airports of our size don't normally get grants of this size," airport manager Rick Baird said.
10.
$1.2 million on a building to provide ice to fisherman that nobody wants.
A parish in Louisiana secured a HUD Community Development Block Grant to buy the Amigo Ice House so they could refurbish it and use it to provide ice to fisherman.
After spending $289,000 on the property, a engineering review showed it wasn't "economically feasible" to refurbish the building. Later on when the parish got a new president, he said the project was unnecessary because it would take "profits from businesses that already sell ice to fishers."
But instead of returning what they'd already used of the federal grant, local officials ultimately decided to continue on with the project, which cost the federal government nearly an additional $1 million.
11.
$202,000 to study why WikiPedia is sexist.
The National Science Foundation paid more than $200,000 for two researchers to look into WikiPedia's "systemic gender bias."
Yale Sociology Professor Julia Adams and NYU Abu Dhabi Associate Dean of Social Sciences, Hannah Brückner received $132,000 and $70,000 respecitvely to look into the issue.
Their study, which is expected to be completed by August 2015, will examine the causes of why, for example, some contributors referred to a group of authors as "American Female Novelists" instead of just calling them "American Novelists."
WikiPedia can be edited by anybody on the Internet.