What Happens If Uber Drivers Start Organizing Too?
Uber is valued at $18 billion, and hailed by some as a triumph of disruptive capitalism over antiquated regulation. But in some cities, the drivers have started to organize.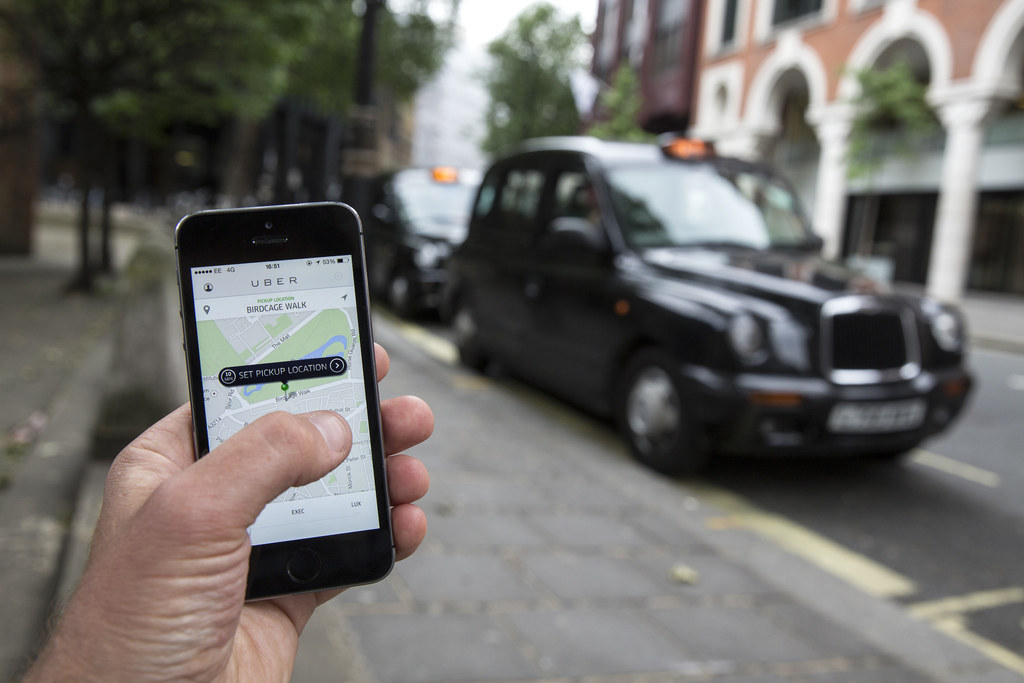 WASHINGTON — More than 1,000 D.C. cabbies on Wednesday drove through the streets and refused to pick up passengers in protest of popular ridesharing apps like Uber and Lyft — companies they say are unfairly breaking the law and taking away their business.
Their protest is just the latest in cities in the United States and worldwide, as Uber in particular continues its massive expansion from boutique service to a major company, valued at just over $18 billion this year.
The protests aren't entirely exclusive to cab drivers under pressure, though. In some cities, Uber drivers themselves have started to organize.
In Seattle, hundreds of Uber drivers have successfully formed an association with the help of the local Teamsters union, for instance. According to Daniel Ajema, a representative for the association, it took a year before they could even wrangle enough drivers together to talk about an association.
Working outside the strict regulation on taxi drivers in many cities, Uber has succeeded on its ease of use, convenience, technological innovation, and competitive pricing.
It's nearly as easy to become a driver as it is to call a car. Unlike traditional taxi drivers who need a special license, permits, and go through background checks nearly anyone with a car can start picking up passengers for Uber.
But the accessibility of working for Uber has also left drivers, they say, vulnerable to swift and often seemingly random suspensions and removals from the program.
Ajema and the others formed their association because as independent contractors, they "aren't protected by labor law."
"[Uber] was not interested in giving us a list of drivers and their contact information," Ajema said. So he "gathered about five people and those people went out and got 40 people and eventually those 40 people became the core community." Those 40 people went out and got hundreds more, many of whom stayed on to create the association.
Uber does not share ratings data with drivers, which Ajema argued can lead to surprise suspensions. "They just take customer feedback at face value and they don't give drivers an appeal system," he said.
Since the formation of their nearly one-month old association, Ajema said Uber has refused to bargain with the drivers as a group. Ajema, his team, and some Teamsters lawyers are working on a plan to try and force Uber to the bargaining table. Because the drivers are independent contractors rather than employees of the company, Uber has a lower legal burden to do so.
When asked about Uber's willingness to work with an organized group of drivers, spokesman Lane Kasselman wrote in an e-mail: "Our driver partners are independent contractors and are free to exercise their rights under federal and local law."
Where the Seattle drivers have somewhat succeeded, others have completely failed. One former Uber driver in New York City tried to engage the New York Taxi Workers Alliance for help, but they said he'd need "a couple hundred" people to form an association. His main issue with the company was its vague tip policy; Uber does not separate out tips for drivers. After trying various grassroots efforts — including Craigslist ads — to no avail, the driver concluded it wasn't worth his time.
The NYTWA still has its hopes up to be able to add the city's Uber drivers to its ranks.
"For us it's just a matter of time before some of that organizing starts taking place," said Bhairavi Desai, spokesperson for the NYTWA.
The company's drivers — and their unusual relationship to existing cab drivers — put the unions in an interesting position. Even the AFL-CIO is still unsure what to do about Uber. The labor federation wants to add the drivers into its ranks, but it's unclear the best way to go about organizing them and then, how to deal with drivers facing very different conditions from city to city.
"If we are having a knock down drag out fight with Uber in one place, it'd be hard to play nice somewhere else," said Christian Sweeney, a top organizer for the AFL-CIO.
Sweeney sympathized with both traditional taxi drivers, many of whom are already organized under the AFL-CIO's umbrella, as well as Uber drivers. He said the AFL-CIO would like all of them to be able to organize, but again it's a tricky situation.
As Uber continues to expand across the globe, taxi drivers are feeling the heat. They can't keep up with the well-funded startup in technology or in numbers, and drivers are seeing the impact on their wallets.
One concern is that Uber does not consider itself a transportation company. That distinction allows Uber to operate on its own set of rules, skirting the typical regulations that hinder other taxi services.
On the page where people can apply to become an Uber driver, it says "Uber is a request tool, not a transportation carrier."
"What they did with their app was they enabled towncars — which a lot of them were operating illegally already — what they did was say this was OK because you're using your phone," said Barry Korengold of the San Francisco Cab Drivers Association.
In some cities, companies like Uber are specifically forbidden, but it operates anyway. Recently Virginia sought to protect its taxi drivers by ordering Uber to stop operating, but the company shrugged the request aside.
"You may have heard that Uber received a cease and desist letter from the Virginia DMV yesterday," the company wrote on its website. "We wanted to write to let you know that Uber will operate as usual, and we plan to continue full-speed ahead with our commitment to providing Virginians access to safe, affordable and reliable rides."
Though it's often seen as a two front war, taxis vs. Uber the company and taxis vs. Uber drivers, there is some common ground among those who earn a living behind the wheel.
Ajema, from the Seattle Uber association, said one thing his Uber drivers and taxis agree on is that there should be a limit to how many cars Uber can put out there. Uber wants as many cars driving around at a time, he said, to maximize profit. But as more drivers hit the streets, the more flooded the market becomes for everyone.
"I'm really against this cult of disruption by Uber," Ajema said. "Where it comes into town and wants to take over. Where they take away thousands of people's livelihoods. I don't believe Uber is a socially responsible company by any measure at all."