Virginia Will Allow Uber And Lyft To Operate, But Only With "Extensive" Background Checks
"I knew there had to be a better way to ensure the safety of Virginia passengers."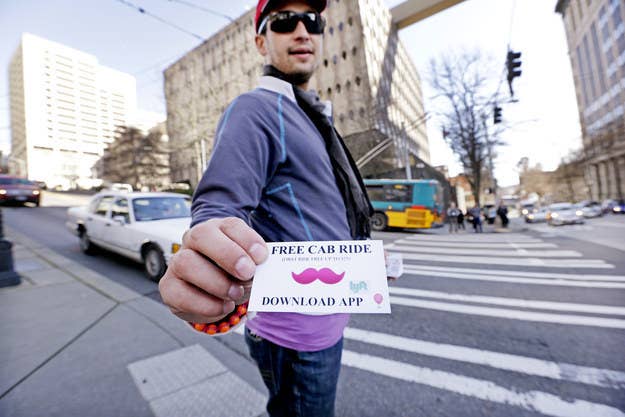 WASHINGTON — After an attempt to ice out the ridesharing apps Uber and Lyft earlier this summer, Virginia will finally officially allow the companies to operate inside the state.
The state announced that, in order to receive approval from the state Department of Motor Vehicles, the companies agreed to "extensive" background checks, with "convictions for any felony, fraud, sexual offenses, or violent crimes, or registration as a sex offender" leading to automatic rejections for potential drivers.
"In order for Virginia to remain economically competitive, it is important that we welcome innovative companies like Uber and Lyft and provide them with the resources they need to safely and effectively operate in the Commonwealth," Gov. Terry McAuliffe said in a statement.
Over the last several months the safety of ride-sharing apps has sparked national concern.
In the D.C. area, where Uber has become a core transportation option, an Uber driver allegedly took advantage of a drunk passenger, who said she woke up "to the sound of car doors locking" and the driver "feeling her breasts and pulling down her underwear down to her knees."
Also in D.C., one Uber user claimed his driver ran red lights, sped down the highway, and eventually let them off on an exit ramp as he tried to avoid a taxi inspector.
In another case in Los Angeles, an Uber driver allegedly kidnapped a woman at a nightclub and sexually assaulted her while she was drunk.
"I knew there had to be a better way to ensure the safety of Virginia passengers," said Attorney General Mark Herring in a statement Wednesday. "These companies offer services that Virginians want, but it just wasn't acceptable for them to operate without complying with regulations or other measures to help ensure the safety of passengers and motorists."
The decision is also a blow to traditional cab drivers in the region, who have been vigorously opposed to these companies coming in as they struggle to keep up with the technology.
But in a conveniently timed move, TaxiCab Magic — an app that helps connect users to "professional drivers" — just announced today it was rebranding itself as "Curb." As Curb's new CEO Pat Lashinsky told Politico, Uber and Lyft have "forced these companies to say, we're ready and we're open and we're going to innovate and get better."
Other provisions in the temporary arrangement with the state include "zero tolerance for the use of drugs or alcohol by any drivers," stricter insurance requirements, a way for customers to identify an Uber or Lyft car from the outside (Lyft already gives its drivers pink mustaches to put on the front of their cars), and an agreement to only accept rides through the app instead of street hails.
According to letters the DMV sent to Uber and Lyft, which were sent to BuzzFeed by a DMV spokesperson, their authority to operate legally in Virginia will expire Feb. 2 of next year. The letters also reveal Uber applied for its temporary legal status through a subsidiary Rasier, LLC.
"Rasier users are, to a significant degree, customers of a new service market rather than customers of a previously existing service market," the letter to Uber said. "Furthermore, Rasier has presented persuasive information that its services may help to reduce DUI rates, enable people to obtain more timely transportation servies in emergencies, and improve overall satisfaction with for-hire transportation services."
Even with this win, Uber and Lyft are already looking down the road to their next battles in the state.
"In addition to our our involvement in the DMV's ongoing study on Transportation Network Companies, we look forward to helping craft new rules for peer-to-peer transportation that increase access to safe, affordable and convenient rides for all Virginia residents," a Lyft spokesman said in an email.
"We'll need your voice again in January when legislators are back in session to make sure they hear you loud and clear and pass legislation that permanently allows us to operate," Uber wrote on its D.C. blog.
View the letters from the DMV to Uber and Lyft here:
Download PDF
This post was updated to include information from the letters the DMV sent to Uber and Lyft.