Unions' Sliver Of Hope In Devastating Midterm Elections: Minimum Wage
It was not a good night.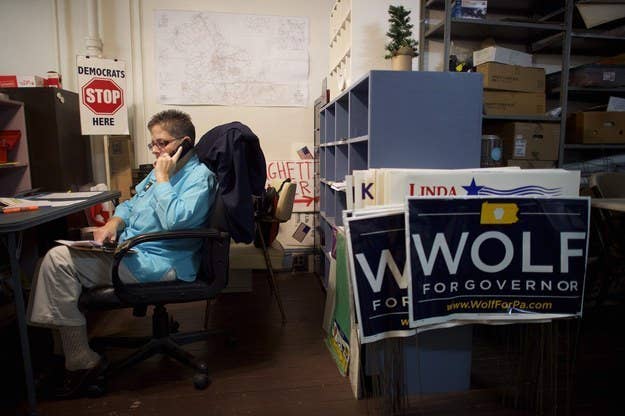 WASHINGTON — Labor unions lost dramatically in nearly every key race they targeted on Tuesday.
In the aftermath, top aides and officials are focusing on a small set of progressive issues that saw success.
In statements and calls with reporters, union leaders have honed in on referendums like minimum-wage increases and paid sick leave legislation, which were generally approved by voters who saw those initiatives on their ballots.
"When voters did have a choice, have a chance to choose their future, the decisions were unmistakeable," AFL-CIO President Richard Trumka said.
In his press conference Wednesday afternoon, President Barack Obama also leaned on the success of minimum wage ballot initiatives as something to build on for his remaining two years in office.
"I think there are some concrete things we can do to make sure wages to go up," Obama said. "Minimum wage in those five states was a good start."
The success of progressive initiatives in typically red states is being treated by labor as a signal that what they are doing is working, even if those votes didn't carry over into the governor and senate races.
Unions argue that people want what they're selling, they just didn't sell it very well.
"We faced an incredible headwind in a terrible environment," one former labor official said.
Unions have also highlighted their few victories — defeating Gov. Tom Corbett in Pennsylvania and Terri Lynn Land in Michigan.
But in reality, the bulk of the day was very damaging for the candidates unions pushed.
Labor invested significant resources to push against against Republican gubernatorial incumbents Rick Scott, Scott Walker, and Rick Snyder as well as businessman Bruce Rauner. They also fought hard against GOP senate candidates in North Carolina, Kentucky, and Alaska. They told their members that if elected, these candidates would decimate their wages and were bad for their families.
Teachers unions in particular were heavily invested in these races. The two largest unions each said they were on pace to spend tens of millions of dollars in order to win.
Yet an internal poll released by the AFL-CIO Wednesday showed that roughly one-third of their members in battleground states voted for the Republican candidate in either the Senate or the gubernatorial race.
"People voted their fears," American Federations of Teachers President Randi Weingarten told BuzzFeed News. "But it's unmistakable that they want the notion that if you work hard, you and your family will do better in the future than in the past."
Weingarten said that based on what she heard from people while campaigning around the country as well as what she saw in the midterms results, people "want problems solved" but the Democrats simply didn't run a campaign to convince them they could do that.
"The Republicans made it a referendum on the president and that eclipses virtually anything else," she said.
Another current labor activist blamed Obama more directly.
"President Obama's message should not have been that the administration deserved more credit for the economy than it was receiving, but rather how Democratic Party plans would fix the economy if only do-nothing Republicans were defeated," the activist said.
Trumka wouldn't go as far as to blame Obama — he said the "White House wasn't running this time, unfortunately" — but said in the end voters heard more from Republicans than they did Democrats.
Come 2016, unions will try to turn the tables and make the next election a referendum on two years of a Republican Congress.
"The agenda itself is more important now than ever," Trumka said.