Union Says Northwestern Is Just The Beginning Of Organizing College Athletes
"We're looking at each state and their labor laws," the official said.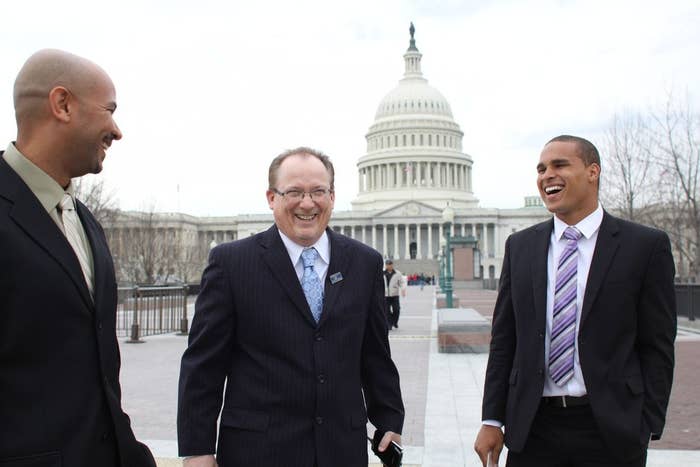 WASHINGTON — The union that is working to organize student athletes at Northwestern University is beginning to look at state laws to see how athletes at public colleges might be able to unionize as well.
The National Labor Relations Board only has jurisdiction over private businesses, which means its decision for Northwestern won't affect public universities. To organize those athletes, the labor law of each state would have to be revised.
"We're looking at each state and their labor laws," United Steelworkers Political Director Tim Waters said. "But it's a process, you know. We're very deliberate."
The United Steelworkers is working with the National Collegiate Players Association to help the players unionize.
Ever since an NLRB regional board ruled that Northwestern athletes should be able to unionize, Waters says he's been inundated with calls from athletes around the country who also want to organize. He said part of the reason the union is looking into understanding each state's law is so they can provide athletes with accurate information.
The process is in the very early stages, will take a long time to develop and may never pan out in some or all cases, but at least one state lawmaker has already started thinking about it.
After University of Connecticut basketball star Shabazz Napier said there are some nights he goes to bed "starving," Connecticut state Rep. Patricia Dillon said she'd be willing to propose legislation to allow players to unionize if she could.
Waters said Napier's allegations didn't surprise him.
"I think [Napier's] comments really probably shocked some people. It didn't shock us, we've heard that 1,000 times," Waters said. "I've talked to players that have absolutely no money. They maybe come from families that don't have money to give them ... I've had players tell me they move a stove out of the kitchen to put a cot in to go to sleep at night."
Waters wouldn't say which athletes had reached out to him. He also wouldn't comment on whether the players or the union have felt pressure from outside groups or the school in the lead up to Northwestern's election, which will take place April 25.
"I'm not gonna comment on that but I'm gonna leave that to you to figure out what you think would be the common sense answer to that," he said.
Northwestern and the NCAA have spoken out against unionization in the past, and on Wednesday Northwestern filed a request for review from the full NLRB in Washington. If the NLRB agrees to review the case, which is likely due to its high-profile and far-reaching implications, it could take months to decide.
Several experts predict the case may then go to federal court and could take years to resolve.
"I think eventually players are going to have the right to organize everywhere," Waters said. "I don't think that's today. But I think hopefully and pragmatically looking at the map and thinking about what's going on and the change that's coming to the NCAA, eventually one day all these athletes will have the right to organize."