Another Labor Presidential Endorsement Fiasco Might Already Be Brewing
"Since SEIU is not part of the AFL, we won't be participating in that process."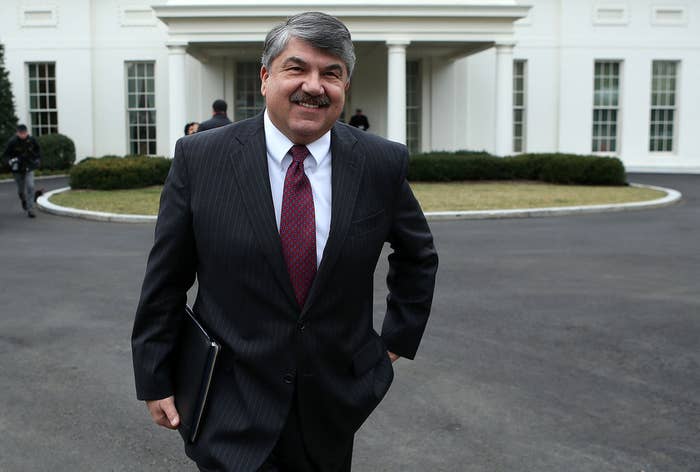 WASHINGTON — In the lead up to the 2008 Democratic primary, the country's largest unions couldn't decide who to endorse, splitting largely between Barack Obama and Hillary Clinton and ruining the potential for a united, dynamic endorsement.
This time around, the AFL-CIO wants to avoid that disaster. But a rift between labor groups is already forming.
Thursday, the AFL-CIO released a streamlined process for the labor federation to endorse (or not endorse) a 2016 presidential candidate. Although Clinton seems probable to run again, another viable Democratic candidate or two could fan the flames of another dogfight between union groups.
Based on an interview BuzzFeed had with AFL-CIO President Richard Trumka in June, the plan released today seems smaller in scope than what the union wanted.
Trumka said in June he hoped all the unions — those aligned with the AFL-CIO and those that are not — would "adopt a policy that says none of us will endorse until all of us decide to endorse."
"Hopefully we'll have all the unions, not just those that are affiliated," Trumka added in June, referring to the several unions that split with the AFL-CIO to create a new labor group called Change to Win.
The process announced Thursday, however, refers specifically to "affiliates" — meaning the process leaves out some of the country's largest unions that are part of the breakaway labor group Change to Win.
At least one of Change to Win's unions — the Service Employees International Union (SEIU) — has said it won't play ball with the AFL-CIO's new process.
"Since SEIU is not part of the AFL, we won't be participating in that process," SEIU spokesman Tyler Prell told BuzzFeed in an email.
A spokesman noted that Change to Win does not endorse candidates as a federation, so its unions are free to endorse who they want, when they want.
A spokeswoman for the AFL-CIO confirmed via email that only AFL-CIO affiliates would be a part of the process, and did not immediately respond to follow up questions on what happened.
The process will begin as early as November, when AFL-CIO affiliated unions will finalize a questionnaire for candidates to fill out by year's end.
In-person interviews will begin as early as January of next year. Candidates will be invited for private sessions with union leaders to "discuss issues and campaign viability."
A final decision is slated to be made by July 2015.
"The Political Committee will make a recommendation for endorsement of a particular candidate, or a recommendation of no endorsement, in time for the Executive Council summer meeting," the guidance says.