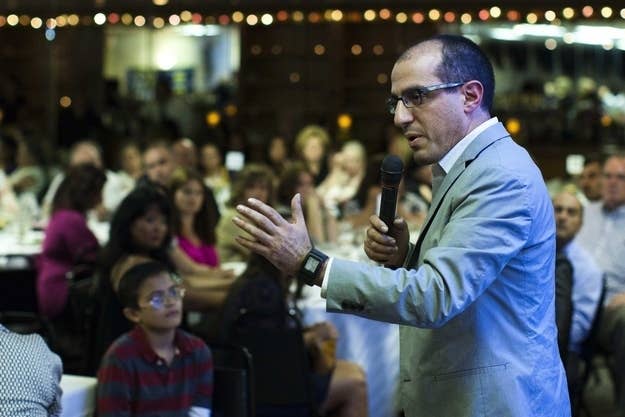 Jack Hidary is running for mayor of New York, but you probably don't know it. So far he's run a quiet campaign, avoiding the headline-grabbing sideshows that have at times has consumed the race.
But now the primaries are over and Hidary, a multimillionaire tech entrepreneur running as an independent, is ready to jump into the game.
His top opponents, Republican nominee Joseph Lhota and Democratic front-runner Bill de Blasio, have already raised and spent millions of dollars to get their name and message out to voters. De Blasio and his family even landed a spot in Jon Stewart's opening monologue on The Daily Show. For the next two months, Hidary will be playing catch-up.
He says he chose to stay out of the spotlight to avoid "the circus" the election has become. While politicians quibbled over term limits and sexting habits, Hidary has been going to industry events and traveling to communities to meet with voters, where he says his candidacy has been well received. He said the Jewish community has responded particularly well to him, which makes sense — Hidary was born in a Syrian Jewish community in Brooklyn and his brother Ricky is a professor at Yeshiva University, as well as a rabbi on the Upper West Side.
But it's not enough to rely on one community to win an election. Though he's spent next to nothing in the grand scheme of a mayoral election, Hidary says he has "75% name recognition." (No public polling supports that claim.)
During a Monday morning trip with friends, family and staff to the 9/11 Memorial, though he was followed by important looking men and women in suits and a photographer to document his every move, he barely got more than a quizzical eye from spectators. Nobody seemed to know who he was, other than that he was a clean-shaven man in an expensive-looking suit telling others to photograph him at different angles.
But he isn't worried about them. Hidary pointed to Lhota's management as chairman of the Metropolitan Transportation Authority to discredit his mayoral validity. "Not a great track record there," he said, noting fare hikes and service delays. For de Blasio, he talked about his lack of business experience and his career as a "machine politician."
"He's a throwback to [former Mayor David] Dinkins," Hidary said. "Do you want to go back to the Dinkins era?"
Hidary, a participant in the city's public match program, has raised a little more than $450,000 and spent only around $50,000 according to the city's Campaign Finance Board. He hasn't aired a television commercial (though he has a few ads on his YouTube page), but his campaign says those should be forthcoming.
Hidary's main pitch is that he's a successful entrepreneur taking on the machine politicians, a pitch not entirely unlike that of Mayor Michael Bloomberg. But Hidary hasn't existed completely outside the political sphere. He advocated for a law to convert city taxis to hybrids. He's also hosted numerous fundraisers for Democrats, including Cory Booker. Hidary says he hasn't hosted a fundraiser for Booker during his current Senate bit, but he has attended a few.
And while he may not quite have Bloomberg money, Hidary has played in the big dollar areas of local politics, and was a founding member of the Clinton Global initiative, Bill Clinton's foundation. Hidary says he expects the Clintons to remain neutral in the race, but he did enlist Richard Strauss, a media consultant in the Clinton White House, to help out with his campaign. A New York Times article reported that Hidary was spending his own cash to hire other well-connected advisers, such as his general counsel Kenneth Gross, who was Mayor Michael Bloomberg's campaign finance lawyer.
Hidary is better known within the business community. Hidary was one of the earliest investors in New York's "Silicon Alley" tech scene. He co-founded EarthWeb in the early 1990s with his brother Murray, which went on to acquire Dice.com in 1999, a website that has matched millions of job seekers with high-paying jobs. Hidary also sits on the advisory council for Google X Labs and is the chairman of Samba Energy.
After visiting the memorial Hidary went to the nearby W Hotel for lunch, where he ordered a salmon burger (no tartar sauce, no fries, no zesty cayenne, with a tomato and side salad), and began to talk policy. His main focus as mayor, he said, would be on growing jobs and improving education.
"Jobs come from small business and that's my specialty," he said. Hidary said he'd work to help small business by focusing things helping low income residents who can't get loans to start there own businesses. A company he helped support, TrickleUp, has helped more than 2,000 businesses start in just that way, Hidary said.
Hidary's other focus is education. He said he'd give principals more autonomy to teach students as they see fit, but he also wants to move away from teaching to a test and towards teaching students life skills.
"Let's get kids who are gonna be job ready, interview ready, life ready," he said.
UPDATE: This post has been updated to clarify Hidary's exact relationship with some of the named businesses.