Ted Cruz Steals The Spotlight From Elizabeth Warren
With a key vote on a spending bill just hours away, Cruz once again has all eyes on him.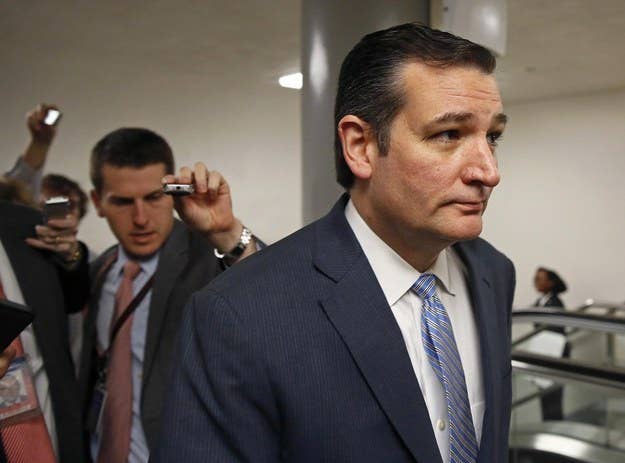 WASHINGTON — Sen. Ted Cruz's last minute effort Friday to force a vote over President Obama's immigration executive actions has not only reopened deep wounds within his party but is also shifting blame for government dysfunction away from Sen. Elizabeth Warren and other progressives and back on to the GOP.
With lawmakers already headed home Friday, Cruz and fellow conservative Sen. Mike Lee unexpectedly blocked Senate Majority Leader Harry Reid's plan to set a vote on a long-term spending bill for Monday, throwing the chamber into chaos in a similar fashion as when the government did shut down a little more a year ago.
Over the last week, Warren had taken Cruz's place as trouble-maker-in-chief of Capitol Hill, leading a nearly successful revolt against Senate Majority Leader Harry Reid and President Obama over banking deregulation language included in a must-pass end of year spending bill.
Rallying House Democrats including Minority Leader Nancy Pelosi, Warren's efforts triggered yet another round of crisis management in Congress and forcing Republican and Democratic leaders, Vice President Joe Biden, and Obama to scramble for votes.
But the potential for a government shutdown seemed to have subsided Friday: until, that is, Cruz and Sen. Mike Lee made their push for a vote on immigration.
Warren has seemingly been more than willing to let Cruz take the spotlight. Warren hasn't given a floor speech since Friday night, nor has she done media appearances.
In the halls of the Capitol she ignores reporters as she briskly walks to and from the Senate floor.
Giving Cruz the spotlight during a Saturday session of Congress has provided Democrats with the space they've needed to place blame for dysfunction back on Republicans, a mantle the party has struggled to shrug off for the last four years.
Democratic Sen. Chris Murphy said he wasn't sure there was any "heat" on Democrats because of Warren's shutdown showdown with leadership, and instead called Cruz and Lee's move to force the Senate back into session on Saturday nothing more than a political power play done at the expense of the rest of the Senate.
"This is an attempt for the two of them to grab a bunch of attention," Murphy said. "This is a play for some advantage in the Republican Party and we're just bystanders to it."
Republicans, to varying degrees, agree.
"[The tactic] is not in keeping with our Republican commitment to return to normal order and to show ... people of this country that we remember our responsibility," Sen. Susan Collins said.
Collins also said the strategy was "counterproductive" and reminded her of last year, when the government shut down for two weeks.
GOP Sen. Bob Corker said he was supposed to be landing in Iraq today, but instead had to stay in town to vote.
Sen. Richard Burr, a Republican, hinted that Cruz skirted leadership just to make a statement. Burr said senators have made similar moves before, but unlike Cruz, also acted with "respect."
"The difference is that the Senate operated because members showed respect for each other," Burr said. "You can't criticize anybody for wanting to make a point and the point that Ted's trying to make is the president doesn't have constitutional authority to do what he did."
Meanwhile, the Senate continues to power through procedural and confirmation votes until it reaches 1 a.m., when a key procedural vote on the large spending bill is expected. The Senate passed by voice vote a short term continuing resolution on Saturday afternoon that guarantees the government won't shut down at least until Wednesday.
Cruz said he offered a deal to Majority Leader Harry Reid earlier in the day to cut debate time and allow a vote on the spending bill as well as an up or down vote on Obama's immigration executive order, which has been Cruz's mission all along. Reid rejected that deal, and is using the time until the vote to squeeze in important procedural votes on presidential nominees.
But those conversations have since come to a halt, both Cruz and a top aide in Reid's office said.
"He fumbled the ball, we recovered it," Reid's aide said. "And now he's asking for the ball back."
With a deal dead in the water, Democrats continue to try to shore up support for the spending bill before the vote later tonight.
"I think we see the light at the end of the tunnel," Murphy said.