Senate Republicans Mixed On Exactly How To Stop Immigration Executive Actions
Sen. John McCain says there isn't standing yet to sue the president over his immigration executive actions.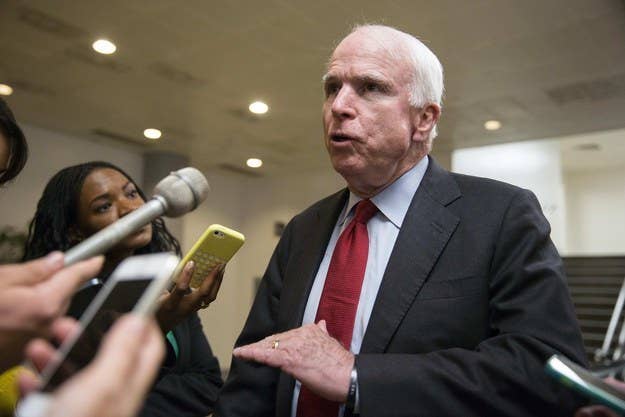 WASHINGTON — A day before President Barack Obama is set to announce the details of his immigration executive order, some Republicans are rallying behind the idea of suing the president over them.
But at least one member has suggested there are some challenges to actually filing suit against the administration.
"We don't have standing," Sen. John McCain said. "We have to find somebody with standing to claim suit. But yeah, I'd love to challenge it in the court."
Standing, or ability to claim that an issue has directly caused harm, isn't the only concern Senate Republicans have raised about the whether the president's executive actions can be stopped.
One major concern is that in order to sue the president, the Senate would need to pass a resolution allowing it. That resolution would require 60 votes, and Democrats are all but certain to block that measure.
Another popular suggestion has been to use Congress's power of the purse to defund any action he takes. But without yet knowing the full details of his plan, some have said it may not even be possible to do that.
"If they're going to act and offer green cards, or some sort little certificate for permanent residency, or something like that, I think you can defund that," Republican Sen. Ron Johnson told BuzzFeed News last week. "But I'm not quite sure how you defund lack of action."
Sen. Rand Paul said Congress would have the power to defund an executive action when the Senate takes control next year, but he also supported forging ahead with a lawsuit.
"[Obama] was saying he's not a king, not an emperor," Paul said. "He can't write a law so maybe the media should be asking him why he changed his mind. We should take him to court."
Meanwhile, it's also been reported the House is considering a lawsuit of its own, either as an extension of a planned lawsuit on Obama's executive actions in general or as one on its own. Speaker John Boehner has not yet made any official comment on those lawsuits.
A source close to Boehner, however, said the issue of standing is "not something the speaker has discussed, at this point."