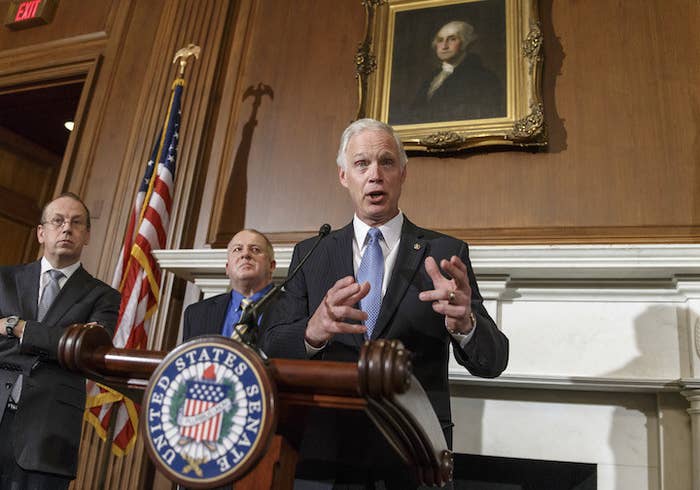 WASHINGTON — Sen. Ron Johnson, the chairman of the Senate Homeland Security and Governmental Affairs Committee, said Tuesday he isn't concerned about the potential shutdown of the Department of Homeland Security.
"Even in the last government shut down only 13.6% of DHS employees were furloughed," Johnson said. "So the national security aspects, the aspects of the department that keeps America safe, are continuing to function no matter what happens in this very dysfunctional place."
Congress passed a budget last year that only funds DHS through the end of February in order to set up a legislative battle over the president's executive actions on immigration.
The deadline to fund DHS is Feb. 27.
House Republicans passed a bill to fund the department last week, but their bill removes all funding for the presidents' executive actions and also defunds the Deferred Action for Childhood Arrivals program. The White House has promised to veto the bill.
Majority Leader Mitch McConnell said last week the Senate would vote on that bill anyway, or some version of it, though it's unlikely to pass the upper chamber, where at least six Democrats would need to cross party lines to get it to the president's desk. And with legislation like the Keystone pipeline still on the Senate's docket, it'll be tough for the Senate to pass a bill in time to meet the deadline.
Johnson also said he wants to hold hearings on the president's executive order prior to a vote on the bill in order to determine whether DHS "can even administer" Obama's executive order.
When asked about the process leading up to a vote on the bill, which includes the possibility of allowing Democrats to introduce amendments, Johnson hedged.
"I'm not sure we're going to have an open process on every piece of legislation, but I know Senator McConnell is absolutely dedicated to respecting the rights of the minority party and having a very open process and full debate in the Senate, which is a good thing.