Senate Democrats' Top Fundraiser Hates Money In Politics
Can Sen. Jon Tester win back the Senate for Democrats while also staying true to his stand against big money in elections?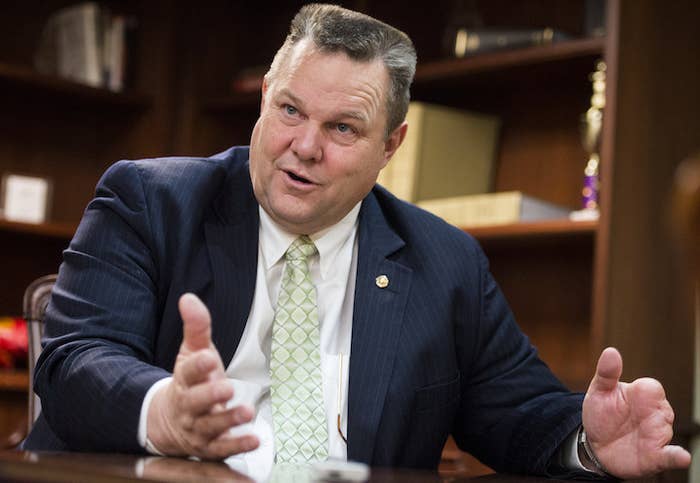 WASHINGTON — The man who will lead fundraising for Senate Democrats in the 2016 cycle has an unusual trait: He is against big money in politics.
Like many Montana Democrats, Sen. Jon Tester has long railed against dark money in politics — but the new chair of the Democratic Senatorial Campaign Committee (DSCC) also has opposed measures that would increase the flow of money into more conventional fundraising methods, too.
Earlier this month, Tester voted against the omnibus bill to fund the government. That bill contained a provision that increases the amount of money individual donors can contribute to national committees — like the one Tester now runs. Now, an individual donor can give more than $1 million to the committees
Tester's office said the senator was unavailable for an interview when BuzzFeed News reached out for comment on this story and instead pointed to their press release on the vote.
"I will not support measures that make it more difficult to elect responsible leaders willing to make tough decisions to strengthen our country," Tester said in the statement. "We can pass bill after bill, but if we don't stop the flood of money into politics, special interests will win at the expense of everyday Americans."
In the past, Tester pushed for a constitutional amendment to overturn the Citizens United decision and co-sponsored the failed DISCLOSE Act, which would have required groups to release the names of donors who gave more than $10,000. The senator releases press statements emphasizing how he "strongly believes that stopping the flood of money into America's elections is vital to preserving the nation's democracy."
Now, he'll run the DSCC, which raised $16 million in September alone.
Asked about this issue, DSCC spokesman Justin Barasky said it wasn't a problem and that the DSCC "will continue to raise the resources necessary to support our candidates and help them win."
Tester will have a significant fundraising cycle ahead. The DSCC outraised its GOP counterpart, the National Republican Senatorial Committee, by $29 million in the 2014 cycle and still lost nine seats. Money typically flows in more smoothly in a presidential cycle, so Tester will be expected to not only significantly outdo this cycle's fundraising in 2016, but also to recruit a crop of candidates who can use the cash effectively. The DSCC was also left with $20.4 million in debt after the 2014 cycle.
While the committees raise money in the traditional ways, Senate Majority PAC — the super PAC headed by two former aides to Minority Leader Harry Reid, Susan McCue and Rebecca Lambe — will also likely be a presence in Democratic efforts next cycle.
Advocates say they are high on Tester and that they hope he'll stick to his guns by continuing to push for legislation that seeks more disclosure from donors and encourage small money donations.
"When I look at the 2014 elections and the debate between Republican and Democratic candidates, the issue of money in politics was a food fight," said David Donnelly, the executive director of Every Voice. "You either got your money from Hollywood or you got your money from big oil."
Donnelly also said that if anyone tries to say it's "hypocritical" for Tester to both be for campaign finance changes and for raising money in the capacity he'll be expected to at the DSCC, they are "just trying to score political points."
It isn't unheard of for the head of a Democratic campaign committee to hold opinions like this when it comes to campaign finance. Tester's fellow Montanan and corporate-money-in-politics critic Gov. Steve Bullock is now heading the Democratic Governors Association. Rep. Chris Van Hollen, who sponsored the DISCLOSE Act in the House, chaired the Democratic Congressional Campaign Committee for several years.
And Sen. Michael Bennet, Tester's DSCC predecessor, was also supportive of some campaign finance changes, but activists say Tester has a longer and more critical track record on the issue.
Still, activists are not doe-eyed to the fact Tester might have to stray from the principles they like about him as November 2016 barrels closer.
"It's impossible for any member of Congress to unilaterally disarm from big money while having to still fight for one's own reelection and one's colleagues," said Aaron Scherb, the director of legislative affairs at Common Cause. "But as long as members of Congress are cosponsors of certain bills, we won't criticize."