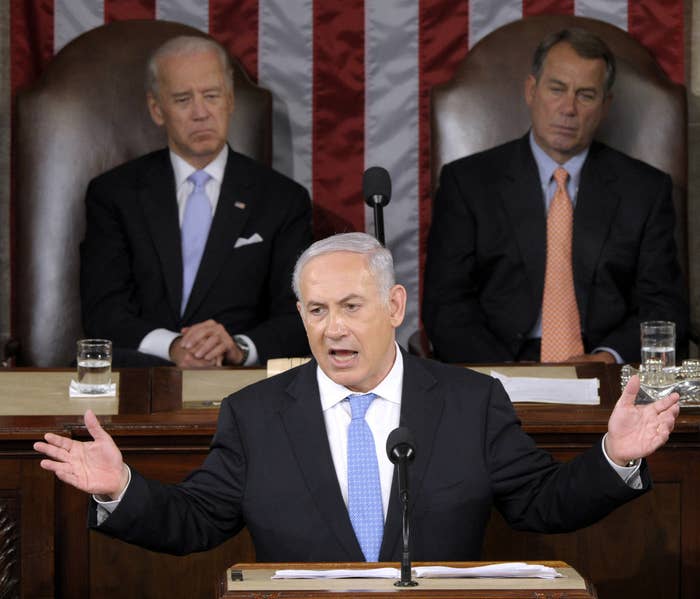 WASHINGTON — When Israeli Prime Minister Benjamin Netanyahu addresses a joint session of Congress in March, it is unclear whether everybody invited will actually show up.
Democrats have criticized House Speaker John Boehner for circumventing the administration when he invited Netanyahu to speak, and the White House has already said Obama will not meet with him when he's here.
BuzzFeed News asked several Senate Democrats whether they planned on skipping the speech or not. Most said they either hadn't thought about it or they hadn't decided. But there were no hard answers in the negative. Only one senator definitively said he would go.
Sen. Tim Kaine, who serves on both the Foreign Relations and Armed Services committees and recently traveled to Israel, said it's "too early" to decide whether he'll attend or not.
"It is not the norm to do this right before an election and it is being widely reported in the Israeli press as the U.S. expressing some kind of a preference," Kaine said.
Sen. Chris Murphy expressed a similar sentiment.
"I'm sick about the fact that protocol has been violated, but you know, I'm always eager to hear what he has to say," Sen. Chris Murphy said. "It's not something that I have thought about one way or the other."
A Democratic aide said their office was only informed of the scheduled date on Thursday and it was unclear if "anything's been discussed at this point by anyone in the Senate."
Netanyahu's arrival will come at a tense time. He's up for re-election in mid-March and many have said they are uncomfortable having him make a political speech to Congress so close to that vote. The U.S. is also in talks with Iran over its nuclear program.
Netanyahu is slated to address Congress on March 3.
When asked whether he'd attend, Florida Democratic Sen. Bill Nelson said he'd "figure that out later."
Sen. Chris Coons, who serves on the Foreign Relations Committee, said, "I'll be weighing what's the best thing to do."
"I remain hopeful that his address would be delayed until after their election," the Delaware Democrat told BuzzFeed News.
Sen. Dianne Feinstein declined to comment. Sen. Ed Markey referred BuzzFeed News to his press office.
Sen. Ben Cardin, a senior member of the Foreign Relations Committee, was the lone senator who said he would attend no matter what.
"I'd be more than happy to meet with opposition leaders if they want to meet with us, give them opportunities, etcetera," Cardin told BuzzFeed News. "But if the Prime Minister of Israel addresses a joint session of Congress, I would be there."
Speaking at the Democrat retreat in Philadelphia Wednesday night, House Minority Leader Nancy Pelosi warned of the effects a visit from Netanyahu could have on the Iran talks.
"In terms of invitations to speak to Congress — the Prime Minister has spoken two times. The only person who has spoken more is Winston Churchill," Pelosi said. "One of the times, my father was in the room; Dec. 26 — the day after Christmas — 1941, right when we were going into World War II. It's a serious, big honor that we extend. That it should be extended two weeks before an election in a country, without collaboration among the leaders of Congress, and without collaboration with the White House, is not appropriate. It is not appropriate."
Kate Nocera contributed to this report.