Senate Delays Vote To Extend Unemployment Benefits
Sen. Harry Reid rescheduled the vote for Tuesday morning after a GOP senator accused him of using the vote as a "political exercise."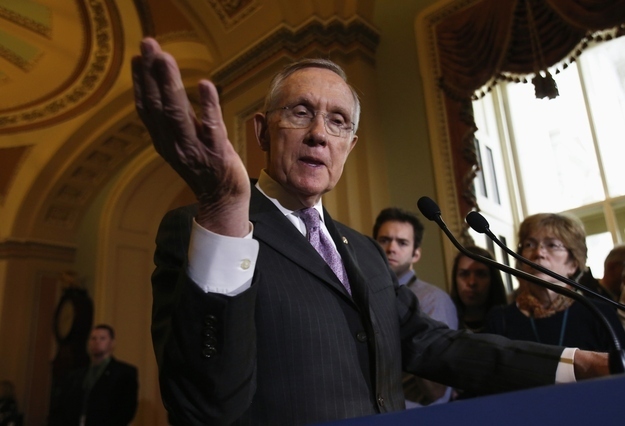 In a surprise move Monday night, Sen. Harry Reid decided to delay the long-anticipated procedural vote on the extension of the Emergency Unemployment Compensation program to Tuesday morning.
Though the vote had been scheduled for weeks, several senators were unable to make the session in time, partly because of rough weather around the country. Sen. John Cornyn argued the vote should be moved so they can attend.
"If this was anything other than a political exercise, the majority leader would reschedule this vote when we did not have 17 members of the United States Senate unable to be here and vote on this," Cornyn said.
Leadership aides told BuzzFeed just a few hours prior that a reschedule was "unlikely," but that Reid may still use a procedural rule to allow him to table the vote for another time if he didn't have enough votes. Cornyn's speech caused Reid to change those plans.
The legislation needs 60 votes to proceed to a final vote. All 55 Democrats and GOP Sen. Dean Heller (a co-sponsor of the bill) are expected to vote in favor. Sen. Susan Collins told reporters Monday night she would also vote to proceed the bill with hopes that an amendment to offset its costs would be added at a later date.
GOP leaders have argued that the bill needs some sort of cost-mitigating measure in order for them to consider it, while Democrats say that shouldn't be the case. The current Senate bill has no cost offsets in it and will cost an estimated $6.4 billion.
On Dec. 28, roughly 1.3 million Americans were cut off from the benefits they were supposed to receive after Congress chose not to hold a vote to extend the Emergency Unemployment Act, which provides federal funds to job seekers after their state benefits run out.
Even if the bill passes the Senate, it faces a tough battle in the lower chamber. House GOP leadership has said any proposal that does not include a way to mitigate the cost of the program will be rejected.
"It's hard for me to know if the Democrats are sincere about this. I must say I have my doubts," Rep. Tom Cole told BuzzFeed last week. "There's no way there'll be an extension of extraordinary unemployment without a pay-for."
Here's the exchange that caused Reid to delay the vote: