Senate Confirms Obama's Controversial Surgeon General Nominee
Dr. Vivek Murthy's confirmation was held up for months because of opposition from Republicans and the National Rifle Association.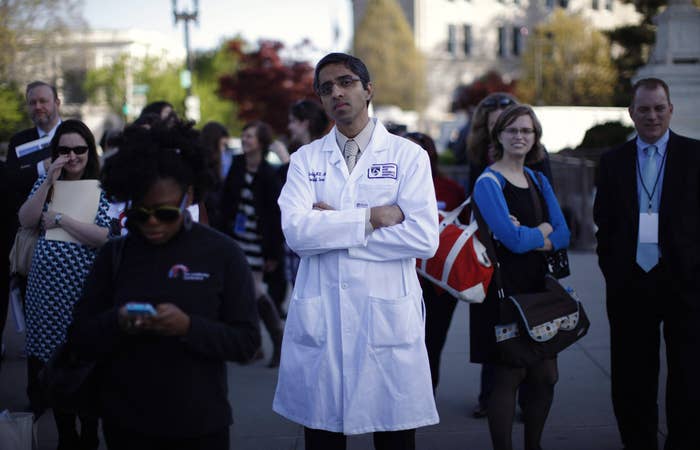 WASHINGTON — The Senate confirmed Dr. Vivek Murthy to be the next U.S. surgeon general Monday, in a vote that was held up for months in part because of intense opposition from the National Rifle Association over comments Murthy made on gun control.
Murthy, who was confirmed 51 to 43, is the country's first Indian-American surgeon general. At the age of 37, he is also the youngest to serve in the position.
In 2012, Murthy tweeted that guns are "a health care issue" and that politicians were "putting lives at risk b/c they're scared of NRA."
Murthy continued to use social media to promote gun control, tweeting in April 2013, "Signs of progress-we got 20 votes in the senate in favor of gun violence legislation that we wouldn't have had 1 year ago. Have faith."
He has not tweeted since Sep. 1, 2013.
The president nominated Murthy to the post in November of 2013. The NRA sent a letter to Senate leadership in February detailing the reasons it disapproved of Obama's nominee.
In the months since, the NRA said its opposition to Murthy remained steadfast, but a spokesman declined to say if the group attempted a last ditch effort to sway support away from him in the lead up to Monday's vote.
"The NRA's position hasn't changed," spokesman Andrew Arulanandam said in an email. "America's next surgeon general should not be a political operative whose professional inexperience has been a source of bipartisan concern."
Arulanandam said the NRA will also "score" the vote.
Murthy is a physician at Harvard Medical School and the president and co-founder of Doctors for America. He has been a vocal supporter of the Affordable Care Act.