Republicans Still Don't Have Their Plan To Defund Obama's Immigration Actions Figured Out
House Republicans will meet Tuesday to decide on a plan of action.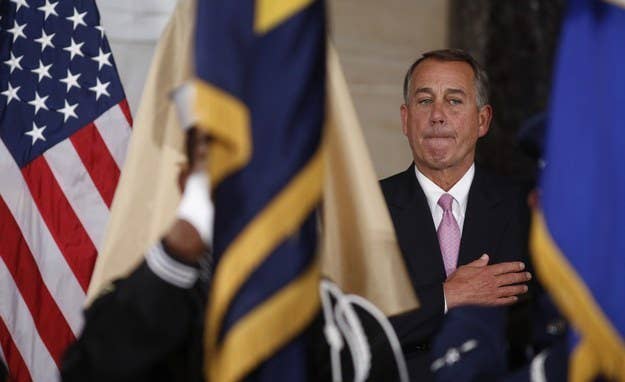 WASHINGTON — House and Senate Republicans are eager to stop President Barack Obama's executive order on immigration, but so far have been unable to agree on how to proceed while also avoiding a government shutdown.
On Tuesday at a closed door meeting House Republicans are expected to finally decide on a strategy. Their biggest roadblock is they have to toe the line between political posturing against the president while still successfully funding the government before the Dec. 11 deadline.
Senate Republicans have said they will look to the House to figure out how they'll proceed, so the result of Tuesday's meeting could set the tone for the final days of the 113th Congress.
One plan, dubbed the "CRomnimbus," would fund the government through a combination of both short-term continuing resolution bills and a long-term omnibus bill. Then, the plan goes, when Republicans gain control of both chambers of Congress next year they can revisit the areas they funded short term.
Complicating the plan more, there are some who have questioned whether Congress even has the ability to defund aspects of the executive order because the agency most responsible for fulfilling the executive order is funded through fees, not Congress.
Some Senate conservatives, according to aides, are working with the House on a plan that would pass a short-term funding bill with a rider to defund the president's executive action. The idea of that plan, a Senate aide said, would be to force the Democrats to vote on the executive order even though they know it won't succeed.
Sen. Ted Cruz has been vocal on the issue, but wouldn't confirm what plans he is working on specifically. When asked about it, he told a reporter to call his press office.
"I'm not going to talk specific strategy, but the senator is indeed committed to opposing funding of the president's executive amnesty, and will use any procedural means necessary to stop it," a spokeswoman for Cruz told BuzzFeed News.
Others seem to be on a different page. Where some Senate conservatives are working on a short-term funding bill with a rider to defund the actions, another Republican aide argued the options were a long-term funding bill with a rider, or a short-term funding bill that leaves the issue aside entirely until the next Congress.
And still further: A GOP leadership aide said plans involving a rider to defund the executive action are ill-conceived because outgoing Majority leader Harry Reid "won't allow any such amendment during the lame duck."
Other avenues Republicans have considered are to block Obama's nominations — there are a couple of high profile openings at attorney general and defense secretary — or to possibly sue the president.
No matter what, it's highly unlikely Obama will sign anything that would undo his executive action.