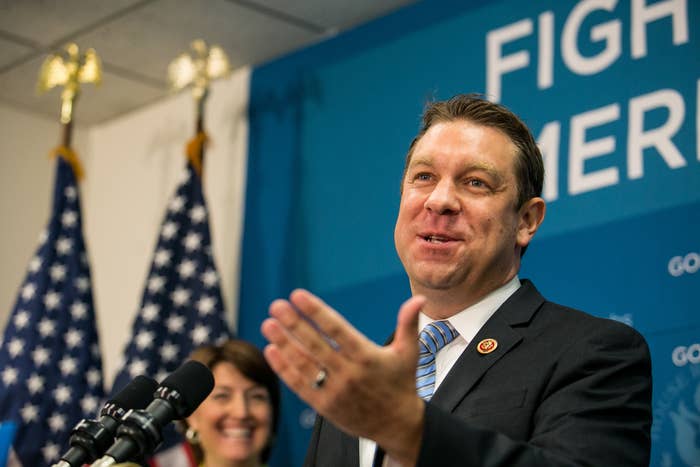 Rep. Trey Radel was arrested for misdemeanor possession of cocaine on Oct. 29 in Washington, D.C., according to a report by Politico.
Radel, a freshman Republican from Florida, was charged in D.C. Superior Court Tuesday and is scheduled to appear in court Wednesday.
"I'm profoundly sorry to let down my family, particularly my wife and son, and the people of Southwest Florida," Radel said in a statement. "I struggle with the disease of alcoholism, and this led to an extremely irresponsible choice."
Radel was first elected to Congress last year and represents a southwest Florida district previously held by former Rep. Connie Mack.
"Members of Congress should be held to the highest standards, and the alleged crime will be handled by the courts," a spokesman for House Speaker John Boehner said. "Beyond that, this is between Rep. Radel, his family, and his constituents."
The freshman congressman has also been a frequent community contributor to BuzzFeed, including a post titled "Why I'm A Hip-Hop Conservative."
Kate Nocera contributed to this report.
Read Radel's full statement:

UPDATE — Nov. 19, 8:25 p.m. ET: Radel was caught buying drugs as part of a federal investigation into a drug ring last month.
Rep. Radel was identified to authorities by his suspected dealer, who had been arrested as part of a separate drug investigation, an unnamed Drug Enforcement Administration official said. The dealer then set up a buy with the congressman.
According to the official, the cocaine was purchased from an undercover agent in Washington, D.C., on Oct. 29 by Rep. Radel. Later that night officials went to his apartment, detained him, and informed him that he would be facing criminal charges related to buying drugs.
A defense attorney was hired by the congressman, who negotiated the charges with a prosecutor, the official said. Rep. Radel was never handcuffed and did not go to jail.