Rand Paul's Mom Says He Won't Announce Presidential Decision Until "After 2014"
In a new Vogue profile, the Kentucky libertarian's mom Carol said her son is waiting until after the midterms to announce his 2016 presidential bid. "Rand says he won't declare that he's going to run until after 2014," she said. "Groundwork has to be set."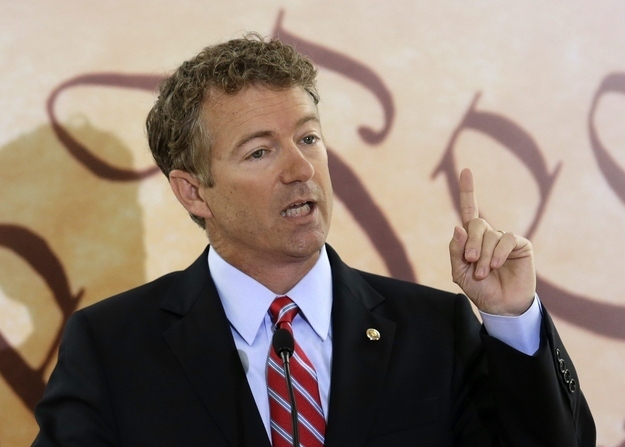 Senator Rand Paul's mother suggested in a magazine interview that he will announce his 2016 presidential bid sometime after the 2014 midterm elections.
"Rand says he won't declare that he's going to run until after 2014," Carol Paul told Vogue in a new profile by Jason Horowitz on Rand Paul and his family. "Groundwork has to be set.
He told Fox News in August that he's considering a run, but wouldn't make a decision for "probably a year." His mother's latest comments suggest a more specific time frame for that decision.
Though Rand Paul has generally been quite open to the press, the Vogue interviews with his mother and his wife, Kelley, offer a new glimpse at the people around the likely presidential candidate. Kelley Paul, in the interview, offered some blunt talk about former President Bill Clinton, a potential first "first gentleman."
Kelley invoked the former president's affair with intern Monica Lewinsky.
"I would say his behavior was predatory, offensive to women," she said.
Rand Paul told Horowitz he had a "gut feeling" that Hillary will not run for president as many have speculated.
The article offers a glimpse at the Paul family's home in Kentucky, where Rand works out in his Endless Pool and shows off the trunk of a Redwood tree he failed to grow, which he still keeps in his garage. It also notes the Paul's are grooming their sons into young libertarians via literature — one is reading 1984 by George Orwell and another just finished Ayn Rand's The Fountainhead.
But one of the main focuses of the profile is Kelley Paul's behind-the-scenes value, in the Paul camp. It describes her as his "secret weapon."
Kelley is no political novice. She recently left the embattled Strategy Group for Media, where she worked on GOP Sen. Ted Cruz's campaign. Cruz is expected to be a top competitor of Paul's in 2016.
Now she serves on the board of Helping a Hero, a charity that builds houses for wounded war veterans, which the article says helps hedge Paul's anti-war stance to win favor with soldiers.
Rand Paul also admits that he relished in his public war of words with New Jersey Gov. Chris Christie, another potential 2016 challenger.
"Paul gleefully notes to me that his latest Christie-baiting tweet is 'really going to escalate the war' between the two Republicans," Horowitz writes.