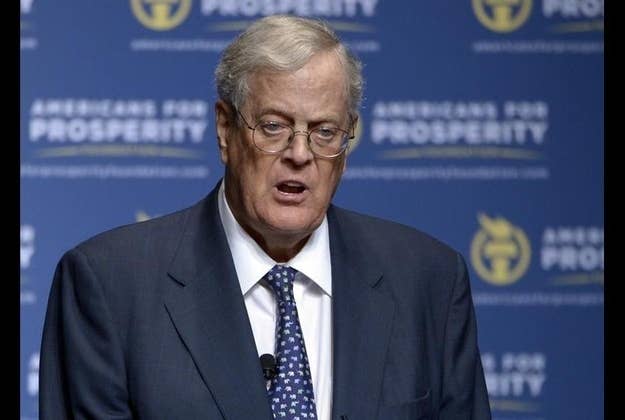 WASHINGTON — More than half of Americans have no idea who the Koch Brothers are, according to a new poll released Tuesday morning.
Democrats have spent a large amount of time in the last few weeks posturing Charles and David Koch, the billionaire oil tycoons who donate significant amounts of money to conservative causes and candidates, as the sort of bogeyman of the Republican Party. Senate Majority Leader Harry Reid even blamed them in part for Russia annexing Crimea.
But according to a new bipartisan George Washington University Battleground Poll, that strategy may be less than fruitful. The poll shows 52% of Americans still don't even know who the Kochs are and another 11% have no opinion on them.
"Trying to make the Koch brothers into that red meat is going to be about as effective as what we tried to do for several cycles with George Soros," Republican pollster Ed Goeas told reporters during a breakfast sponsored by the Christian Science Monitor.
As far as Reid's numbers go, the poll shows 25% of Americans don't know who he is and another 16% have no opinion on him.
That suggests Reid, someone many Americans don't care much about, going on the Senate floor multiple times a week to decry the actions of the Kochs, who a majority of Americans have never even heard of, may not be the most effective strategy for protecting a Democratic majority in the Senate come November.
Aside from an overall 53% disapproval rate of the job the president has done compared to a 44% approval rate, the poll also shows 54% of Americans disapprove of his foreign police efforts, which a large 63% majority opposes his spending policies.
The poll showed Democrats did have a key advantage on at least one front — the middle class. And that's where they can pick up votes for 2014 and avoid losing the Senate, according to Democratic pollster Cellinda Lake.
"The challenge is we need to move ahead," Lake said. "Democrats need to solidify a bigger economic agenda."