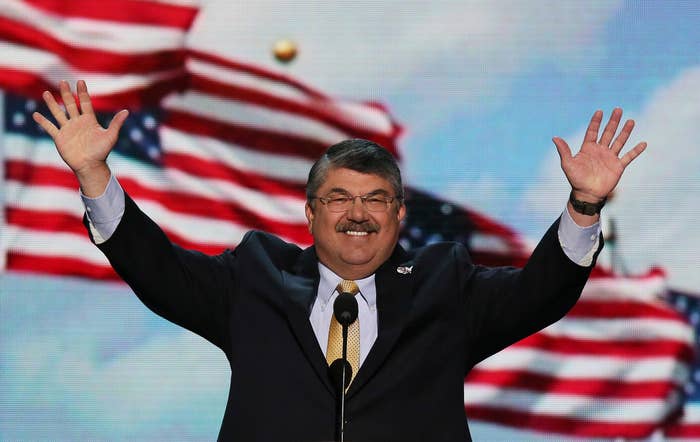 WASHINGTON — As labor unions continue to rally in a call for justice over the deaths of Michael Brown and Eric Garner, the AFL-CIO's police union has sent a letter to AFL-CIO President Richard Trumka addressing their concerns over the rhetoric, hoping to bring it to heel.
The AFL-CIO confirmed it received a letter this week from Sam Cabral, the president of the International Union of Police Associations. The letter comes as other unions have condemned grand juries for not indicting the killers of Michael Brown in Ferguson, Missouri and Eric Garner in New York City, and called for sweeping police reforms.
Neither IUPA nor the AFL-CIO would discuss the details of the letter, citing it as an "internal" matter. But a spokesman for the police union said they were frustrated there "wasn't much" they could do to help quell the anti-police narrative that's seemed to come to a boiling point nationwide.
"What we are doing is staying very, very close to all the reports that are coming in and gleaning through them," IUPA spokesman Rich Roberts told BuzzFeed News. "Trying to bypass all the emotion that's being generated."
Roberts noted that none of the officers they represent have been directly involved in any of the recent high profile cases.
Cabral and Trumka's difference of opinion on policing first came to a head this summer, when Cabral penned a couple of open letters defending the program that provides military-grade equipment to local police. Trumka, meanwhile, was calling for that program to be reigned in and signed on to a letter calling for a "federal czar" to oversee police departments.
In a statement sent after the grand jury decided not to indict Darren Wilson in connection with the death of Brown, Trumka said the "justice system is biased against communities of color" and called for more "fairness in policing."
Randi Weingarten, president of the AFL-CIO affiliated American Federation of Teachers, was arrested while protesting the Eric Garner grand jury decision.
"Coming after the grand jury's decision in Ferguson, Mo., this decision causes many in New York and around the country to question their faith in our criminal justice system," Weingarten said in a statement. "Make no mistake, we respect the difficult job our police do in keeping our communities safe, but the issue of excessive force must be addressed."
But some of the largest unions calling for police reform no longer fall under the AFL-CIO's umbrella, most notably the Service Employees International Union.
SEIU 1199 and SEIU 32BJ recently signed a letter calling on New York Gov. Andrew Cuomo to veto a bill that would make it more difficult for local governments to discipline police officers.
"The long and growing list of unarmed people of color killed by the police stands in stark contrast to our ideals as a nation," said George Gresham, president of SEIU 1199. "This is not a black issue or a brown issue or a white issue, this is a human rights issue."