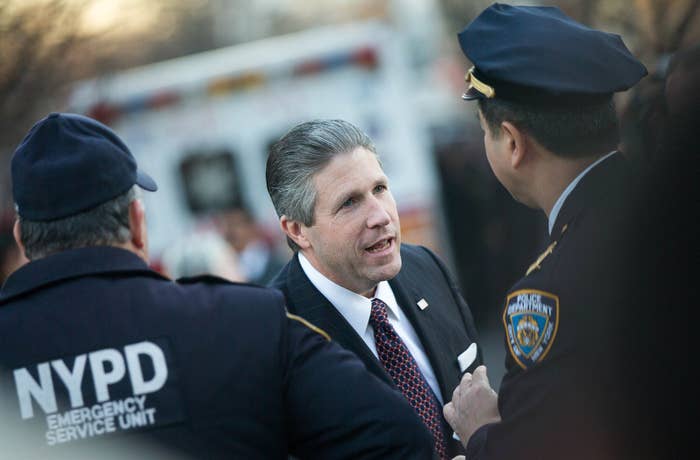 New York City's top progressives have backed away from any direct confrontation with the city's largest police union, even as union leaders continue to criticize the mayor following the shooting of two officers.
But the silence of non-police unions may not last long into the new year.
That will depend on the actions of Patrick Lynch, the president of the Patrolmen's Benevolent Association, and whether he continues his public campaign against Mayor Bill de Blasio, sources with knowledge of union thinking say. Unions were instrumental in getting de Blasio elected and are considered among his closest allies.
"Those that are closer to traditional institutional players will probably, hopefully, be more willing to shun those who are using an inappropriate tone," one senior union official told BuzzFeed News.
While labor's silence regarding Lynch has been, in part, out of respect to the families of the two murdered NYPD officers — de Blasio also called for a moratorium on political rhetoric and demonstrations in the weeks surrounding the funerals — sources said it was also an act of "solidarity" to avoid union-on-union warfare.
"There is a reluctancy for unions to weigh in against each other," a source with close ties to the city's progressives and unions told BuzzFeed News. "Though certainly that is less true when you talk about the progressive unions and the police unions."
The city's police unions are not members of the AFL-CIO, unlike many of New York City's largest unions.
Though top labor officials and other citywide progressives have refrained from addressing Lynch, many have vocally supported the large protests after a grand jury did not indict the police officer involved in Eric Garner's death.
Since officers Wenjian Liu and Rafael Ramos were killed in Brooklyn, Lynch has targeted de Blasio. He went as far as to blame the mayor for their deaths and has since encouraged officers to turn their back on him at public events, including at Ramos' funeral.
After a meeting between the mayor and city police unions, a de Blasio spokesman said in a statement the meeting "focused on building a productive dialogue and identifying ways to move forward together."
Conversely, Lynch was less optimistic after the meeting. "There was no resolve and our thought here today is that actions speak louder than words and time will tell," he said.
While conversations about what to do next have mostly remained internal, others have publicly called for a repudiation of Lynch. In an op-ed for the New York Daily News, former labor official Jonathan Tasini called on unions to fight back against Lynch's "poisonous rhetoric."
If some were to speak out, according to two people familiar with progressive thinking in the city, the ultimate goal would not be to wage and win a political battle against Lynch, but to rein in the discourse and create a "respectful, appropriate dialogue" on the issue of policing.
"We reached a dangerous point in this city a couple of weeks ago," said Nathan Smith, a Democratic consultant in New York. "Folks believe that we were brought to the brink of a very dangerous and explosive situation, and folks want a much more productive path to find a solution in the future."