New App Wants To Challenge Uber For Ride Hailing Supremacy
Starting in Las Vegas. "We see ourselves as a disrupter of the disrupters."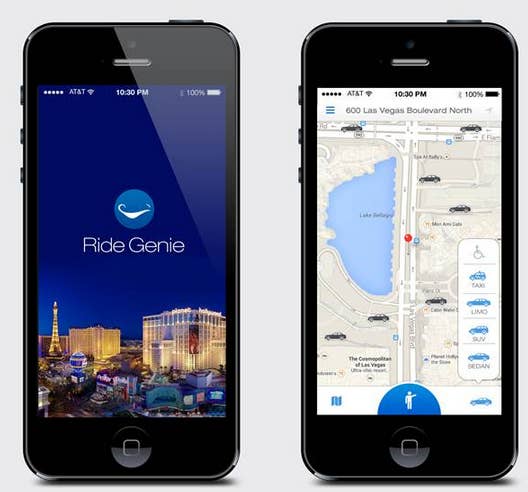 Uber is illegal in Las Vegas — Nevada's strict transportation regulations have so far thwarted all of the company's attempts to operate in the state's huge potential market.
Another taxi-app has quietly launched in Las Vegas, however, and plans to expand to New York, Miami, and Washington, D.C. The app, called Ride Genie, brands itself as an "e-hailing" app instead of a ride-sharing one — it only works with licensed cabbies, rather than the fleets of drivers hired by Uber and Lyft.
That willingness to operate with established (and often politically connected) cab companies is at the core of Ride Genie's ambitions: becoming an app to rival Uber and Lyft.
But Integrity Vehicle Solutions Company CEO Mark James, whose company owns the app, has a steep hill to climb. Uber is valued at a nearly $20 billion and is backed by some high-powered investors including Google, BlackRock, and Goldman Sachs. Ride Genie is just beginning to scratch the surface.
Despite the challenge of that scale, James is looking far beyond the Nevada desert.
"We see ourselves as a disrupter of the disrupters," James said in a phone call with BuzzFeed.
Uber has dealt in recent months with several of its drivers have been accused of sexual assault and kidnapping. James hopes that because his app uses only government-licensed drivers, people might feel a little safer using his app.
James himself is a veteran of the Las Vegas cab industry. He ran several cab companies in Nevada; he eventually sold his way out of the taxi business and fully invested in his startup.
James said he's well into talks to expand into even larger cities, including New York, Miami, and Washington, D.C. There's also a plan to bring the app to an international city, though James won't say which one.
James's willingness to comply with regulation comes with a cost. Every time users book a ride with the app, there is a $5 surcharge in addition to the fare. James counters that by noting customers will only ever pay the government-sanctioned rates — no "surge pricing."
Ride Genie is hardly the first app to work solely with licensed cars. Other cab companies have built their own apps to provide users with the ease of the technology-based ride-sharing apps without losing money to unlicensed drivers.
But James said his is the first of its kind to unite various cab companies in a city to work with just one app.
"These are people who for decades have been fierce competitors, but have come together around a single app technology," James said.