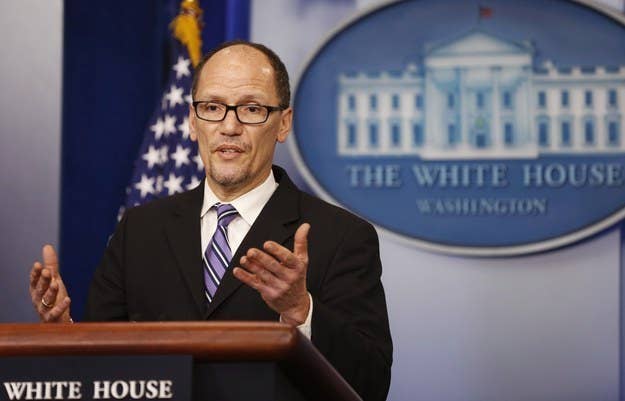 WASHINGTON — The Labor Department will delay enforcement of a rule that extends minimum wage and overtime protections to home care workers. The rule was supposed to go into effect in full starting in January.
The rule will not be enforced from Jan. 1, 2015 to June 30. After that, there will be another probationary period through Dec. 31, in which the Labor Department "will exercise prosecutorial discretion in determining whether to bring enforcement actions."
The rule still technically goes into effect on Jan. 1 as originally planned, though employers who, during the delay period, continue to follow the Fair Labor Standards Act as it was before the rule will be able to avoid prosecution.
"Some states, tell us that they're ready to implement the rule," the department wrote in a blog post. "Others, because of budget and legislative processes, have requested an extension."
The department added that throughout the 12-month delay, it will continue "extensive outreach and technical assistance" for states that need it.
Reaction to the announcement has been mixed.
"The final rule issued by the Department of Labor today represents an essential measure of fairness for home health care workers," House Minority Leader Nancy Pelosi said in a statement. "It is high time that those caring for our friends and loved ones be covered by the minimum wage and overtime protections guaranteed in the Fair Labor Standards Act."
AFSCME President Lee Saunders said he was glad the rule was still being implemented on time, but expressed concern that some states are still not ready to implement the rule even though they've had more than a year to prepare.
"States and other employers have been on notice for more than a year that minimum wage and overtime protections would be extended to home care workers, he said in a statement. "Although some states continue to claim that they are unprepared to make the administrative changes to facilitate this basic protection, they should be able to fully comply in short order and the DOL has indicated it will assist them with implementation."
Others were less enthusiastic. The Paraprofessional Healthcare Institute issued a statement saying they were disappointed by the delay.
"The decision to delay means that 2 million home care workers — largely low-income women, and disproportionately women of color — will have to wait as long as another 12 months to receive even the most basic labor protections, guarantees that most other American workers take for granted," PHI said.
Rumors about an enforcement delay have been swirling recently, prompting a coalition of advocates to send a letter to Labor Secretary Tom Perez urging him continue on with the rule as planned.
"We were alarmed by recent remarks by Department of Labor officials suggesting that the Department may delay implementation of the rule, which we fear would put this historic workplace victory in jeopardy," the coalition, which includes a number of unions and advocacy groups, wrote on Sep. 29.