How One Union Is Playing For Both Sides In The Battle Between Uber And Taxis
East Coast vs. West Coast.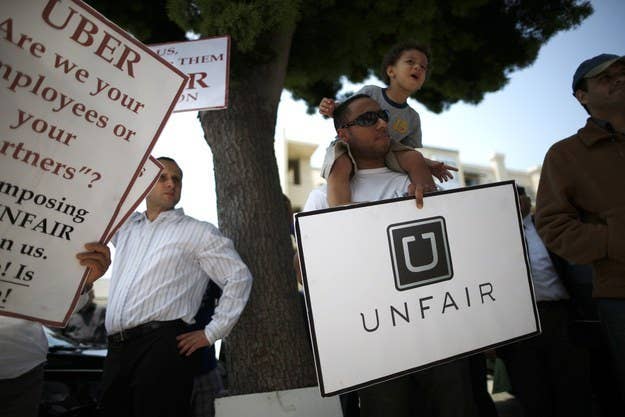 WASHINGTON — As the bitter divide between ride-sharing and taxi companies continues to grow, one union is trying to unite all the drivers, no matter who they work for.
The Teamsters think they can have it both ways — organizing drivers from Uber and Lyft on the West Coast and defending the taxi unions on the East Coast.
In Seattle, the Teamsters have aligned with both traditional taxi drivers and drivers who use apps like Uber, Lyft, and Sidecar. The recently created California App-Based Drivers' Association, an affiliate of the Teamsters, is recruiting ride-sharing app drivers in some of the Golden State's largest cities. And representatives say that though there's nothing in the works as of yet, they wouldn't be opposed to having traditional cabbies sign on as well.
But back east in D.C., the Teamsters refuse to work with the Uber drivers. The union said Uber and Lyft drivers in D.C. are operating "illegally," and before they even consider working with them, they'll have to adhere to local law.
In fact, the Teamsters are working directly against Uber.
And organizer Joel Wood said they'll stand by their affiliate, the D.C. Taxi Operators Association, to fight Uber until it complies with the law.
"Our cab drivers are not afraid of fair competition," Wood said. "What they are afraid of is a billion-dollar corporation coming in and thumbing their nose at regulations."
In California, the Teamsters are unfazed by the D.C. efforts. Ron Seamans Jr., a Teamsters organizer and business representative in California, said the heart of their organizing efforts are to provide protections for drivers.
A statement from Seamans' union pointed to one example of a female driver who spoke at a recent meeting for a local Teamster affiliate based out of El Monte this Wednesday. At a meeting to decide if the drivers wanted to join the California App-Based Drivers' Association, the driver said a client "sexually harassed her," according to a statement from Teamsters Local 986. Because of fear she would receive a bad rating and potentially have her right to drive for Uber revoked, she said, the driver continued on with the ride.
When she reached out to Uber for help afterwards, the statement alleges she received "no meaningful response."
Uber and Lyft did not immediately respond to a request for comment on this story.
"There's no equality when it comes to Uber and how drivers are deactivated on a daily basis," Seamans said.
Wood, the Teamsters organizer, didn't rule out East Coast efforts to organize drivers. In Virginia, Uber recently worked out a deal with the state to operate legally. Wood said he's fielded some calls from drivers in the area looking to organize, but that's in the early stages as they evaluate how the company complies with the new guidelines.
The AFL-CIO, a labor federation that does not include the Teamsters, has been organizing taxi drivers, as well. They've unionized taxi drivers on both coasts, from Maryland to San Francisco. But that doesn't mean they aren't also interested in getting Uber drivers as well.
At a breakfast hosted by the Christian Science Monitor Thursday morning, AFL-CIO President Richard Trumka said wherever there are workers, he sees an opportunity to organize. But he wasn't willing to share the federation's strategy just yet.
"Can you imagine going up to a football coach the Friday before the game and saying, 'tell us what your plan is,'" Trumka said.
Ultimately, the Teamsters want to add as many drivers as it can to union coffers — Uber, Lyft, traditional cab, or anyone else. Whether that affects negotiations with the companies, or their lobbying efforts in statehouses, is a bridge they say they'll cross when it comes.
For now, though, the CADA is mostly focused on building up membership, which is still relatively small.
"If it's 1,000 drivers knocking down City Hall's door or marching up to the State Capitol, that's a force to be reckoned with," Seamans said.