House Democrats Protest Provisions In Government Funding Bill
The deal on federal spending was negotiated by Senate Democrats and House Republicans.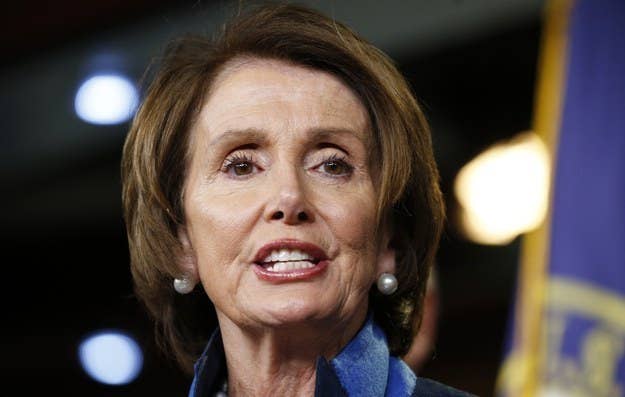 WASHINGTON — House Minority Leader Nancy Pelosi said Wednesday some of the provisions inside the government funding bill released Tuesday night caught Democrats by surprise, and now some members may pull their support for the bill.
With just one day left to fund the government and avoid a shutdown, Pelosi urged Republican leadership to remove two provisions in the omnibus spending package — one that aims to undo a key aspect of Dodd-Frank and another that allows individuals to contribute a significantly higher amount to campaign committees.
Pelosi dodged a question from reporters asking if she was calling on Democrats to vote against the bill if those provisions are not removed, but said her caucus is "concerned."
"We only saw the bill, certain aspects of the bill and the language of the bill last night. And when we saw that and learned further about the money piece, that was brand new," Pelosi said. "The other one we knew, like, for one day. This one was brand-new. Our members are very very concerned about it."
Because the spending bill does not include a rider to defund President Barack Obama's immigration executive order, many conservatives have vowed not to vote for it. So Republicans are relying on Democratic support to get the bill passed.
Rep. Chris Van Hollen, a Democrat who sits on the Banking Committee, said he will not vote for a bill with those two provisions in it.
"Putting these provisions in the bill is everything that's wrong with the political process right now," Van Hollen said.
Rep. Sandy Levin, also a Democrat, said it was "inexcusable" for negotiators to agree to those provisions.
But according to a top aide to Speaker John Boehner, Republicans remain confident in the bill they put out.
"Those provisions, like the entire bill, were the result of a bipartisan, bicameral process," Boehner spokesperson Michael Steel said. "If Representative Pelosi doesn't think her negotiators did a good job, she should discuss it with them. But sour grapes doesn't mean she gets to rewrite the deal after the fact."