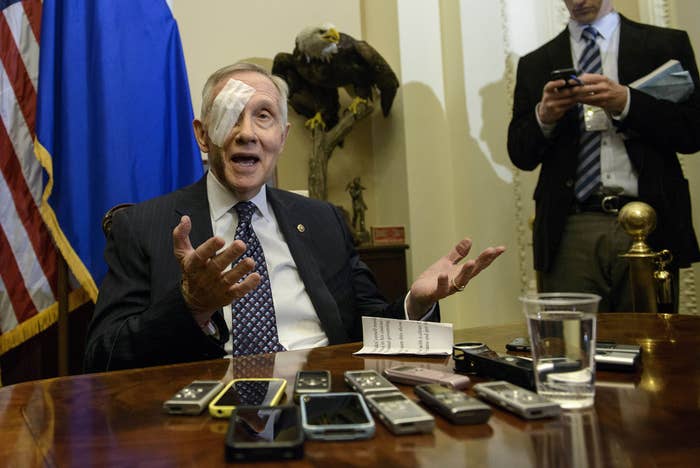 WASHINGTON — Senate Minority Leader Harry Reid said he's "doing fine" Thursday in his first media appearance since he injured his right eye and several ribs earlier in January.
Wearing a bandage over his eye, Reid detailed how his injury occurred, saying an exercise band he was using broke, hit him in the face, spun him around and sent him flying into some nearby cabinets. Reid did not disclose the brand of exercise product he was using.
Reid also said he had four broken ribs, but that was "minor."
"Didn't knock me out, but it sure hurt," said Reid, a former boxer.
On Monday he'll have surgery to reconstruct bones in his eye and face. He'll also have blood drained from the injured eye.
The senator said he hopes to be back "full time" the week after his surgery.
Reid, who still has some bruising on his cheek and neck, opened up the press conference calling Republicans' efforts to pass a Department of Homeland Security funding bill "outrageous.
Despite his injuries, Reid said that, at least for now, he still plans on running for re-election when his term is up in 2016.
When asked about the possibility he suffered a concussion, Reid said he hadn't been told he had one but "but perhaps I have, I don't know."
"I do have a better understanding of the football players and the baseball players who have concussions," he said.