GOP Congress Member: No Military Authorization Before The End Of 2014
The lawmaker also said that this September's measure to train and arm Syrian rebels was mostly for show.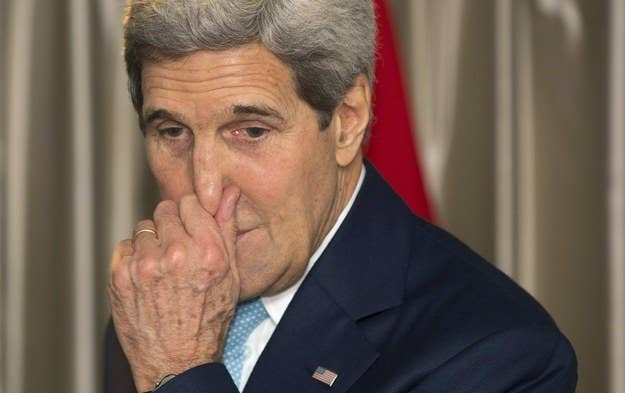 WASHINGTON — A Republican member of Congress on Thursday dismissed the notion that Congress will pass a bill to formally authorize military action against ISIS before the year ends.
Since President Obama announced air strikes in Iraq and Syria this summer against ISIS militants, the administration has largely argued that the president's actions are legal and covered by earlier, post-9/11 laws. Whether Congress would actually authorize military action has been unclear, though there appears to be support for doing so.
The lawmaker, speaking with reporters at a background Business Roundtable briefing on Thursday morning, also said the measure Congress passed September to arm and train Syrian rebels was largely for optics and only "10% substance."
"Most of this was done for public consumption prior to the election," the lawmaker said.
"It worked, unfortunately," the Republican added.
In recent weeks, at least one key Republican has said he's been kept in dark the military authorization issue. BuzzFeed News reported last week that ranking member on the Senate Foreign Relations Committee Bob Corker hadn't spoken with Chairman Robert Menendez about a possible AUMF. Democratic Sen. Chris Murphy has said the committee is currently working on language for an AUMF.
Though publicly the White House said it welcomes an authorization from Congress, on Thursday morning a Republican lawmaker argued it is clear they don't actually care if they get one.
AUMF requests usually come down with some sort of specific action plan for what should be included in them, the lawmaker said, and in discussions with both Secretary of State John Kerry and White House Chief of Staff Denis McDonough, no such request has been made.
The GOP lawmaker also attended a briefing with both Democrats and Republicans at the White House Wednesday night, where the plan to train Syrian rebels was discussed. The meeting, the Republican said, left many in the room thinking the administration's plan isn't even "quarter baked."
"A quarter would be an exaggeration of where they are," the lawmaker said.