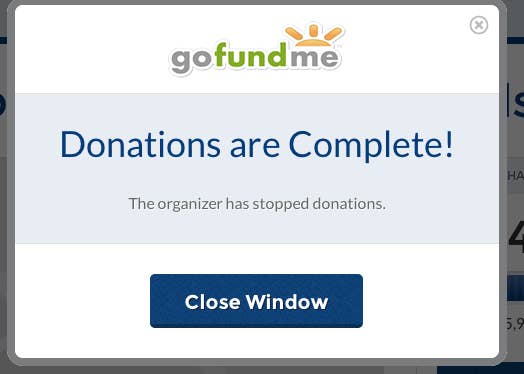 The original donation page to support the Ferguson, Mo., police officer who shot Mike Brown has been replaced with a charity, which shares the same address with a local police union in Missouri.
A long message to the Support Officer Wilson GoFundMe page was posted Friday afternoon, noting that donations will now go directly to a 501c3 charity called Shield of Hope, which the post says is designated "the authorized charity for donations on behalf of Darren Wilson."
The old GoFundMe account had raised more than $234,000 before it was shut down. The new page has already raised more than $9,000.
GoFundMe distanced itself from the situation, saying in an email that it is a "neutral platform" and the campaign itself has not violated any of the site's terms. Additionally, the email from a spokesperson, identified only as Kelsea, said the pages do not appear in a public search because "a valid Facebook account has not been associated with it."
The original donation page said all donations that were already made will still go toward helping Darren Wilson, and other social media pages will continue to be operated independently.
Shield of Hope appears linked with a local police union in St. Louis County, Lodge 15 of the Fraternal Order of Police.
The nonprofit shares the same address as the police union. When asked whether Missouri unions were supporting the GoFundMe account, a representative for the state Missouri Fraternal Order of Police told BuzzFeed "that account is run by Lodge 15."
The nonprofit database Guidestar describes Shield of Hope as the "Fraternal Order of Police Lodge 15 Charitable Foundation," and lists the nonprofit's address in St. Louis. That address is the same as police union's.
Earlier this week, a user on the Facebook page I Support Officer Wilson directed people to "mail any donations" to Lodge 15 with "Attention: Shield of Hope." A post from another Missouri police union earlier this week also directed donations to Shield of Hope, with a typo in the address.
Ferguson Police Department's Public Relations Officer Timothy Zoll serves on the board of Shield of Hope, The Wire reported Friday. In an interview with the site, Zoll said the organization raises money that is "allocated to officers in times of need."
Lodge 15 did not immediately respond to BuzzFeed's requests for comment via email and phone.
Good Afternoon,We (being the admins of the page) began this GoFundMe site after our Facebook page "Support Darren Wilson" grew and we saw that there was a need for an online donation site for those who wanted to donate. We set up this GoFundMe page and it quickly gained enormous support for Officer Darren Wilson. Then, once we located the local charitable foundation, Shield of Hope (a non-profit organization), that has been designated as the authorized charity for donations on behalf of Darren Wilson, we began working together to have a GoFundMe page set up to collect and disburse donations for Officer Wilson through the Charitable Foundation. Unfortunately, to do so requires us to end collection on the current page that you are viewing now. GoFundMe does not allow transfer of existing campaigns, even to charities. Please know that all funds received from our events, this GoFundMe site and our TeeSpring campaign will be donated to Officer Darren Wilson, and in the future, donations will still be donated to Officer Wilson, but will be tax deductible for donors as well. Shield of Hope is a Certified Charity on GoFundMe, is available via public search with GoFundMe, and has been designated by the IRS as a 501c(3) non-profit organization. With the creation of a new page, the donation amount shown will initially reset to zero. Please do not confuse this with the current donation amounts received on this page. Shield of Hope has offered to post all funds received from this GoFundMe page, our TeeSpring page and our rally/t-shirt funds collected on the street on their site indicating they have received these funds from us, once we are able to send those funds to the Foundation. This will allow all of our supporters to confirm that funds collected on this page were sent to the correct place for Officer Darren Wilson.We will continue to operate the "Support Darren Wilson" Facebook page and TeeSpring page independently. If there are any other changes, we will post updates via our Facebook page. We will also still be available for direct contact for any questions, clarification and t-shirt sales.The Ferguson Police Department has requested that all donations that supporters may wish to mail be made payable to "Shield of Hope" and mailed to Shield of Hope, 9620 Lackland Rd., St. Louis MO 63114. New GoFundMe site through Shield of Hope: https://www.gofundme.com/OfficerWilsonFundraiserMailing Address for All Mail in Donations: Shield of Hope 9620 Lackland RoadSt. Louis, MO 63114Phone Number: 314-423-8003Contact E-mail Regarding T-shirts and questions about the original GoFundMe page: istand4darren@gmail.comAs a group, "Support Darren Wilson" is comprised of many people who want to give others the opportunity to support Officer Darren Wilson during this time. Some of us have never met Officer Darren Wilson while others are close family friends or even family themselves. The funds collected through GoFundMe and through TeeSpring along with our fundraisers on the ground will be going directly to Officer Darren Wilson through the non-profit Shield of Hope. These funds will be used to cover potential legal fees, relocation and living expenses of both Officer Darren Wilson and his immediate family.We truly hope that everyone who has donated understands the transition. If not, please reach out to us. We do not want this to become a hindrance of the support Officer Darren Wilson is receiving.Thank you for your understanding. We truly appreciate your time, efforts, prayers, kind words and donations. It means more than you could possibly know.God Bless
BuzzFeed confirmed that Lodge 15 is located at the same address as Shield of Hope. This post has been updated to reflect that. Jim Dalrymple II contributed reporting to this story.