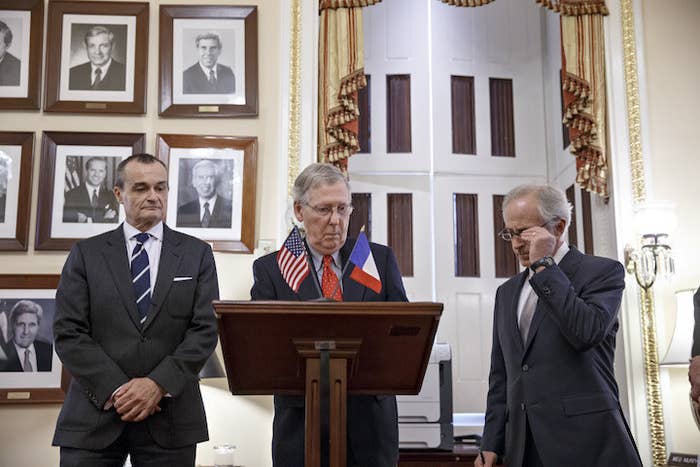 WASHINGTON — The French ambassador on Monday dismissed any notion that the Obama administration's failure send a higher-ranking official to Sunday's anti-terrorism rally in Paris is seen as an insult to France.
"It's an intra-American controversy," said Gérard Araud, France's ambassador to the United States told reporters. "It's not a French one."
Millions attended the rally, including high-profile leaders like German Chancellor Angela Merkel and British Prime Minister David Cameron. The rally was meant to show unity after several terror attacks took place in France, including the shootings at Charlie Hebdo, a satirical newspaper.
The rally was attended by the U.S. ambassador to France.
White House spokesman Josh Earnest said Monday the administration made a mistake by not sending someone "with a higher profile" to the event.
Araud went to Capitol Hill Monday to have a "condolence book" signed by several senators. Sen. Bob Corker, the chairman of the Foreign Relations Committee, Sen. Ron Johnson, the chairman of the Homeland Security Committee, and Majority Leader Mitch McConnell all signed.
Araud said the book signing, in addition to President Barack Obama and Secretary of State John Kerry visiting the French Embassy, was "complimentary to all the Americans have done so far."