Exclusive: New Snowden Interview Leaves Out Quotes About His Concerns For The Future
Based on an audio recording obtained by BuzzFeed, part two of the Guardian's Hong Kong interview with Edward Snowden leaves out a few key quotes, which paint Snowden's fears for his family and friends in a clearer light and show off his sometimes Orwellian flair for language. "Governments are actively searching for ways to defeat them, to sort of return you to the pen for controlled thought," he said.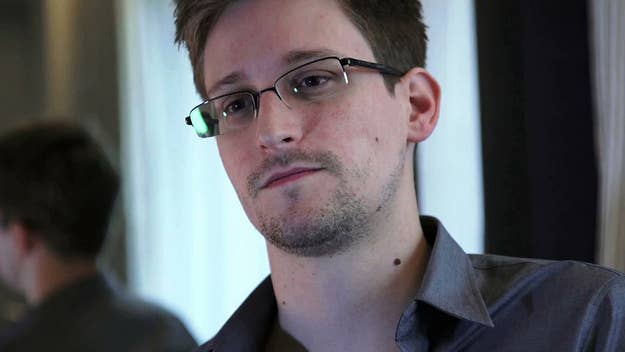 The second part of the Guardian's interview with Edward Snowden was released Monday, digging deeper into Snowden's thoughts and fears on what he's done, as well as his assessment of the value of the information he leaked.
But at least two key sections were deleted from the final edit of the interview. According to an audio file obtained by BuzzFeed, Snowden delves deeper into his fears for his family and friends and talks about the government's constant efforts to thwart new "privacy advancing" technologies. He also suggests that the government will attack his family and friends because "they can't reach me."
In the years I've worked there you see the new systems that have come up, capabilities of these systems have grown, the amount they can see and ingest and analyze is constantly becoming more and more invasive and the manner in which these authorities are used and applied have become looser and looser to the point where, nowadays, you no longer have the expectation of privacy online, even with privacy advancing technologies. Governments are actively searching for ways to defeat them, to sort of return you to the pen for controlled thought.***The government will follow a simple playbook. I think they will try to destroy my credibility, they'll attack me personally and they will try to make an example out of me in any way they can to discourage others from coming forward when they find other things they think the government is improperly classifying information. My primary fear is that the government is going to come after my family, they are going to exercise warrants against any location I've ever used an electronic device, every friend I've ever visited at home, my partner who's travelled with me throughout the world. My mother, my father -- anyone I have (inaudible) with they'll attack them in lieu of me because they can't reach me and I think that's incredibly wrong. But I think they'll do what they can do send a message that people shouldn't do this unless they want repercussions.
Update: A Guardian spokesperson emailed this statement to BuzzFeed:
[Filmmaker Laura Poitras] did an event in NYC where she showed 2-3 minutes of video excerpts of the Snowden interview at a private event at MoMA - she just included different parts than she did for this part. Part 2 was created for the Guardian as was part 1. They're all extracts from interviews conducted by Glenn Greenwald and filmed by Laura Poitras.