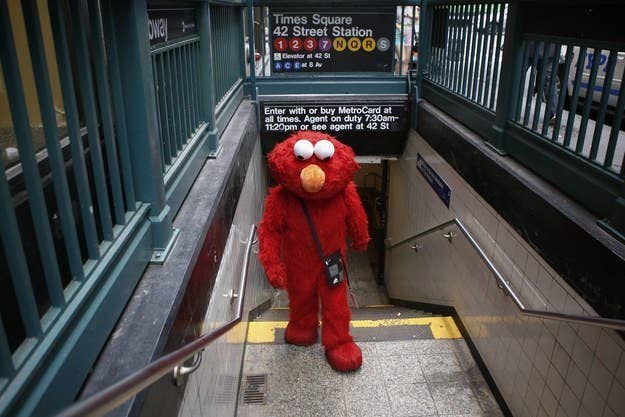 As the NYPD steps up pressure on workers who dress up as fictional characters and pose for pictures in Times Square, the costumed people behind the masks have decided to organize.
Following a two-hour meeting of around 100 of these "artists" set up in part by the immigration-advocacy group La Fuente Tuesday morning, the early stages of the the Association of Artists United For A Smile New York was formed.
The group, according to La Fuente Communications Director Alex Gomez, aims to foster a relationship with the New York Police Department in order to avoid circumstances where the NYPD feels the need to round-up the workers as part of "quality-of-life" initiatives.
They also want the police to stop telling tourists not to give them money. The NYPD recently started a campaign to inform tourists they are not required to tip the workers after taking a photograph with them.
The meeting, which was first reported on by the Daily News, was the first step to figure out a way to allow the costume wearers to work with the police and "be a partner... not antagonistic," as Gomez put it.
The Times Square workers and the police historically have a rocky relationship, amplified by several recent incidents where the characters had to be put in handcuffs.
Last month, one Spider-man punched a cop. Last spring, a Cookie Monster pushed a toddler. In June of last year a man dressed as Elmo attempted to extort the Girl Scouts out of $2 million.
"Obviously, one bad apple doesn't ruin the bunch," Gomez said. "The NYPD can obviously testify to that."
According to Gomez, the workers at the meeting were willing to compromise on a number of issues, including wearing name tags with photo ID on their costumes so tourists and police can identify who they are dealing with. Further, Gomez said those who are in the union would be willing to police themselves, ensuring none of their members act out as the wayward Spider-man did.
Still in its early stages, neither La Fuente nor the union have yet reached out to the NYPD. Gomez added the NYPD hasn't reached out to them yet, either.
The NYPD did not immediately return a request for comment.