DC Just Passed A Law That Uber Says Could Serve As A "Model For The Rest Of The Country"
It requires background checks going back seven years and $1 million in insurance.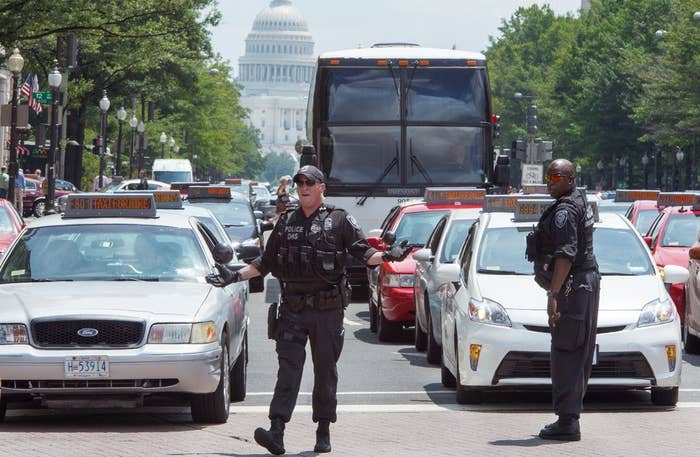 WASHINGTON — The D.C. Council passed a bill Tuesday that Uber hopes will pave the way for other cities to formally legalize and regulate rideshare apps.
The controversial bill, dubbed the Vehicle-for-Hire Innovation Act of 2014, has been heavily opposed by the taxi unions for not creating a level playing field but praised by Uber for codifying safety standards they say have already been in place.
The legislation "could be a model for the rest of the country and maybe the world," said David Plouffe, Uber's chief strategist and former aide to President Barack Obama, in a Q & A session with the Washington Post.
The legislation could have even farther extending consequences. A Teamsters spokesman said that "at this point our primary concern is representing the taxi drivers," but if drivers for apps like Uber and Lyft are allowed to operate legally, it's been suggested they may try and unionize them as well. Teamsters already represent Uber drivers in Seattle and California.
Specifically, the bill requires background checks on Uber drivers going back seven years, annual safety inspections, a prohibition of street hails by UberX drivers, and $1 million in liability insurance when a driver is en route to a rider and when the rider is actually being transported. The insurance requirements for when the driver has the app on but is not actively picking up or transporting a passenger is significantly lower.
"From the Potomac to the Pentagon, DC has led the way in embracing innovative solutions to modern transportation challenges and we're excited to see the local Lyft community grow and thrive for years to come," a Lyft spokeswoman emailed in a statement.
A late amendment by Councilmember Mary Cheh also gives police officers and hack inspectors the ability to check drivers' phones if they suspect an illegal street hail has been made, punishable by a civil fine.
"There may be other adjustments that need to be made and I'm committing to looking at those going forward," Cheh said.
Councilmember Jim Graham, who a Teamsters source said has supported the taxi drivers, introduced nine other late amendments aimed generally at helping traditional cabs.
Among the more contentious amendments was one that aimed to set a floor for rideshare app pricing, where they'd be banned from charging less than the minimum fare for a taxi, and another that mandated where the "trade dress" could be placed on the vehicles. Neither were approved.
The Teamsters, as well as the D.C. Taxicab Commission, have been vocal about their opposition to the bill, especially regarding the background checks and insurance requirement. The union has arranged several taxi protests, where drivers blocked up traffic for hours in the middle of the day, including one Tuesday morning. The commission sent a letter to the D.C. Council outlining its concerns.
"The illegal private sedan services currently do not follow the same rules and regulations that taxi drivers must follow, and the bill in its current form falls far too short in providing fairness," the D.C. Taxi Operators Association, affiliated with Teamsters Local 922, said in a statement. Because of the private sedan services' huge competitive advantage, D.C. taxi drivers are losing work and are struggling to make ends meet."