Andrew Cuomo Wins Spot On Progressive New York Party Line
A contentious vote.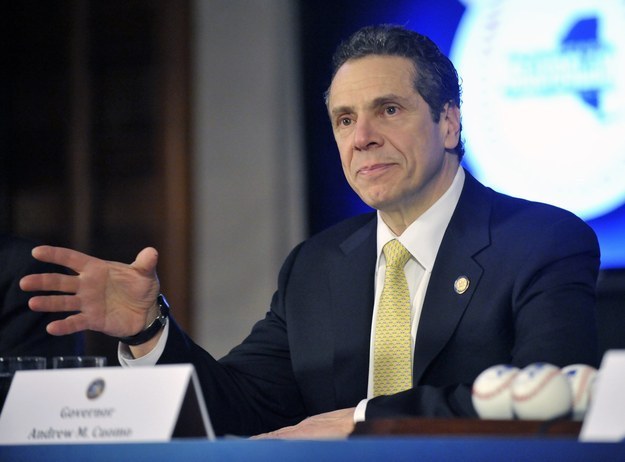 ALBANY, N.Y. — New York Gov. Andrew Cuomo won the Working Families ballot line Saturday night, but he didn't win the crowd.
After a late frenzy of back room dealing, Cuomo ultimately secured a spot on the ballot line for the state's leading progressive party with 59% of the vote.
Cuomo's nomination wasn't challenged until the Thursday before Saturday's convention, when Zephyr Teachout, a former aide to Howard Dean and Fordham University professor, announced she would also seek a spot on the ballot.
His unexpectedly tough fight was supported by key Democratic and Working Families allies — including New York City mayor Bill de Blasio, Attorney General Eric Schneiderman and several top unions, like 1199 SEIU — who negotiated votes behind the scenes on behalf of the governor.
Though Teachout ultimately couldn't out-maneuver Cuomo for votes, she did bring an enthusiastic following at the convention. Cuomo, a potential presidential candidate in 2016, was raucously booed multiple times at the convention, which he did not attend because of "other engagements." Some stood with their backs to Cuomo in silent protest as his video message was played to the crowd.
Teachout and her supporters were, in contrast, met with cheers, chants and at one point a group of people marching between aisles with signs.
The party is divided on Cuomo because he governs on the right of its economic ideologies like taxes on the rich, though he has supported liberal cultural issues like marriage equality.
Having Cuomo on the ballot is also helpful to the party. If it can garner 50,000 votes for governor in November it will have a permanent slot on the statewide ballot.
Cuomo's nomination came on the heels of a deal brokered between Working Families leaders that included a promise to push for a Democratic state Senate, including a $10 million fund to help make it happen.
New York's senate is currently controlled by Republicans as a part of a power sharing deal with five breakaway Democratic senators who caucus with the GOP.
Cuomo pledged to primary the members of the breakaway caucus if they don't come back to the Democrats.
"There is nothing moderate about these Republicans," he said in a video message.
"I believe [Cuomo's] assurance that he supports this progressive vision, and we'll move forward with it," said de Blasio, who made a last minute trip to Albany to speak on Cuomo's behalf.
Several labor leaders, including 1199 SEIU's George Gresham and CWA's Bob Master, also spoke in support of Cuomo.
"We believe that we can unite with Governor Cuomo around a platform of progressive change, come a Democratic senate," Master said.
Bertha Lewis of the Black Institute nominated Teachout.
"We gave [Cuomo] four years and we said then, 'never again.' What are we doing here now?" she said.