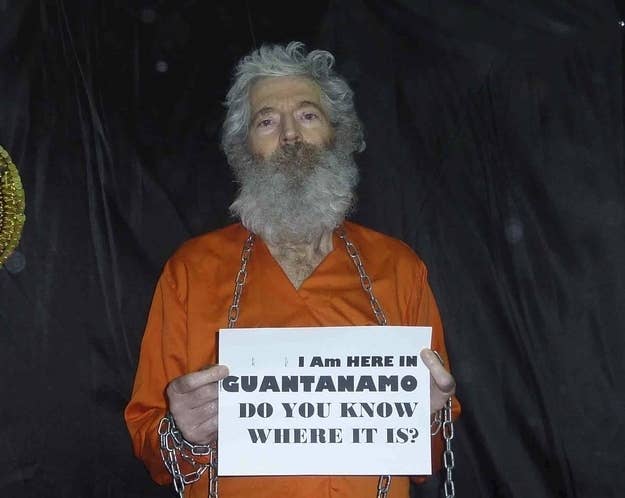 WASHINGTON — For years reporters and editors at top news organizations sat on a story that disproved the official lie about retired FBI agent Robert Levinson — even as other outlets continued to report it as fact.
But as the government's strategy for bringing Levinson home floundered, the Associated Press Thursday night revealed that Levinson did not go to Iran as a private businessman as the government and his family had said, but as a CIA contractor. The report also revealed that the mission had already triggered a minor meltdown at the country's most important intelligence agency: it lead to several firings and a rewriting of the CIA's rules for "analyst."
"This is the hardest thing I've done," Matt Apuzzo, who wrote the AP story along with Adam Goldman, told BuzzFeed. "Nobody likes holding a story."
Apuzzo and Goldman, who is now at the Washington Post, won a Pulitzer Prize together last year for exposing secret New York Police Department spying on Muslims. He said he's confident that now was the right time to release the information, though it wasn't an easy call to make. They've held the story for years, responding to government arguments that the story could jeopardize Levinson's life.
"I want Bob Levinson to come home, I care very deeply about that," he said.
Other outlets including The New York Times, ABC and the Washington Post published similar stories they also were holding shortly after AP broke the news.
Barry Meier, who wrote The New York Times story, also said the fact that Levinson's life was in danger was the compelling reason not to run the story.
"My editors at the Times and I were mindful that a man's life was potentially at stake. It is a realization that make things clear," Meier said in an email.
The White House has since condemned the release of the story.
"We had a lot of conversations and that's a reflection of how seriously we took it," Apuzzo said. "These decisions are made not by me and not by Adam. These decisions are made by the best most experienced editors in our company."
As new rays of hope that progress might be made came in — a proof-of-life video, strange photographs of a wan Levinson in a Guantanamo Bay-style orange jumpsuit, signs of detente with Iran — government officials warned journalists not to reveal Levinson's CIA ties for fear it would disrupt their efforts to save him.
After years of conversations with Levinson's family, Apuzzo said he admires how they've fought to keep his name in the media and pressure both the U.S. and Iranian governments to keep looking for him.
"[Levinson's wife Christine] never signed on to be a crusader to keep her husband at the front of global American diplomacy, but she has," he said.
The family's crusade appears to have extended to misleading the journalists whose help she sought: I sat down with Levinson's daughter Sarah this summer and wrote a feature about the plight of the family since his disappearance. She spoke softly but passionately about her missing father. She also hewed closely to the official story, which I reported as fact.
How much Sarah Levinson knew at the time remains unclear, but the Times reported that the family had obtained access to Levinson's emails, which made his real assignment clear. The family declined through a spokeswoman to comment for this story.
Other organizations knew the truth, or at least as much as the family and American officials know. And the organizations withholding the story continued to cover new developments. When writing about Levinson, the AP and other outlets took care to dance around syntax and avoid saying anything they knew to be a lie by attributing it to the government or to his family.
"He was investigating cigarette smuggling in early 2007," Apuzzo and Goldman wrote, truthfully, earlier this year. Followed by "and his family has said that took him to the Iranian island of Kish, where he was last seen."
Meier applied a similar technique: "Both the family of Mr. Levinson, who will turn 64 years this week, and United States officials have said that he went to Kish Island in 2007 as a private investigator, working on a cigarette smuggling case," he wrote in March 2012.
There were also some cases where colleagues of Meier on the Times's opinion side, and of and ABC's Brian Ross, have printed false information about Levinson's reason for being in Iran.
In a Times editorial from April 2009, the paper writes he went missing "while on a business trip." Then in November 2009, another editorial makes a similar error.
ABC's Trevor Ladd wrote in March 2012 that Levinson disappeared on a "business trip" and in September 2011 Megan Chuchmach wrote the same thing.
The Times said it has known about Levinson's ties since 2007. ABC did not specify, only saying it has known for "years."
He no longer has to watch idly as his peers in news media report false information, but Apuzzo said publishing the story didn't feel like a weight was lifted, it's just what had to be done.
"I don't think I'm relieved. I believe we made the right decision," Apuzzo said. "This isn't a science. You're trying to do right by him, you're trying to do right by the public."
For Apuzzo, the story shows how the media needs to more often challenge what the government says and not be afraid to stand up to an injustice.
"We don't push back hard enough against the government. We could use, the country in general could use a more adversarial press corps especially when it comes to matters of national security," he said.
"When the American government can put a citizen in harm's way and not be straight about it with the American people for seven years, and not be straight with Congress about it straight away...that stuff can't be in the shadows," he added. "That's what the press is for."
Who took Levinson, where he is and whether he is still alive remain unknown.