Anthony Weiner Talks About Scandal Other Than His Own
Though he has no direct evidence to prove it, Weiner asked Christine Quinn if Bill de Blasio could have been involved in a scandal that plagued the City Council she was in charge of in 2008. The latest poll has Quinn and de Blasio tied for the lead in the race for mayor of New York City.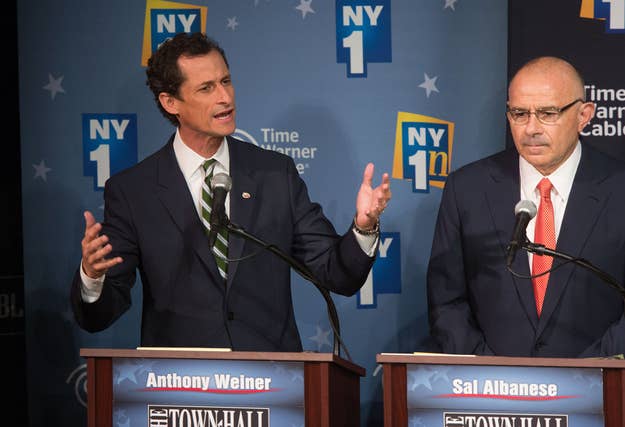 Though he wasn't asked directly about it, Anthony Weiner couldn't fully avoid his sexting scandal at Wednesday's New York City mayoral debate.
"This notion that the city is even ready for a stiff wind right now is overstated," Weiner said in response to a question about preparing the city for a future crisis. But it was right after Weiner said "stiff" that giggles, murmurs. and eventually sarcastic claps began to emanate from the capacity crowd at the Town Hall theater in Midtown Manhattan.
Moderator Errol Louis later asked a yes or no question to all the candidates: "Have you ever texted while driving?" After a few candidates responded, Weiner quickly responded yes, but the crowd was already primed and laughter burst out followed by some uncomfortable looking smiles from several of the candidates, including Weiner.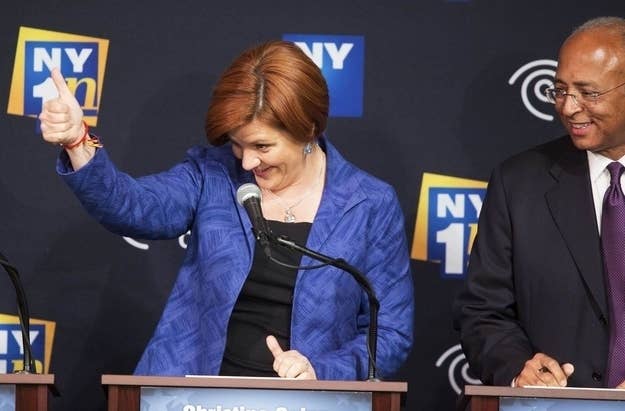 But Weiner turned attention away from his own scandal and toward another when he got a chance to direct a question of his own at an opponent.
Weiner asked City Council Speaker Christine Quinn about the slush fund scandal that's followed her around the last few weeks of the campaign and for the last several years as the head of the city's lawmaking body.
Quinn has come under fire for her alleged refusal to release legal documents related to a 2008 slush fund scandal, when Quinn was still speaker, where several council members and staffers were accused of rerouting city funds to groups in exchange for political support.
Weiner's question to Quinn wasn't, however, about Quinn's refusal to release the documents. It was instead about candidate and Public Advocate Bill de Blasio, who was a high-ranking city councilman at the time of the scandal. He asked Quinn if de Blasio was mentioned or implicated anywhere in those documents.
"Can you assure us that in that report Mr. de Blasio is not implicated in any way, that there's no mention of him?" Weiner asked Quinn.
Quinn didn't confirm or deny his accusation but said she didn't know what report he was talking about and added that all necessary documents had been turned over to authorities.
"Casting aspersions on the public advocate is just outrageous," Quinn said. "I don't even have any idea what he's talking about, and I think it's really unfortunate."
"I literally have no idea what Mr. Weiner was just asking," de Blasio added.
The latest mayoral poll has Quinn and de Blasio tied for the lead. Weiner was in fourth behind former City Comptroller Bill Thompson.
Thompson's campaign has said it's cost city taxpayers more than $500,000 in legal fees to defend the council. Thompson earlier this year sent a Freedom of Information Request for legal documents relating to the scandal after Quinn reportedly refused to provide them.
Quinn has been cleared of any wrongdoing in the scandal.
After the debate, Weiner clarified that he hasn't actually seen anything that would implicate de Blasio in the scandal, but that he was drawing a conclusion based on his involvement with the budget process at the time.
"There's some reason Speaker Quinn is refusing to release the information," he said.