African Leaders' Security Detail Leave U.S. After Allegedly Attacking Protesters, Avoiding Investigation
Security for the presidents of the Democratic Republic of Congo and The Gambia accused of attacking protesters during Africa Leaders' Summit.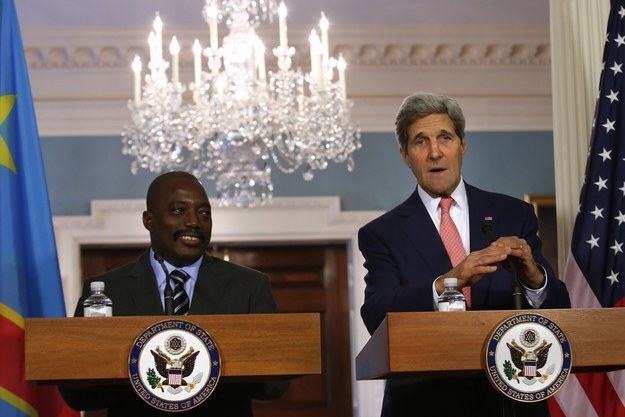 WASHINGTON — The delegations of two African nations left the U.S. Thursday, defying requests from the State Department to stay for an investigation after they allegedly beat peaceful protesters during the Africa Leaders Summit on Wednesday.
A State Department official said they had asked several members of the delegations from The Gambia and the Democratic Republic of Congo to waive their immunity so an investigation could be conducted. They refused to do so and thus were asked to leave the country.
By doing so, they are all but guaranteed to avoid any prosecution. Meanwhile, it remains uncertain if there will be any internal investigation into how and why the protesters were allowed to be harmed in the first place.
"Whereas no such review is anticipated at the present time, coordination efforts between multiple law enforcement agencies, along with the Metropolitan Police Department, are always a vital part of the planning for any such event," a State Department official said in an email. "This "instance" will be the subject of the after-action analysis and reports."
The incidents both occurred Wednesday night at two separate hotels, at different times. One was said to involve the Democratic Republic of the Congo President Joseph Kabila's security detail, the other the security for Gambian President Yahya Jammeh.
The aftermath of Kabila's security detail's attack was caught on film and posted to YouTube.
A source with knowledge of the events said Kabila's security knocked out several teeth of one protester. That source also said a similar incident took place on Wednesday in which Gambian forces also attacked a peaceful protester and might have broken one police officer's hand when he tried to intervene.
The State Department referred questions about the incidents to the police. The D.C. police could not locate any report of the incident and the U.S. Secret Service has not returned calls.
Requests for comment were not returned from the embassies of the Democratic Republic of Congo or The Gambia.
"There's no accountability in Africa, and now there's no accountability in Washington," said Kambale Musavuli, who's been monitoring the situation for Congolese activist group Friends of the Congo.