AFL-CIO: There Should Be No Compromise On Minimum Wage
"$10.10 is already a compromise," said Thea Lee, deputy chief of staff of the AFL-CIO. Meanwhile, Sen. Susan Collins is having quiet talks about a deal for something lower.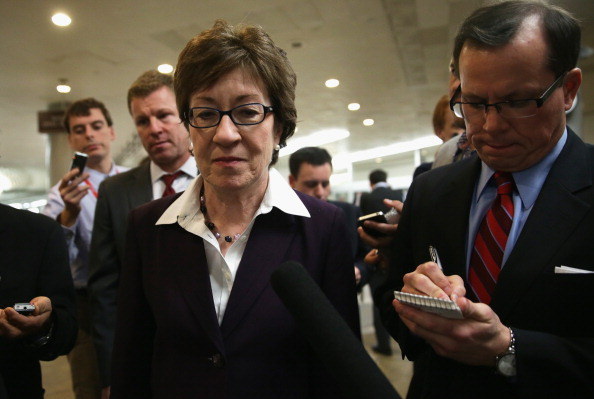 WASHINGTON — One of the largest labor organizations in the country says it isn't ready to cut a deal on the minimum wage.
The AFL-CIO, which has been at the forefront of the federal minimum wage debate, said anything below $10.10 is a nonstarter.
"$10.10 is already a compromise," said Thea Lee, deputy chief of staff of the AFL-CIO.
Lee referred to data that showed if the minimum wage were the same dollar amount it was more than 40 years ago, it would have more value than $10.10 when indexed for inflation.
Republican Sen. Susan Collins has said she is trying to broker a deal that would create a federal minimum wage lower than $10.10 and also include other provisions that would appease GOP colleagues. Senate Majority Whip Dick Durbin said he'd be open to a deal if a vote on $10.10 fails.
Senate Majority Leader Harry Reid hasn't been as willing to negotiate. He reaffirmed his commitment to a $10.10 minimum wage Thursday afternoon.
"No, there are none. Nope," Reid told reporters when asked if there were any negotiations going on.
But that stands in stark contrast to what Collins' office said is happening behind the scenes.
Collins spokesman Kevin Kelly told BuzzFeed she is in talks with "members on both sides of the aisle who have expressed interest in engaging in negotiations." But without the cooperation of Reid, a deal will be tough to come by.
"[Collins] has said that this comes down to whether or not we really want to get a bill that provides an increase or do some members simply want one vote and a political issue," Kelly said.
The details of her proposal — including what actual minimum wage she'd recommend — remain unclear.
Like the extension of unemployment insurance, a federal minimum wage increase faces an uphill battle if and when it gets to the Republican-controlled House.
"If you accept a compromise, than it takes the pressure off and it just kicks this can down the road," Lee, of the AFL-CIO, said.