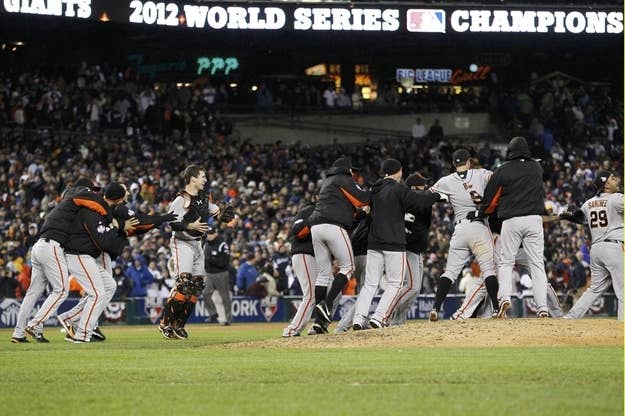 While most tech startups battle for any media attention they can get, this company has been around since 2000 and doesn't seem to care much if the public knows it exists. It doesn't hide from the media, but unlike most companies in its field, it's loathe to self-aggrandize or make big claims about changing the world.
The truth, though, is this company may soon be poised to upend the whole television industry. Even more curious, it's a company silently owned by traditional American icons known for their hidebound ways: a bunch of baseball teams. This is Major League Baseball Advanced Media, a tech startup company owned equally by the 30 clubs that comprise the MLB.
Glass walls abound in the four sprawling fours of offices, housed in New York City's Chelsea Market, the site of a former Nabisco factory in Manhattan. Banks of cubicles with an army of twentysomething video editors and game loggers prepare highlights and information for MLB's Web properties and apps. A huge, unnecessary metal dome sitting in the middle of one floor seems to serve as a conference room. Despite the baseball artwork on the walls and the company softball trophies in the reception area, there's no mistaking it: This isn't a sports company. This is a tech company.
Started by MLB in 2000 to, among little else, run the official websites of the 30 teams, MLBAM has since grown tentacles extending control over various businesses around the sport, such as the news media and ticketing, raising plenty of eyebrows along the way. Its technologies have brought change to the game itself, facilitating the sport's use of video replay and PITCHf/x, the precise computerized strike zone system MLBAM that regularly embarrasses the game's umpires and appears to have the ability to replace them in the sacred act of calling balls and strikes — that is, if a sport so wrapped up in its own traditions could ever take that power away from its historic arbiters in the interest of getting the calls right.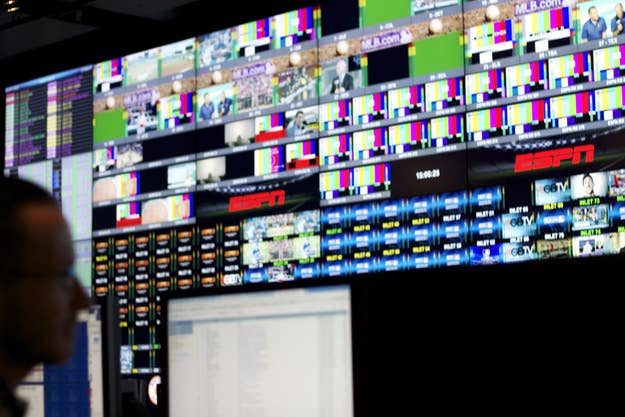 The most impressive part of MLBAM's operation, though, is its giant video streaming control room, which keeps expanding to larger spaces. Technicians in two long rows here monitor a giant video wall of several hundred screens, each one showing a different broadcast MLBAM is streaming. This single room could spell doom for cable, satellite, and broadcast television.
During the regular season, in one cluster of screens, you can see the 30 broadcasts of the 30 MLB teams, which MLBAM packages into MLB.tv — viewable by millions in HD online, on TV through connected devices, and on smartphones and iPads. This growing service, around for a decade now, becomes more and more sophisticated than regular cable telecasts each year and comes at a current annual cost to viewers of $85 or $100.
It's a natural arrangement. Fans who do not live in the broadcast market of their favorite team would like to watch them play, but the regional sports networks (RSN) that broadcast the games do not appear in cable or satellite channel lineups in their area. MLB.tv pays the RSNs for their broadcast feeds and provides them to viewers. Every game across the country is available to watch, as long as it isn't airing in the viewer's local market.
Over the past decade, this simple arrangement has necessitated and allowed MLBAM to build itself into a video-streaming powerhouse. Very quietly, it has come to stream more live video than any other company on the planet, its servers dependably handling the load of tens of millions of viewers watching multiple broadcast feeds at the same time. If the entire country suddenly cancelled their cable and satellite service and switched to MLBAM technology for all of their live TV watching, one gets the sense the company is not far off from being able to handle it.
And that, after all, might just be the plan.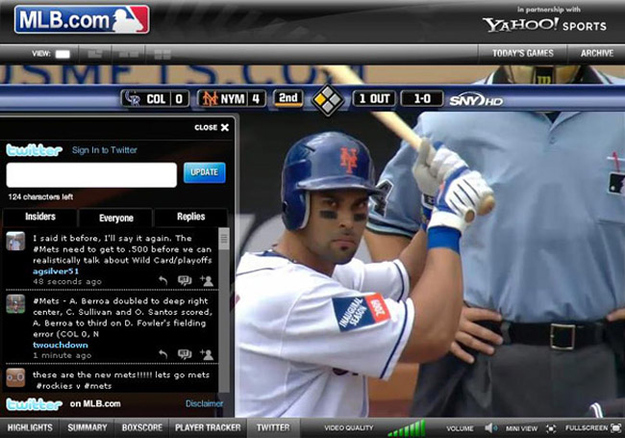 Competing technologies have slowly been eating away at the TV industry. Ratings of broadcast networks trend ever downward as options of things to watch explode — not just on cable, but with online video sources like YouTube and Netflix. DVRs erode the value of television advertising. Consumers have come to expect the ability to view shows and movies when and where they want to, and they see no need to pay for a bunch of channels they don't watch.
So why do most people still have cable or satellite plans? According to conventional thinking, it's that it allows them to watch live events. And the vast majority of live events on television are sports. Sports buoy other programming; NBC's recent climb back into first place with younger viewers among the broadcast channels has been credited to strong Olympic and Sunday night football ratings.
Broadcast rights contracts have become incredibly lucrative for teams, not just because airing games is the raison d'être of RSNs (which can be the highest-rated channels in their market, but are so entirely built around having game broadcasts that they quickly die off if they lose their contracts), but because live sports' exclusivity is helping prop up the old cable and satellite model as a whole in the age of things like MLB.tv.
Most RSNs are owned by cable and satellite companies, like News Corporation, Comcast, Time Warner, Cablevision, and DirecTV, and to keep the mighty coaxial cable on top in this era of competing technologies, they've been incentivized to give teams just about anything to lock down exclusive broadcast rights.
The value of MLB franchises have climbed right in step with the skyrocketing prices RSNs are now paying to teams lucky enough to see their broadcast rights expire in this period. Despite years of poor ownership, this year the Los Angeles Dodgers sold for $2 billion, a record sale for a sports franchise, largely based on speculation of what they would bag in an upcoming TV contract. Media reports have said their next contract will be worth billions. In March, it was going to be worth "up to $4 billion." Months later, media estimates topped $8.5 million.
Teams with expiring rights are becoming incredibly rich, earning multiple what they were making from their previous contract. New deals for the Los Angeles Angels and Texas Rangers have netted them $2.5 billion and $3 billion, respectively. Despite struggling mightily on the field in recent years, even the Houston Astros got $3.2 billion in their deal. At the same time, teams are being handed equity stakes in the RSNs — 45% for the Astros, 10% for the Rangers, 25% for the Angels, and 20% for the Padres.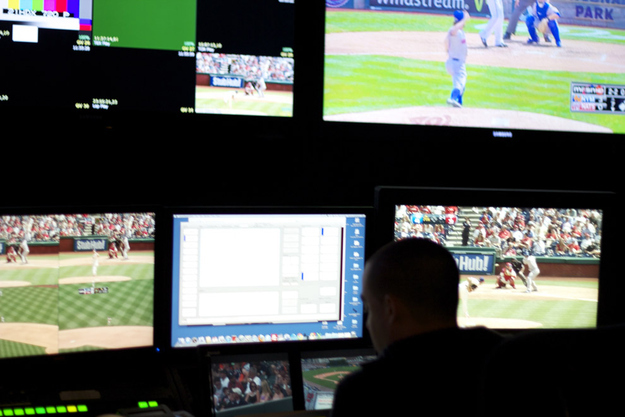 RSNs are conceding so much money because they're desperate to lock up live sports for as long as possible. Rights deals are now measured in decades — 20 years each for the Padres, Rangers, and Astros. It's TV trying to stave off change. Live event broadcasting is the last territory they're holding onto. And that is being jeopardized by the vague threat on the horizon of an alternative model, something very much like a rights-exclusive MLB.tv.
If enough viewers become comfortable streaming from the Internet as an alternative to cable and satellite, MLBAM has created the technology to cut out the cable networks entirely and sell its own game broadcasts directly to the fans. MLBAM downplays this, but it's clear the company is sitting on a fence overlooking an even bigger cash cow than these RSN deals offer, or even what has been possible for teams that have been successful in starting their own TV networks.
Cable operators aren't happy about the impending conflict, but besides throwing money at teams to try to legally bind them to long contracts, there does not seem to be much they can do about it.
But back to that big room in MLBAM headquarters—the MLB.tv feeds are just one small cluster on the video wall; MLBAM streams much more than baseball. Another cluster is ESPN3, ESPN's popular online service that streams all of its live sports broadcasts, many of which don't appear on any given fan's television (but require a cable subscription to access). Playing in another cluster is GBTV, Glenn Beck's online video service. In one corner of the wall are television channels MLBAM streams to Southwest Airlines flights.
MLBAM is the provider for all of these streaming services. Those NCAA tournament basketball games tens of millions of Americans watch on their computers at work? MLBAM does those too. MLBAM apparently can and will stream anything live online, and can scale up appropriately to do so. The only thing they do not do is openly take credit for any of these white-label streaming services.
"We're not interested in being recognized for it," vice president of communications Matthew Gould told me.
But why is your local baseball team funding the technology to host Glenn Beck's Web shows and the TV broadcasts you watch on your next flight?
"We do it because people watching live video, real high-quality, high-definition video on the Internet — the more people that do it, the better it is for the whole ecosystem," Gould said. "We have a little bit more of a longer-tail view on it."
In other words, they're trying to get TV viewers comfortable streaming things live from the Internet. Just like baseball, it's a long, meticulous game.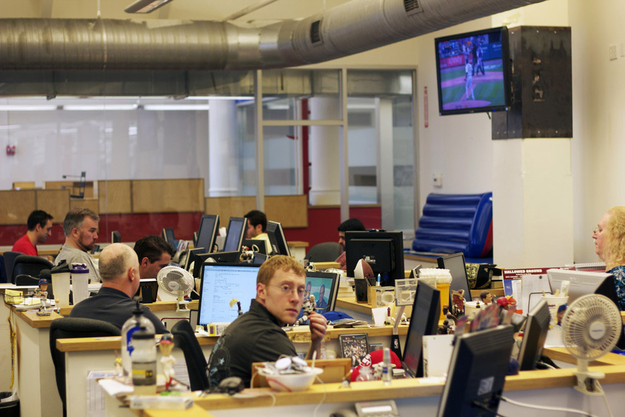 Quickly after forming, MLBAM put online feeds of radio broadcasts of games behind a paywall. Fans of the free feeds balked, but in the grand scheme of the Internet, MLBAM got the paywall in early and habituated people to paying for access to broadcasts. When the technology became available to stream TV broadcasts, the model was in place. Over the past decade, they have gotten baseball fans used to streaming games and had great success vigilantly putting down illegal streams. Now, Gould and his company just need that long tail to end in one big rattle: consumers' TVs getting connected to the Internet.
When team owners considered taking MLBAM public seven years ago, the value of its IPO was rumored to have been placed at $2.5 billion or about $3 billion today after inflation, equal to three Instagrams. Five years ago, it was valued at double that figure. Today, it's likely much more valuable, taking in over half a billion in annual revenues. But the teams and their owners aren't selling.
MLBAM is the king of live streaming, and at the end of that long tail, if streaming leaves cable and satellite in the dust, they could be the king of all live broadcast media. Forget baseball. MLBAM's streaming technology could be the service provider for everything you watch live. Suddenly the real value of the Tampa Bay Rays isn't in trying to attract fans to watch a scrappy team play baseball, it's in the 1/30th equity they have in that little tech startup they invested in to put box scores up on their website.
Baseball is America's oldest professional sport and the one most closely tied to the nation's identity. It relishes its history and seeming anachronisms. When the world of sports changes, baseball changes last. MLBAM's commissioner, Bud Selig, is 78. He doesn't use a computer or own a smartphone, and there is decidedly no topic about which he could do a TED Talk. Yet this is the man to whom MLBAM president and CEO Bob Bowman reports. Somehow baseball spawned a smart, lucrative, and incredibly promising tech company.
Right now, if you're a MLB.tv subscriber in the U.S., you couldn't view the very pinnacle of the sport's season that occurred last week, the World Series. Fox broadcast it nationally on television and exercised its contract rights to force you to watch it on television. But the World Series is older than TV, and the World Series will be around long after TV is gone. Someday soon, baseball itself may broadcast it to you, simultaneously with every other live event going on in the world. And maybe then, at long last, MLBAM will stop being so coy.