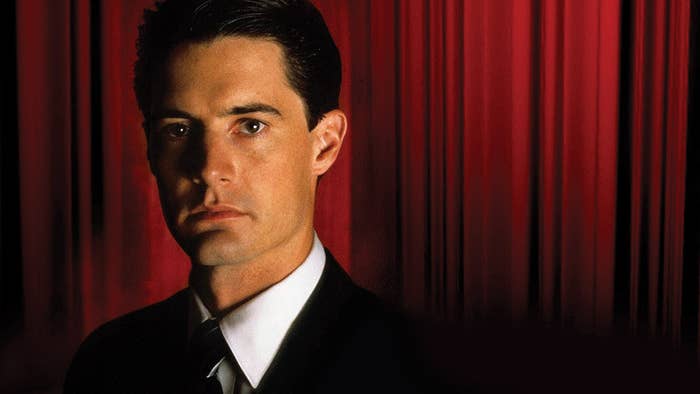 After days of speculation and rumor, Twin Peaks fans finally have some good (and concrete) news to look forward to: The surreal and seminal 1990s drama, from creators David Lynch and Mark Frost, will be returning in 2016.
Showtime announced via press release that Lynch and Frost will write and produce each of the nine episodes in the limited series, which will air on Showtime in 2016, 25 years after the series wrapped up its run. Even more intriguing: Lynch is attached to direct each of the nine installments. The series, which will go into production next year, will be set in the present day and will continue plots that were left dangling when the show was canceled in 1991.
"The mysterious and special world of Twin Peaks is pulling us back," said Frost and Lynch in a prepared statement. "We're very excited. May the forest be with you."
Additionally, Showtime announced that it will be airing all 30 original episodes of Twin Peaks in preparation for the launch of the limited series.
Frost and Lynch took to Twitter to share the happy news.
Twin Peaks, which ran for two seasons between 1990 and 1991, captivated a nation as viewers attempted to decipher the dreamlike clues pointing toward who killed teenager Laura Palmer (Sheryl Lee). As the investigation, led by FBI Special Agent Dale Cooper (Kyle MacLachlan) and Sheriff Harry S. Truman (Michael Otkean), progressed, dark secrets belonging to the severely quirky denizens of this seemingly idyllic Pacific Northwest town were unearthed. A subsequent movie, Twin Peaks: Fire Walk With Me, released in 1992, filled in some of the blanks surrounding the final seven days of Laura Palmer's life and, in true Lynchian manner, also took place after the final episode. (Yes, the film is just that trippy and, as the recently restored deleted and extended scenes from Fire Walk With Me prove, extremely powerful.)
The news of a possible resurrection had cropped up in recent years and began again in earnest with the release of Twin Peaks: The Complete Mystery on Blu-ray earlier this year, containing those aforementioned deleted scenes from the prequel film. But on Oct. 3, the show's co-creators took to Twitter with a timed message that had fans reeling:
The reference is one that is all too familiar to Twin Peaks viewers: a cryptic clue given to Cooper in a dreamlike state when he — SPOILER ALERT! — visits the metaphysical Black Lodge. The other interesting element from that encounter with the Little Man From Another Place (Michael J. Anderson) is that Cooper also encounters the spirit of Laura Palmer herself, who tells Cooper that she will see him "in 25 years."
It's not only prophetic, but clearly of significance. Twin Peaks was, of course, set in the year 1989, making it 25 years ago that Laura and Cooper came face-to-face in the nonlinear timeline of the show. Spooky, no?