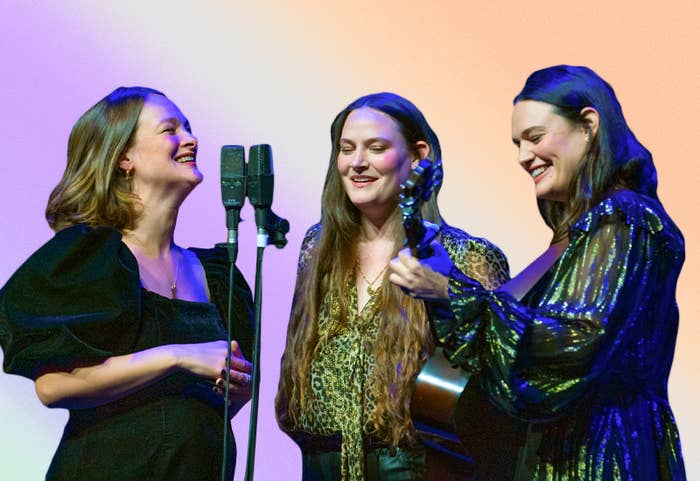 This is an excerpt from BuzzFeed News' culture newsletter, Cleanse the Timeline! You can subscribe here.

In I Like the Sound of That, a staffer goes deep on a song they're currently obsessed with.
Last Friday, boygenius — the supergroup composed of singer-songwriters Phoebe Bridgers, Lucy Dacus, and Julien Baker — dropped the record, their highly anticipated full-length album and their first major release since 2018. They've dominated music news ever since, garnering glowing profiles about the strength of their friendships and even stirring up a little backlash too.
I like boygenius, but I don't love them, and I'm not too big to admit that their popularity is indeed part of that equation. Listening to their music feels less intimate and personal because I know they're everybody's baby, not just mine. But listening to the record has inspired me to revisit a lesser-known album that I loved in high school: 2014's If I Was, the sophomore album from indie folk trio the Staves, produced by Bon Iver's Justin Vernon.
The Staves are made up of British sisters Emily, Jessica, and Camilla Staveley-Taylor. Though they don't quite have boygenius's rockstar edge, their work does feature seamless three-part harmony and the searching sadness of sister misfits. Sometimes their work is explicitly depressive, even diaristic, as on the sweetly grieving track "Sadness Don't Own Me." But elsewhere, their portraits of disaffected youth are bristlier and more impatient. On "Teeth White," they despair at how they've tried to change themselves to fit in, with little success: "I got my teeth white / And my jeans tight / I got my hair long / And it's still wrong." They draw the phrases out luxuriantly, until "wrong" becomes a three-syllable word. It's like they're so bewildered by the demands of beauty that they don't know how to cope except to howl about it. Through choruses of ohs and oos, their voices come together in disorienting swirls of tone and texture, until finally they gasp: "I wanna know when I can / Stop."
Of course, the Staves make very different music from boygenius: If I Was is an electronic spin on folk, not rock, and it's more preoccupied with loneliness than friendship. But if you want lovely harmonies and unbridled feeling, and the record doesn't quite scratch the itch, "Teeth White" is an excellent place to start. ●