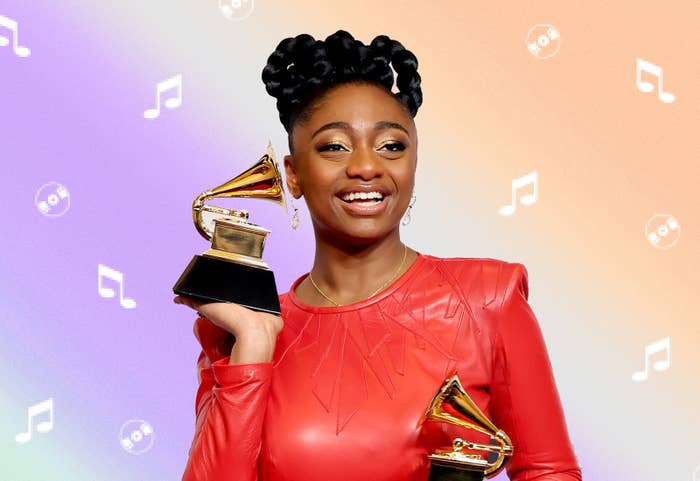 This is an excerpt from BuzzFeed News' culture newsletter, Cleanse the Timeline! You can subscribe here.

In I Like the Sound of That, a staffer goes deep on a song they're currently obsessed with.
There were plenty of surprises at last Sunday's Grammys ceremony: Harry Styles beat out Beyoncé and Bad Bunny for Album of the Year, which I remain salty about. Bonnie Raitt beat out a stacked lineup featuring Lizzo, Adele, Taylor Swift, and Kendrick Lamar for Song of the Year, and she looked adorably stunned in the process. And Samara Joy, a 23-year-old jazz singer from the Bronx, won Best New Artist over breakout musicians like Brazilian pop star Anitta, indie darling Wet Leg, and Latinx R&B singer Omar Apollo.
Joy is the first jazz artist to win in this category since 2011, when Esperanza Spalding, a bassist and singer from Portland, Oregon, beat Justin Bieber and Drake in a similar upset. But listen to a single recording, and her excellence is self-evident. On her version of "Someone to Watch Over Me," the last track of her 2022 album Linger Awhile (which also won the Grammy for Best Jazz Vocal Album), she has the impeccable tone and timbre of a classic jazz singer: warm and robust in her lower range, silvery clean in her upper register. Her phrasing is dynamic and compelling, pushing and pulling against guitarist Pasquale Grasso's steady fingerpicking. When she sings, "There's a somebody I'm longing to see," she hangs on the syllable "long," letting her voice sail through the air in a vibrato that betrays nervous yearning.
It helps that I'm partial to this particular song, which is a potent little ditty about unrequited love. It was originally written by Ira Gershwin for his wife, Leonore, in 1926, and it became the breakout hit of the Gershwins' Broadway musical Oh, Kay!, which debuted the same year. In the century since, it's cemented its place in the Great American Songbook through covers by Ella Fitzgerald, Sarah Vaughan, Frank Sinatra, Chet Baker, Ray Charles, and Amy Winehouse. It's hopeful but not overly sentimental, stirring but not solemn. It's the perfect choice for Joy, as she adds her name to the long roster of jazz legends. ●