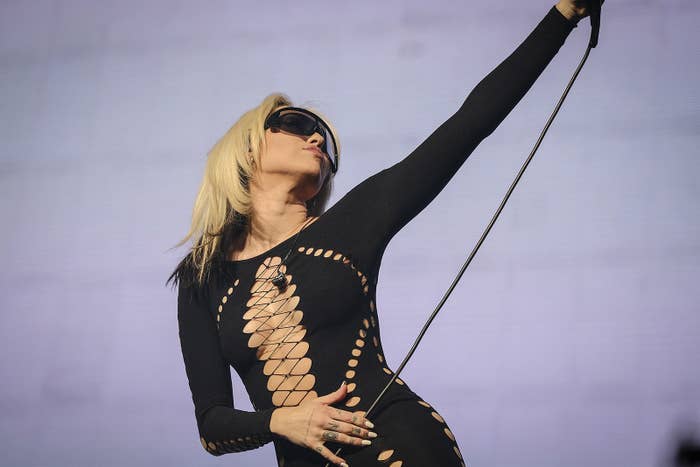 What does it mean to be a Miley Cyrus fan?
The child star turned tabloid staple turned pop icon has always been an undeniably talented vocalist with a distinctive rasp that complicates the texture of an otherwise effortlessly lovely sound. Even in her notorious "Wrecking Ball" era, when she was forever in the news for the time she rubbed herself with a foam finger and twerked on Robin Thicke, she was racking up millions of views on her gorgeous acoustic cover of Dolly Parton's "Jolene," filmed in a leafy clearing for her "Backyard Sessions" series. In the video, stripped of all her controversy-courting accoutrement — bleached space buns, latex bra-and-panty sets, and appropriated hip-hop signifiers — she is a fantastic singer, plain and simple.
But Cyrus's excellent voice is just about the only constant in her ever-changing discography. Since the beginning of her solo career, she has been more famous for her persistent reinvention than for any recognizable sound. That's partly due to the dismal fate of the Disney kid. Leaving behind child stardom often — though not always — requires a hard break, and no one broke away harder than Cyrus. In 2010, a year after wrapping up Hannah Montana, she released Can't Be Tamed, a rebellious dance-pop album that featured her bare midriff on the cover, and started partying more publicly. This launched a vicious cycle that seems inevitable in retrospect: Her pivot pissed off parents who wanted her to keep it PG for their kids, but the slew of scrutiny only encouraged her to lean further into the good-girl-gone-bad arc.
She spent the next few years chasing shock value, aesthetically and musically. In 2013, she cut off all her hair for her album Bangerz, which she described as "dirty South hip-hop." She stripped naked for the "Wrecking Ball" video and started dancing pornographically, leading to that unfortunate performance with Thicke. In 2015, she collaborated with rock band the Flaming Lips on Miley Cyrus & Her Dead Petz, a glittery, psychedelic album she released for free on SoundCloud. But by 2017, she came full circle, making the unsettling choice to rebrand as family-friendly again. She grew her hair back out into beachy waves and dressed up in virginal white to promote the lead single "Malibu" from her country-pop album Younger Now.
Today, Cyrus dropped Endless Summer Vacation, her eighth studio album. Fans have been eagerly awaiting this day since lead single "Flowers," released in January, rocketed to the top of the charts around the world within a week. But they've known little about what to expect. Cyrus has been surprisingly quiet about her new work, staying off social media and keeping the second single, "River," under wraps until just yesterday. Based solely on the title of the album and the style of "Flowers" — a disco-inflected empowerment anthem seemingly about the singer's previous relationship with actor Liam Hemsworth — fans guessed that the album would be a sunny pop reflection on the art of moving on after love.
They weren't wrong. The biggest surprise of Endless Summer Vacation is actually how unstylized it is. This time, Cyrus isn't slotting herself into a specific subgenre or meticulously curating a new reputation. She's given herself room to play with her own internal contradictions. On "Muddy Feet," featuring Sia, she voices dry fury for a cheating ex, singing, "I don't know who the hell you think you're messin' with / Get the fuck out of my house with that shit." Underneath her throaty alto, her band plunks out heavy piano notes and a tense, unwavering bass line. But on "Rose Colored Lenses," she finds sensual bliss with a new lover, crooning, "We could stay like this forever, lost in wonderland," over fairy-tale riffs. She chants poetic mantras over gritty synths on "Handstand," which wouldn't be out of place at an underground club, and even plays with the steel drums and syncopated rhythms of reggae on "Island."
Because this is Cyrus's first time dabbling in a few genres instead of committing to one, the tracks don't always go far enough with their experimentation, instead converging on a radio-friendly, vaguely retro style of pop. "Thousand Miles," which features Brandi Carlile but relegates her to background vocals on the chorus, would benefit from leaning harder into Carlile's folk and country influences; its muffled harmonica feels more like an afterthought than a deliberate choice, and Cyrus's natural Nashville twang is disappointingly understated. Cyrus seems to wake up more in the second half of the album, which offers bolder forays into electronic dance music. Until then, ballads like "Jaded" and "You" get weighed down by their own repetitive refrains.
Cyrus has been painfully aware of her reactionary artistic habits. For a 2020 cover story with Rolling Stone, promoting her new rock album Plastic Hearts (yet another pivot), she said she's continually "discredited herself" as she's tried to grow and adapt in her career. "During Dead Petz, discrediting Bangerz," she said. "During Bangerz, discrediting Hannah Montana. During 'Malibu,' discrediting Bangerz. It's almost like when I have evolved, I've then become shameful of who I was before. What makes you an adult, I think, is being OK with who you've been before."
With Endless Summer Vacation, she seems determined to be an adult, offering up a varied portrait of herself instead of rebooting her reputation. But this only reinforces the sense that, without a particular aesthetic to anchor herself in, Cyrus doesn't quite know how she wants to sound.
Thus far, being a fan of Miley Cyrus has meant embracing flux as her natural state. But it could also mean having a favorite version of her, a chapter of her career you keep rooting for her to return to. Listening to Endless Summer Vacation, as it meanders breezily through moods, I kept wishing for the only version of Cyrus I've ever truly loved: pandemic-era Miley with the blond mullet, absolutely ripping into covers of Blondie's "Heart of Glass" and the Cranberries' "Zombie." When she sings other people's songs, undaunted by the challenge of crafting her own artistic identity, she seems uniquely free, at least to me. She wields her peerless voice like the force of nature that it is, without worrying about which self she's showing off this time. ●