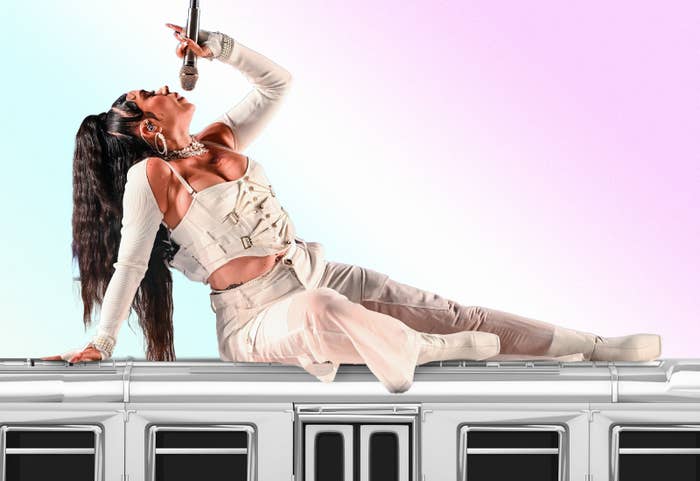 This is an excerpt from BuzzFeed News' culture newsletter, Cleanse the Timeline! You can subscribe here.

In I Like the Sound of That, a staffer goes deep on a song they're currently obsessed with.
If you're not on the Kali Uchis train yet, it's time to get on board. Her third album, Red Moon in Venus, came out last week, and everybody loves it. It features Best New Artist nominee Omar Apollo, R&B singer Summer Walker, and rapper Don Toliver, who also happens to be her longtime boyfriend. Her tour sold out in minutes. She calls her fans Kuchis — yes, pronounced like "coochies." Come on! You know that sounds fun.
The best part is: Kali Uchis is an unabashed diva. Complex called her "the sultry villain R&B needs right now," but I would argue the rest of pop culture needs her too. I'm bored of underbaked eyebrow-based feuds. If you're gonna talk some shit, speak up! Enunciate! We don't need any more blank canvas girlies. We need real diva drama.
Here's where Kali Uchis's "Hasta Cuando" comes in. It's addressed to a delusional ex (or maybe a delusionship ex) who keeps telling people she fucked up his life even though they were barely together. "¿Hasta cuándo tú vas a hablar de mí?" she drawls — "How long are you gonna keep talking about me?" Her voice is as plush and prickly as crushed velvet; she's equal parts smug and pitying. When she sings, "'Cause now that I'm doin' good, livin' like a queen / Dices que yo la vida te la jodí," you can practically hear her rolling her eyes.
But nothing compares to the song's whisper-rapped bridge, in which the singer smirks and simpers with the vicious sweetness of a true bad bitch. She coos, "Your girl talks shit about me just to feel better … At the end of the day, she'd eat my pussy if I let her." This is a God-tier kiss-off. This is the lyrical equivalent of replying to an obsessive ex's 10-text thread with the nail-painting emoji and nothing else. I can only aspire to be so unapologetically above it all. ●