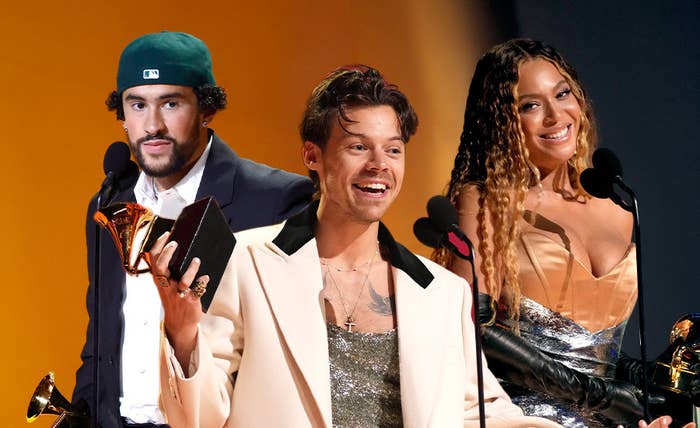 The haters are right: Harry's House simply isn't the best album of the year.
After Harry Styles won the Grammy for Album of the Year last night, capping off a nearly four-hour ceremony with a low-energy finish, fans exploded with indignation online. Many were rooting for Beyoncé, whose dazzling album Renaissance won four other awards earlier in the night, giving her a record-breaking 32 total Grammys in her career. A devastating image circulated on Twitter: Beyoncé sitting in the audience during all four Grammy ceremonies where she was nominated for Album of the Year but lost out to a white musician. Other viewers pointed out that Bad Bunny's Un Verano Sin Ti should have won for the way it shattered records all through 2022: It debuted at No. 1, spent 13 weeks at the top of the charts, and garnered nearly 400 million streams in the United States, making it Spotify's top-streamed album of the year and the most-streamed Latin album ever.
The double snub merely reinforced what has become common sense: The voting bodies of awards shows routinely ignore groundbreaking Black or brown artists in favor of seemingly apolitical white ones. Harry's House is pretty good — catchy, dreamy, and solidly built. But it's not about anything except himself. Beyoncé's Renaissance and Bad Bunny's Un Verano Sin Ti are odes to specific communities and histories; they have cultural allegiances and political points of view. They are more interesting and adventurous because of it. But when it comes to the Grammys, the palatable neutrality of an album like Harry's House, which is raceless only in the sense that it operates in a white, Western tradition without saying so, always wins.
Harry's House album is meant to be an ode to home. As Harry Styles told Better Homes & Gardens ahead of the album's release, he realized during the early stages of the COVID-19 pandemic that "that home feeling isn't something that you get from a house; it's more of an internal thing." Theoretically, Harry's House is his expression of that "internal thing." But in practice, the album revels in pastel fantasies of domesticity and mild-mannered romance. On "Keep Driving," he delivers an ode to brunch with the verse "Maple syrup, coffee / Pancakes for two / Hash brown, egg yolk / I will always love you." In "Music for a Sushi Restaurant," he portrays cooking with a loved one as the purest form of bliss.
Elsewhere, he writes even more hazily about locating his sense of home in another person. The vagueness of the chorus of "Late Night Talking" — "We've been doin' all this late-night talkin' / 'Bout anything you want until the morning" — is rivaled only by the empty line that immediately precedes it — "If you're feeling down, I just wanna make you happier, baby." This is the vision of Harry's House, idyllic and unspecific. Its narrative absences are filled in with the wonder that Harry Styles, international superstar and sex symbol, is crooning sweet nothings directly to you, the listener. His innocuous, omnipresent persona is the heart of the album; Styles is the subject, object, and source of meaning for his own work. He said so himself, in the same interview with Better Homes & Gardens: "I don't know if there's anything more navel-gazing than making an album. It's so self-absorbed."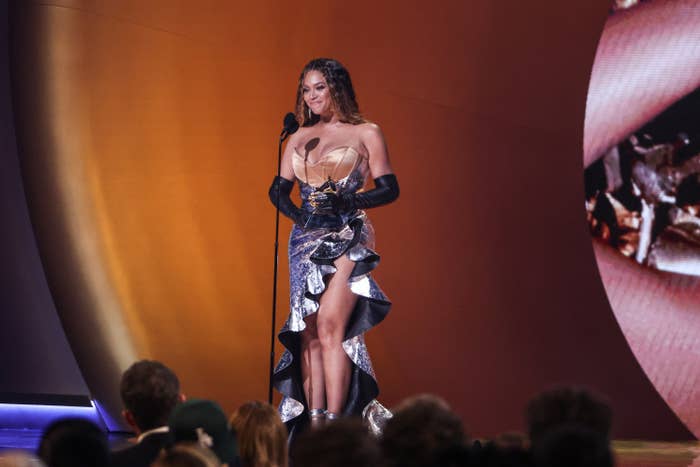 But this is clearly not a universal philosophy of musicianship. Beyoncé's Renaissance and Bad Bunny's Un Verano Sin Ti are definitively not self-absorbed. Both celebrate and innovate on the lineages of specific dance cultures that arose as forms of resistance. Renaissance is a tribute to Black, queer house music and the reprieve of dance halls as sites of ecstatic community in American cities like New York and Chicago. Consider this line from "Alien Superstar:" "Stilettos kicking vintage crystal off the bar." It's a world unto itself. Not only does it have a poetic, decisive rhythm (stil-LET-tos KICK-ing VIN-tage CRYS-tal OFF the BAR), but it also paints a vivid scene and tone with breathtaking precision. If vintage crystal represents tradition, as an elitist and materialist symbol, kicking it is an irreverent, rebellious act, a rejection of its preciousness. Doing so in stilettos, in a bar, locates this scene exactly where Beyoncé wants us: in a nightlife scene ruled by queer and femme people, by dancers reclaiming a punishingly impractical shoe for the power of gender-bending aesthetics.
These two albums are indebted to particular histories, and Beyoncé and Bad Bunny have each made their influences clear.
Meanwhile, Un Verano Sin Ti is a love letter to summer in Puerto Rico. It's a raucously horny ode to partying in Bad Bunny's home country. It's a celebration of Caribbean music and dance traditions, like perreo, a form of twerking born from 1980s Puerto Rican reggaeton, and bomba, a dance originally developed by enslaved Africans in Puerto Rico to resist the dehumanization of colonial rule. But it's also a reckoning with the country's future: In "El Apagón" (The Blackout), Bad Bunny derides the wealthy foreigners gentrifying the cities, displacing locals, and "privatizing the island's electrical grid and beaches." He scoffs, "Ahora todos quieren ser latino' / Pero les falta sazón / Batería y reggaetón" (Now everyone wants to be Latino / But they lack rhythm / Drums and reggaeton). In the much-anticipated music video for "El Apagón," released last September, Bad Bunny's song drops out after the first minute. It's replaced by a 20-minute news story about LUMA Energy, the corporation that "picked up the task of running Puerto Rico's power transmission system" in 2020 but has mismanaged the electrical grid ever since, raising prices while subjecting customers to nonstop blackouts, creating an emergency in the wake of last year's Hurricane Fiona.
These two albums are indebted to particular histories, and Beyoncé and Bad Bunny have each made their influences clear. At the Grammys last night, accepting an award for Best Dance/Electronic Music Album, Beyoncé thanked the queer community for "inventing the genre." Accepting his award for Best Música Urbana Album, Bad Bunny said, "I want to dedicate this award to Puerto Rico, the cradle and capital of reggaeton in the world." But the historical specificity of these albums doesn't mean they should be relegated to genre-specific categories. Instead, it means they are works of art with deep and cohesive visions, drawing attention to global mechanisms of power and resistance through the lens of local communities. They illustrate the universal through the specific. That — contrary to Styles's lackluster claim that "there is no such thing as best in music" — is what the best art does. ●