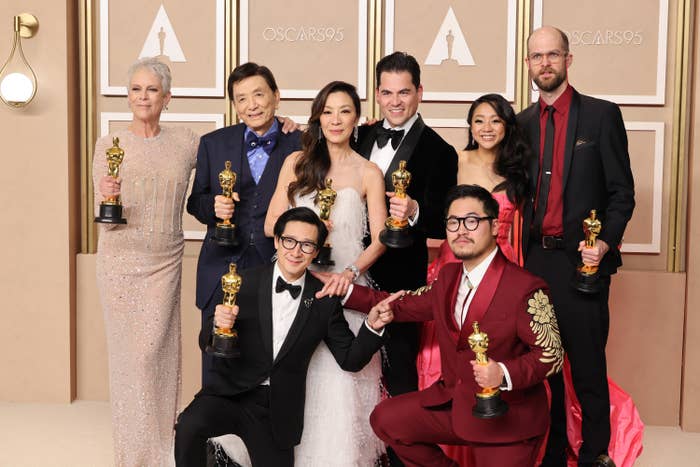 The day before the Oscars, Everything Everywhere All at Once codirector Daniel Kwan prepared devoted fans for gracious disappointment: "No movie deserves to sweep," he tweeted, "no matter how good it is." Still, Everything swept. It won seven of the 11 awards it was nominated for, including all the major categories it ran in.
No movie can get this popular without attracting the confusion, suspicion, or even downright rage of people who don't get it or who look down on it. As Everything comes out on top of a monthslong campaign for Oscar glory, those feelings have reached a fever pitch. But perhaps the most interesting complaint some critics have made about the movie is that it is overly sentimental, so emotionally tidy as to be vacuous.
Last night's ceremony, with the cast and crew's heartfelt speeches and open weeping, only underscored the intensity of the film's emotions, which have carried over into its awards season narratives. No recent coverage of the film has been complete without a note that Ke Huy Quan started acting as a child star but left the industry for decades after finding a dearth of roles for Asian American men; that this role is his Hollywood comeback is essential to the warm and fuzzy feeling of the movie's reception. Michelle Yeoh's awards season arc has been about overcoming ageism; Kwan and codirector Daniel Scheinert's lovability hinges at least in part on their unlikely rise, from directing raunchy music videos like "Turn Down for What" to winning major awards. Writing about the Daniels' sincere acceptance speech for the Best Director award, the New Yorker's Naomi Fry said, "It was the sort of thing that some people love and some people absolutely hate." For Fry, the speech was like the movie itself: "heartwarming but a little heavy-handed with it."
I'm especially fascinated by the writing of other Asian American critics who feel almost obligated to like Everything, buoyed by and resistant to the groundswell support of viewers excited that they "feel seen." I'm similarly distrustful of what Inkoo Kang called "the pitfalls of feel-good representation," but I adore the movie, a sci-fi comedy about a Chinese American family who, though disillusioned with their lives, reject the temptation to escape into other versions of themselves in the multiverse, instead recommitting to one another. I didn't find the Reddit humor distracting, nor did I find the ending pat. But the best articulated objections to the movie have clarified my love of it — to me, its so-called sentimentality is not just defensible but necessary.
At the LA Times, film critic Justin Chang voiced his ambivalence about a movie that, while both thrilling and "poignantly cast," strikes him as more traditional than radical. At worst, he wrote, it might be considered "a derivative Marvel-adjacent superhero movie in indie drag," but even at its most vivid and alive, it "practically does all your emoting for you." On Letterboxd, writer Ian Wang admitted he was "basically weeping" during parts of the film. Still, he found the film's expression of its "core emotional thesis - that despite the despair and toil of daily life, we can still open our hearts to each other and cherish the love we share - … stunted [and] twee."
Some of these reservations are specific to the Oscars. Chang observed that Everything's dominance resembles that of last year's Best Picture winner, CODA, another family drama with a happy ending. Each of these films beat out a subtle exploration of power and abuse: Tár and The Power of the Dog, respectively. For skeptics, the triumph of easy feelings of warmth and tenderness over grimmer portraits of human miscommunication is characteristic of the Oscars' self-congratulatory mission.
There are always going to be reasons to be cynical about awards shows and the political campaigns they necessitate, the metanarratives that turn the art itself into a spectacle of cultural context. When the Academy rewards movies that feature marginalized communities in palatably joyful stories, it harnesses the casts' gratitude to build up its own legitimacy. It was deeply moving to watch Ke Huy Quan deliver his tearful acceptance speech. It was hilarious and adorable to watch Stephanie Hsu shriek with happiness for Michelle Yeoh's historic win, which made her only the second nonwhite woman to win the Best Actress award in the Academy's near century of existence. It's also convenient for the Oscars. Spotlighting the delight of individual winners crowds out suspicion that the Academy shouldn't be the primary arbiter of quality for the entertainment industry, not least because it only decided to start reckoning with its racial biases this decade.
I take Chang's and Wang's points about Everything's weaknesses — with its constant variation in setting, genre, and even form, it can be frenetic to the point of exhaustion, and the climactic reconciliation speeches of its central characters can feel too grandiose for how little time we spent observing them function as a family. Though we know Waymond Wang (Quan) is serving his wife Evelyn (Yeoh) with divorce papers, and their daughter Joy (Hsu) is trying in vain to get her mom to accept that she is gay, the movie shifts quickly away from the domestic drama to open up its sci-fi plot, and the everyday scale of emotions yields to less-grounded galactic events.
Emotional stakes can seem cheap when they are served up on a platter. But, for me, the maximalist plot and unflinching sincerity of Everything aren't making sweeping statements about how this family has always been and how this family will always be. They truthfully represent the intensity of repressed emotion as it bursts forth in a single day's fight.
It's not anti-intellectual for a piece of art to espouse a seemingly simple philosophy of living.
The Wang family has been churning in unaddressed torment — Evelyn's discontent, Waymond's neglect, Joy's depression — for so long that their bitterness seems timeless. As they spin through the multiverse, they can only address it in fractured bits, barely naming everything they feel. If the final conciliatory hug between Evelyn and Joy seems too glib, perhaps it's because the characters are trying their best to articulate an inner chaos for which there are no effective words except the obvious ones. They overreach for an ultimate resolution not because they've fixed their relationship for good, but because they know they haven't. They have glimpsed each other's insurmountable baggage, and so they have chosen, for the moment, to believe in a better story about their family, to be good to each other while they remember they should be. Who knows what will happen the next morning or the next week? The movie makes no promises. But the temporary clarity that strikes during the weary resolution of a fight seems honest to me; we want a happy ending, so we make one, at least for a while.
It's not anti-intellectual for a piece of art to espouse a seemingly simple philosophy of living. Just because Waymond's request for his family to "be kind" can be summed up in two syllables doesn't make it easy to execute; religious scholars have debated core texts for centuries precisely because their teachings are easier said than done. We're always making excuses for why today's specific situation is exempted from what we say we believe. Evelyn spends much of the movie evading the urgency of her frazzled familial relationships; though she eventually acts with total presence and generosity, she will undoubtedly fail again. In the last shot of the movie, as she looks back and forth at her family, she might be savoring her settled life, but she also might be daydreaming about one of the many universes she encountered. Still, she felt the power of forgiving completely — that is just as potent a human experience as any instance of moral ambiguity.
Everything Everywhere All at Once depicts the radical and freeing feeling of succumbing fully to compassion. Even if the feeling only lasts for a few minutes of one evening, it's worth reveling in as though it is truly, permanently transformative. I don't want to ironize such feelings so they squeeze more easily into our irascible and cynical world; they are no less honest for their earnestness, no less overwhelming to bear. However cynical I am about the Academy's skin in Everything's game, I do believe wholeheartedly in the film's vision of sentimentality — which, however fleeting, allows me to feel the immense and necessary gravity of hope. ●