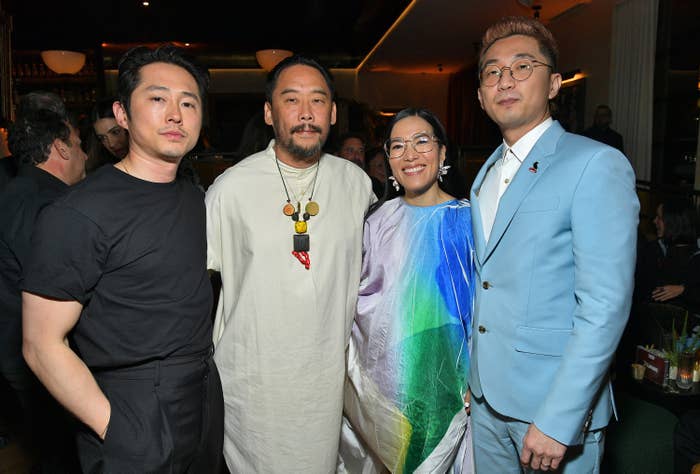 Netflix almost had the best show of the year on its hands. Beef, a hypnotic portrait of strangers who take their self-hatred out on each other after a parking lot spat, has racked up the admiration of audiences and critics — including myself — since it came out on April 6. But less than two weeks after its release, the show's legacy has already been tainted by a controversy surrounding one of its main cast members: David Choe, a celebrity artist who plays Isaac, a temperamental grifter on parole. He's come under fire for his history of graphically bragging and joking about rape.
In 2014, on his podcast DVDASA, which stands for "Double Vag, Double Anal, Sensitive Artist," Choe recounted a story about forcing his massage therapist to watch him masturbate, then hold his penis, then perform oral sex on him. His friend and cohost, the porn actor Asa Akira, interjected to say that he was "basically" admitting to rape, but he shrugged it off.
A month later, after journalist Melissa Stetten brought public attention to the incident in a post on xoJane, Choe issued a formal apology in which he claimed that he made the story up, calling it his mission as "an artist and a storyteller" to challenge his friends and listeners with "dark, tasteless" ideas. But his career continued apace. Although one of his murals was vandalized in 2017, presumably in protest of the same controversy, which prompted another public apology, Choe didn't seem to suffer any major professional consequences. Being provocative merely became part of his brand. In a 2021 profile in the New York Times, Choe said "it was strangely comforting to be so despised" in 2014 because the external hate finally matched his own self-loathing. It didn't seem to bother him that Disney warned its subsidiary company FX against acquiring his TV series, The Choe Show, on account of his controversial history. He funded the show himself, and after all, the company bought it anyway. In a smug but prescient quote, he declared, "If you want to come and try to cancel me, that's OK."
Now that he's attached to a project as high profile as Beef, this 9-year-old controversy has become inescapable. Writers Aura Bogado and Meecham Meriweather recirculated clips of the original podcast episode on Twitter last week, causing fans to wonder why Choe had been cast and what steps Beef's production team would take to condemn his behavior. (Twitter deleted the tweets after Choe's foundation requested that Bogado's and Meriweather's tweets be removed on copyright grounds). This time, people have drawn attention to Choe's description of his massage therapist as "half Black, half white," arguing that his story not only normalizes rape but contributes to a long history of objectifying Black women, who experience sexual violence at disproportionately high rates.
Thus far, nobody from Beef has made any public comments. Show creator Lee Sung Jin, as well as costars and executive producers Ali Wong and Steven Yeun, have remained silent. (Wong set her Twitter account to private seemingly in light of the controversy). As far as damage control goes, it's disappointingly evasive.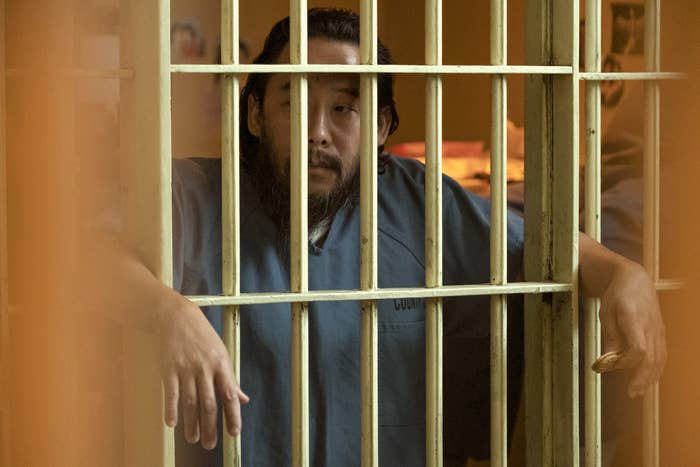 I loved Beef, not as a piece of Asian American representation but as a strange, unsettling work of art. It's tempting to imagine how much better Beef would be without Choe; with his unwaveringly barking line delivery, he wasn't a particularly good performer anyway.
But Choe's casting is inextricable from the show's other production choices. As Lee told Today.com, he cast Choe over hundreds of actors because he saw The Choe Show and thought he embodied a wounded aggression that fit the part of Isaac. After texting Yeun and Wong, both friends of Choe's, to ask if he would consider acting, Lee cast him on the basis of his self-tape.
This choice exemplifies a few pitfalls of typical Hollywood casting. Nepotism prevails over equal opportunity — Choe got the part because he knew someone, not because he had any acting experience. And yet creator mythology masks this nepotism as a bold artistic choice; Lee explained that all of the previous actors he auditioned hammed up the "Korean mafioso" element of the character without understanding Isaac's vulnerability, and thus he had to go with Choe. It paints Choe as a unique soul, anointed by Lee's powerful vision as an auteur; it elides the truth that acting is a teachable skill, and directing is supposed to mold actors' existing ideas. Surely, many of the actors up for this role could have embodied Isaac's traumatic background if encouraged to, but arguing that Choe had some innate je ne sais quoi makes for a more romantic story of artmaking.
Nepotism prevails over equal opportunity — Choe got the part because he knew someone, not because he had any acting experience.
Meanwhile, "stunt casting" — the placement of a nonactor celebrity in an onscreen role to boost a movie or TV show's hype — has become an increasingly common practice in recent years. It's a useful marketing strategy. A star like Harry Styles will bring his own built-in audience to screenings of Don't Worry Darling, even if his actual performance is less interesting than the tabloid gossip that stems from his presence on set. And as consumers hunger for content that shows us who celebrities really are — TikToks and Instagram stories, Architectural Digest house tours, intimate documentaries, etc. — stunt casting thrillingly blurs the boundaries between art and life. The real personality of an actor supplements the character. In the case of Choe, his edginess as a self-described "liar, thief, gambler, vandal, vagabond, and ex-criminal" gives his performance a punky sheen that one critic called "entertainingly slippery," until the slippage between Choe's onscreen and offscreen lives proved to be too much.
It's impossible to separate the choice to cast Choe from the celebrity networks and Hollywood marketing tactics that delivered him into the role. He got the part because he's a celebrity with celebrity friends. That is the same reason he's been allowed to continue making art and entertainment in the face of a controversy he has not apologized for beyond denying that he caused any actual harm. Even if Choe is thoroughly deplatformed over this incident, ending his career won't solve the problem that Hollywood's most basic elements — like casting — keep powerful people in power because it is profitable to do so. If that means ignoring a celebrity's unsavory history, so be it.
For every David Choe, there's another artist whose controversies have blown over twice and will pass, unremarked upon, a third time. For every Jonathan Majors, dropped by his manager and PR firm after being arrested for assault (charges Majors's attorneys have denied), there is an Ezra Miller, who has a long history of violent behavior but continues to prop up an entire DC franchise as the star of The Flash. Picking off perpetrators of sexual harassment and violence one by one is cathartic, but it's unwise to isolate their worst behaviors from other people's seemingly innocent choices to further their careers, or from an industry that privileges fame over accountability. ●