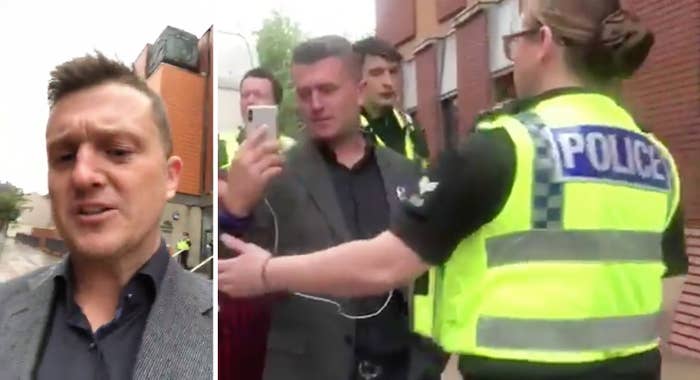 Anti-Muslim activist Tommy Robinson has become the latest cause célèbre in right-wing circles both in Europe and North America, with many demanding his release after he was arrested for filming outside a UK courtroom on Friday and sentenced to 13 months in jail.
Robinson was already on a suspended sentence after being held in contempt of court for filming inside a courthouse last year, in violation of the UK's laws around reporting on criminal trials. The judge had warned him then that any similar offenses would result in jail time.
Robinson, whose real name is Stephen Yaxley-Lennon, is the founder and former leader of the English Defense League, known for its anti-Muslim rhetoric. He left the EDL in 2013 and has since recast himself as a journalist and political commentator. He worked for the right-wing Canadian media outlet the Rebel until earlier this year, when he launched his own independent media operation.

Robinson was arrested Friday while livestreaming outside a courthouse in Leeds, where a gang rape trial is concluding. It's one of several high-profile cases in the UK over the past decade involving alleged child sexual abuse, in which groups of adults are accused of grooming young girls for sexual exploitation. Although the perpetrators in these cases have come to be identified with men of Muslim, South Asian, or Middle Eastern backgrounds, a 2012 UK Children's Commissioner report into child exploitation noted that abusers "come from all ethnic groups and so do their victims."
During his broadcast Friday, Robinson got into a shouting match with several men entering the building who appeared to be defendants in the case.
"As you can see there, doesn't seem like much guilt," Robinson said of the men. "Doesn't seem like anyone's ashamed."

He also alluded several times to the defendants' backgrounds, saying: "Twenty-nine people, [including] two women, are involved in this case. Thirty percent of them are called Mohammed."
After about an hour of filming, Robinson was arrested by police officers who could be heard in videos saying that he was being taken into custody for "breaching the peace."
A statement posted on Robinson's Facebook page Sunday thanked his supporters but did not share any further information about his case. BuzzFeed News reached out to Robinson's team for comment through his website.

Many of Robinson's supporters have framed his arrest as an issue of free speech, and some have alleged — without evidence or with distorted information — that authorities are engaged in a coverup of child exploitation.
Over the weekend, hundreds of Robinson's supporters rallied outside Downing Street, the UK prime minister's residence, demanding that the government "Free Tommy." Prominent right-wing figures and organizations have also spoken up about Robinson's arrest.
Geert Wilders, the Dutch politician known for his anti-Muslim views, released a video calling Robinson's arrest "an absolute disgrace" and comparing the UK to North Korea and Saudi Arabia.
"Free Tommy Robinson! Free Freedom of Speech!" tweeted the Gatestone Institute, an anti-Muslim think tank formerly headed by John Bolton, who is now US President Donald Trump's national security adviser.
Comedian Roseanne Barr also shared her support for Robinson on Twitter and claimed that "rape gangs" are being "protected" by the authorities.
And Robinson's former boss, Rebel founder Ezra Levant, went so far as to suggest a prison sentence for Robinson would amount to a death sentence because UK prisons are "dominated by Muslim gangs" who would seek to kill him.
Robinson's case was splashed on the Drudge Report in the US.
The UK has strict rules around court reporting aimed at limiting the risk of influencing a trial's outcome.
Robinson violated those rules in May 2017, when he filmed inside the courthouse during another sex abuse case. He received a three-month prison sentence for contempt of court, but his sentence was suspended for 18 months on condition that he not commit any other offenses.

At the time, Judge Heather Norton of Canterbury Crown Court excoriated Robinson for publishing videos online that referred to the defendants as "Muslim pedophile rapists" while the trial was ongoing.
"It is pejorative language which prejudges the case, and it is language and reporting — if reporting indeed is what it is — that could have had the effect of substantially derailing the trial," Norton said.

She also warned Robinson that any future violations would land him behind bars. "In short, Mr. Yaxley-Lennon, turn up at another court, refer to people as 'Muslim pedophiles, Muslim rapists' and so on and so forth while trials are ongoing and before there has been a finding by a jury that that is what they are, and you will find yourself inside," the judge told Robinson. "Do you understand?"
Following his more recent arrest, another judge issued a reporting restriction on Robinson's case. It prevented UK media from publishing anything about it until the completion of the gang rape trial, "since it appears to be necessary for avoiding a substantial risk of prejudice to the administration of justice," the judge wrote in his order, a partially redacted copy of which was posted online by Breitbart News.
This restriction caused many outlets based in the UK to take their pieces down. Right-wing figures falsely used that to claim that the mainstream press was engaged in a coverup.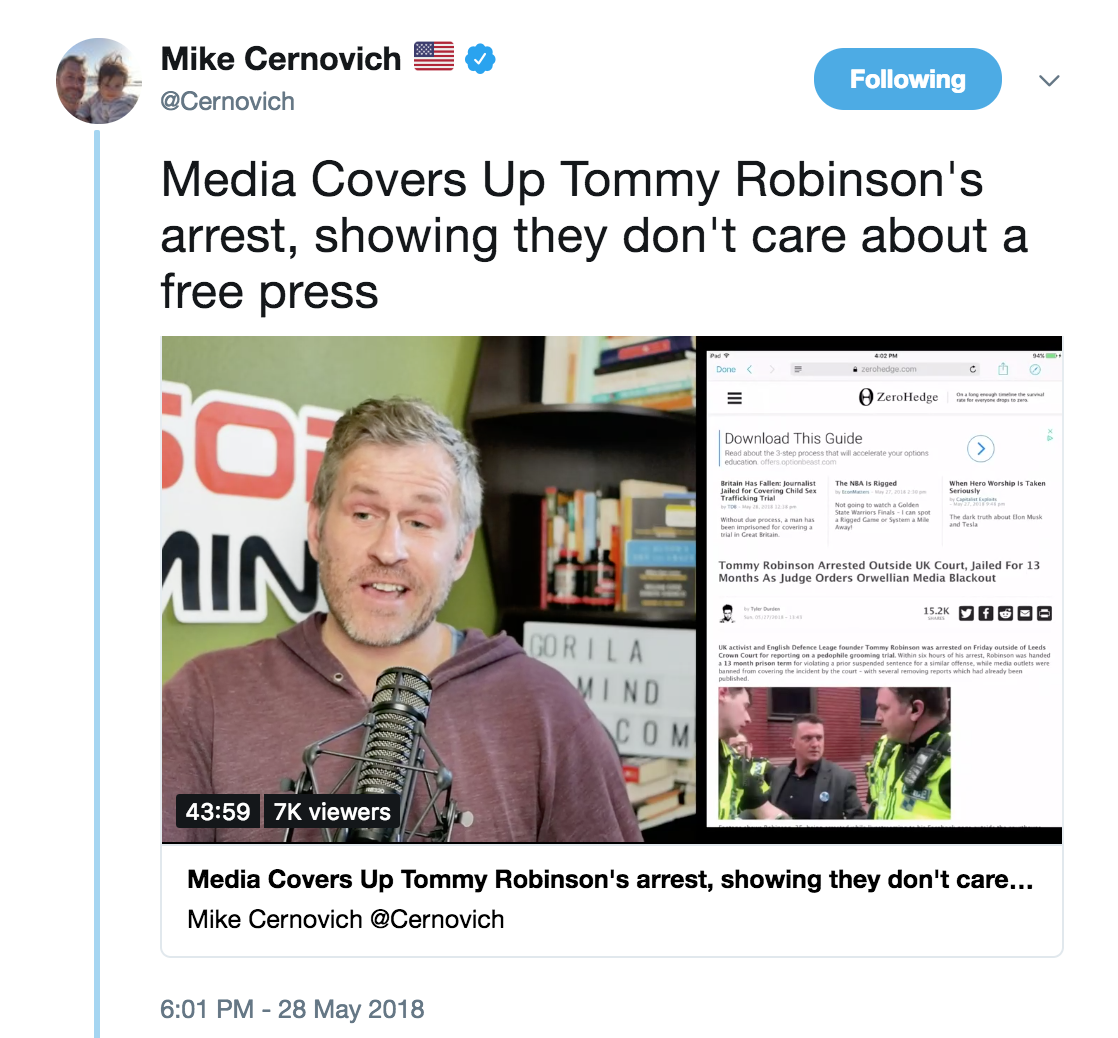 The reporting restriction was lifted on Tuesday, however, after it was challenged by two news outlets, the Independent and Leeds Live.
According to Leeds Live, Robinson pleaded guilty to contempt of court and breach of a suspended sentence. The judge who sentenced him to 13 months behind bars reportedly told Robinson his actions risked jeopardizing the outcome of the sexual abuse case, potentially "costing hundreds and hundreds of thousands of pounds" in a retrial and forcing witnesses to testify again in front of a new jury.
"People have to understand that if they breach court orders there will be very real consequences," the judge said, according to Leeds Live.

Robinson also has several previous convictions in the UK, including for assault, using someone else's passport to travel to the US, and committing mortgage fraud.

Robinson has previously called for mass expulsion of "every adult male Muslim" who entered the European Union within a certain time period, calling them "fake refugees," and in 2017, he co-authored a book on the Qur'an with the subtitle "Why Muslims Kill for Islam."
He was permanently banned from Twitter earlier this year after tweeting that "Islam promotes killing people."
UPDATE
This article was updated following the lifting of reporting restrictions in Robinson's case.