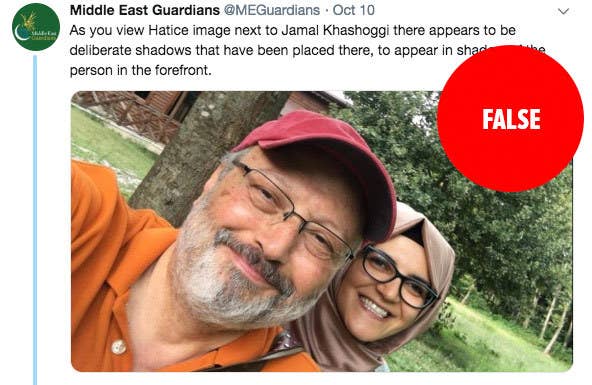 Amid international outrage over Saudi Arabia's role in the disappearance of Washington Post columnist Jamal Khashoggi, Saudi media outlets are spreading a ludicrous conspiracy theory that Khashoggi has a "fake fiancé." This appears to be an attempt to discredit accusations from Turkish and American intelligence sources that he was killed after visiting the Saudi Consulate in Turkey.
Khashoggi entered the Saudi Consulate in Istanbul on Oct. 2 to retrieve documents certifying his divorce from his ex-wife in order to allow him to remarry. His Turkish fiancé, Hatice Cengiz, told media she waited for him outside for hours but he never returned.
Turkish intelligence believes Khashoggi was killed and dismembered inside the consulate. (The Saudis claim Khashoggi left the consulate on the same day he visited, although Turkey says security camera footage contradicts that claim.)
Now, some Saudi news outlets and social media influencers have begun floating conspiratorial theories and other baseless claims to suggest the whole incident is a frame-up to make Saudi Arabia look bad. And Cengiz is a target of the false claims.
"These conspiracy theories are nonsense and a dangerous distraction from finding out the truth of what happened to Jamal," Kristine Coratti Kelly, vice president of communications for the Washington Post, said in an email to BuzzFeed News.

Saudi-owned satellite news channel Al Arabiya published a conspiratorial post this week describing Cengiz as Khashoggi's "self-claimed fiancé." The article suggested that Cengiz is not actually in a relationship with Khashoggi but rather some sort of agent doing the bidding of hostile foreign forces. The only evidence presented for her alleged international ties were tweets she had sent in the past that were critical of Saudi Arabia.

The bizarre conspiracy theory was taken one step further on Twitter. An account claiming to be a fact-checking organization called Middle East Guardians published a thread purporting to show that a photo of Khashoggi and his fiancé was doctored to add Cengiz after the fact. The account claimed to have done a forensic investigation of the photo to reach that conclusion. Middle East Guardians has only existed on Twitter since September.

A photo forensics expert who reviewed the Twitter thread told BuzzFeed News it was "bogus analysis" that doesn't stand up to scrutiny.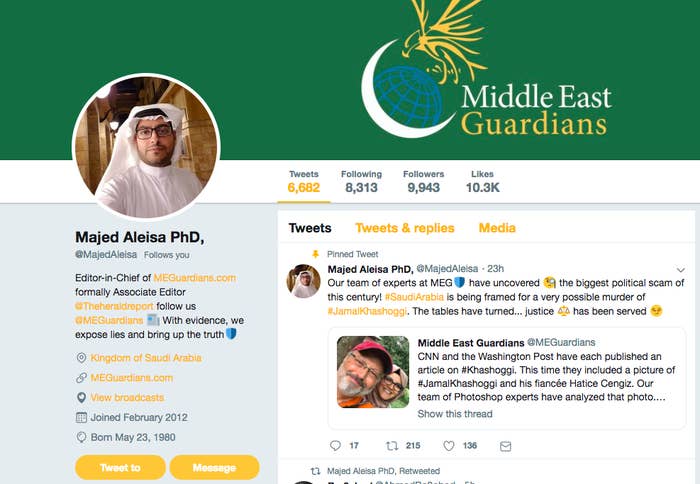 Majed Aleisa, who identifies himself as editor-in-chief of Middle East Guardians, claimed in a tweet that his "team of experts" had uncovered "the biggest political scam of the century."
The Middle East Guardians thread has been retweeted more than 2,500 times since it was published Oct. 10, and other accounts seemingly based in Saudi Arabia have been aggressively tweeting it at international journalists and media outlets.
Neal Krawetz is the founder of the computer forensic research company Hacker Factor and the creator of FotoForensics, an online tool that helps analysts determine if an image has been altered. Krawetz looked at the Middle East Guardians thread for BuzzFeed News and identified several errors and unsubstantiated claims.

For example, Middle East Guardians claimed to have examined a high-definition version of the couple's photo. But Krawetz says the version the organization used was actually much smaller than another that was easily available online. Middle East Guardians also claimed to find suspicious elements in the photo after zooming in 7,000% — but Krawetz said analysis at that level is inherently flawed.
A JPEG image's compression "is typically good for a 200% zoom. After that, you're looking at artifacts introduced by the graphics program as it tries to zoom in and fill in gaps," he said in an email. "Middle East Guardians is looking at artifacts filled in by Adobe."

Claims of suspicious "shadowing" and "edges" were also unfounded, Krawetz said, because the account was analyzing a low-quality image that was zoomed in to such an extreme level.
"That's NOT evidence of manipulation; that's evidence of really bad forensic analysis," he said.
Aleisa, who runs Middle East Guardians, initially agreed to speak with BuzzFeed News through Twitter direct messages. He then asked to email a response instead, but refused to provide his own email address. Presented with Krawetz's findings, Aleisa asked for more time to respond, then finally declined to defend his claim that the photo had been doctored.
"No I am going to wait for a public discussion," he said in a message.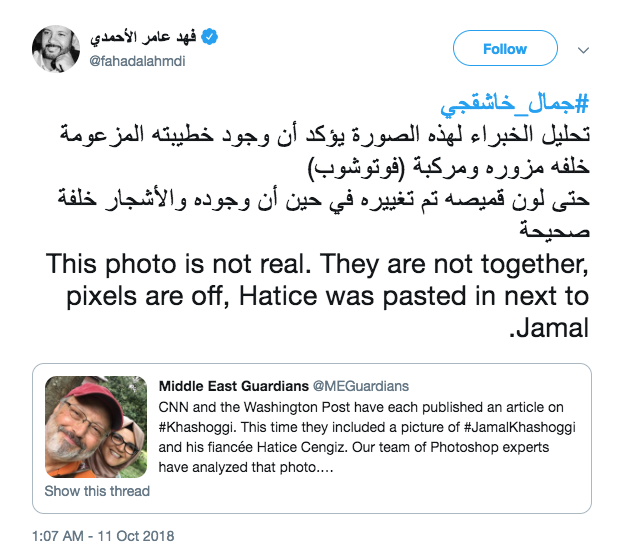 The baseless Middle East Guardians thread has continued to gain traction and has been shared by several influential accounts with large audiences.
"The photo is not real," Saudi journalist Fahad al-Ahmadi tweeted to his more than 275,000 followers, citing the Middle East Guardians tweets.

Others have shared memes that include North Korean leader Kim Jong Un and other figures in the photo as a way of suggesting it's not real.
Khashoggi is a Saudi journalist who once had close ties to the kingdom's political circles. In recent years, however, he has become increasingly critical of Crown Prince Mohammed bin Salman, also known as MBS.
Khashoggi left the country in 2017 due to fears of retribution from the regime.