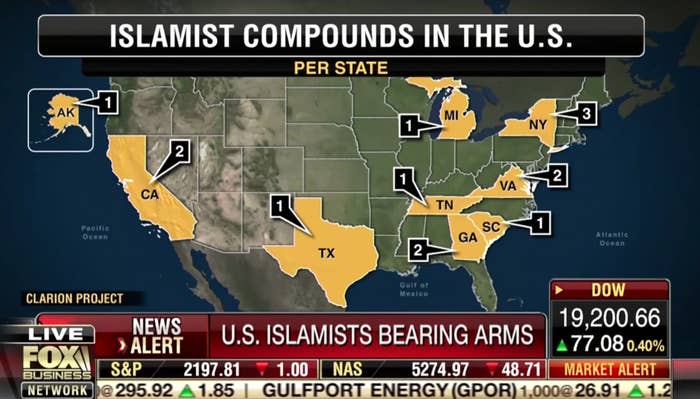 With Donald Trump's inauguration as US president only days away, a long-simmering conspiracy theory about "Muslim armies" inside the US is boiling over — again.

The notion that there are training camps or armed compounds inside the country, where Muslims hoard guns and prepare for some kind of armed conflict against the government, is not new. Stories about "jihad training compounds on American soil" have been floating around for the better part of a decade.

Since the election, several right-wing blogs and websites supportive of Trump have renewed those claims, with blaring headlines suggesting that "Muslim armies" are gearing up for "war" against the next president. The stories have generated tens of thousands of shares, comments, and likes on Facebook.
One of the websites, Ending The Fed, has a history of spreading false or highly misleading news. It gained wide attention in August after a completely fake story about Fox News firing host Megyn Kelly became a Facebook trending topic.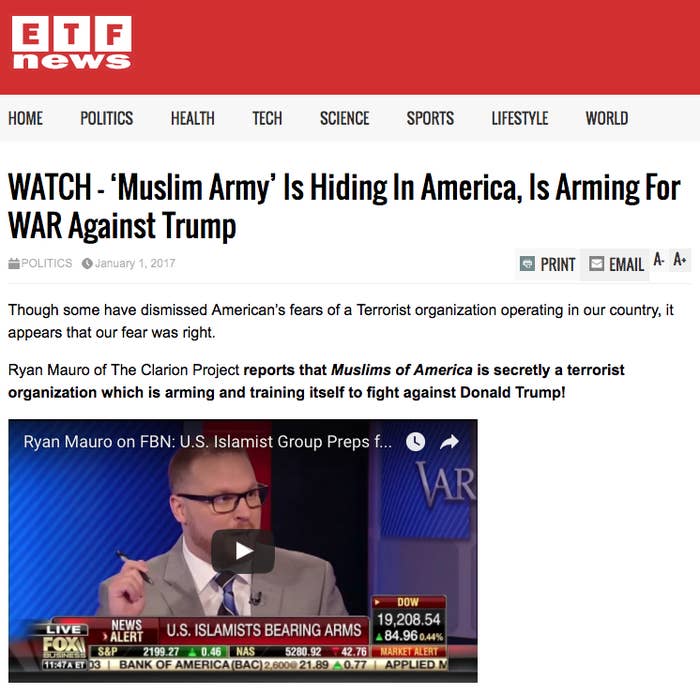 Another place that has jumped on the bandwagon — the website USA Daily Info — appears to be based out of the former Yugoslav Republic of Macedonia, with fake Facebook accounts from that country disseminating the website's stories to pro-Trump groups on Facebook. Macedonian spammers frequently used these methods to spread fake news during the US election.
As BuzzFeed News has previously reported, writing highly biased articles for American news consumers became a cottage industry in Macedonia, with at least 140 of these websites located in the town of Veles alone. Spreading fear about Muslims in America is seemingly an international undertaking.
Most of the conspiracy theories about these supposed terrorist training grounds focus on The Muslims of America, a religious organization headquartered in the small village of Islamberg in Hancock, New York. Islamberg was set up in 1983, based on the teachings of the Pakistani Sufi cleric Mubarik Ali Shah Gillani, who wanted his followers to "establish rural communities centered on religious life," according to a 2015 Reuters report. Similar TMOA-affiliated villages exist in other parts of the United States, and they are often depicted on fringe anti-Muslim websites as training camps for terrorists, usually including frightening maps of their locations.
These fears were reignited last month in a segment on the Fox Business Network, which featured Ryan Mauro, a national security analyst for the Clarion Project. The Southern Poverty Law Center, which tracks hate speech, describes Mauro as one of the most prominent anti-Muslim extremists in America.

Mauro told the host that The Muslims Of America is stockpiling weapons to take on the incoming Trump administration.
"With the election of Donald Trump, they believe their end-times prophecies that they believe in are now being fulfilled, [that] Donald Trump is part of a Satanic Jewish conspiracy, and they are preparing for the camps to be raided and to fight back," Mauro said, citing unspecified "sources."

Although he acknowledged that Islamberg is, at best, a community of a few hundred people, Mauro added that it could be as high as 3,000 people who "move in and out" and that "they have a lot, a lot of kids and multiple wives."
The topic of jihadi training camps on US soil also came up early in the presidential cycle, when Trump was asked about them at a campaign event in New Hampshire.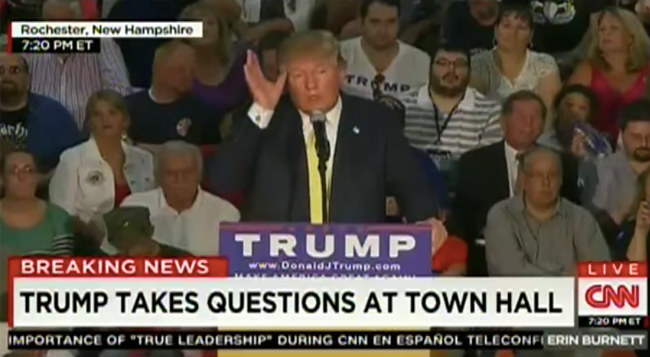 As the Washington Post's Philip Bump wrote following the Trump town hall event, the jihad training camp theory can be traced back to a 2005 report on white-collar crime, which focused on the group Jamaat ul-Fuqra's use of such things as worker compensation fraud to fund its activities.

A 1999 State Department report on global terrorism named Jamaat ul-Fuqra as a sect that "seeks to purify Islam through violence," led by that same Pakistani cleric, Mubarik Ali Shah Gillani. TMOA, however, has denied any link to Jamaat ul-Fuqra or its teachings.
That persistent rumor that there is something strange afoot in Islamberg and similar villages seems to have inspired an armed Tennessee man to visit the Muslim enclave in 2015 with a plan to kill residents and firebomb the mosque and other buildings, according to a criminal complaint against him.

"We will be cruel to them," Robert Doggart allegedly said of Islamberg residents in a conversation with an FBI source. "And we will burn down their buildings....And if it gets down to the machete, we will cut them to shreds."
When CBS News visited Islamberg in 2015, TMOA chief executive Hussain Adams insisted there was nothing sinister about the organization or its communities of believers, and that far from hating America, residents cherished their citizenship.
"We are very fortunate to live our lifestyle and practice our religion freely within the United States," he said. "We have actually been protected because of the freedoms that the United States affords to Muslims."
Local law enforcement officials also expressed confusion over the widely held belief that there was anything criminal or dangerous about Islamberg.
"I think there is a lot of misinformation that is out there, certainly on the internet," Capt. James Barnes from the New York State Police Bureau of Criminal Investigation told CBS News, adding that he had been visiting the community for more than a decade.
"I would say that the amount of crime that is associated there at the land is less than it is anywhere else," he said.
The Muslims of America did not respond to repeated requests by BuzzFeed News for an interview, but the group did issue a statement following Mauro's TV appearance.

"The danger in fake news is that it scares Americans and radicalizes them to engage in vigilante justice against Muslim communities," the group said in a statement. "While the results of the election have emboldened racists and xenophobic bigots, even those in political office, it has also empowered marginalized communities into social and political activism."