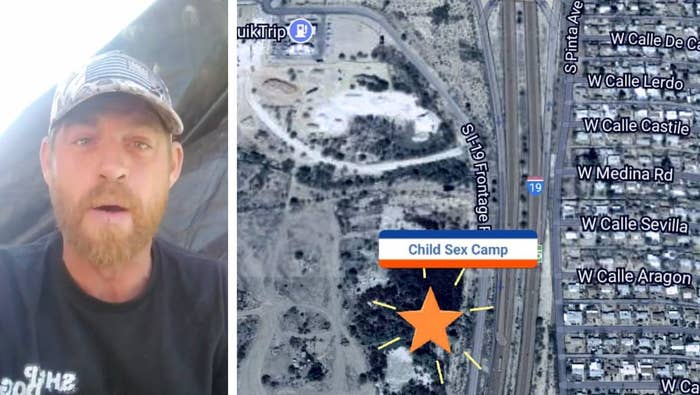 On May 31, Michael Lewis Arthur Meyer began livestreaming on the Facebook page for Veterans on Patrol, an Arizona-based group he founded that aims to help military veterans experiencing homelessness.
Speaking into his phone camera, Meyer walked through what appeared to be an abandoned homeless camp on the outskirts of Tucson and issued an ultimatum to the federal government.
"The government has until 12:00 tomorrow to come out here and we are not gonna leave until this cell is dug out of the ground," he said, referring to a space set a few feet into the dirt and covered with a loose canopy of tree branches, netting, and other materials.
He then turned the camera toward a tree with straps attached to it, declaring: "This is a rape tree."
Meyer painted a grim picture. The straps on the tree were not used to secure parts of a makeshift homeless encampment. Instead, they were restraints for holding children in place while they were sexually abused by cartel members, he claimed. The space dug into the ground was in fact a prison cell for the children, and various other items of trash and debris at the site proved to Meyer that "sick shit" had been going on there.
"This is a child sex trafficking camp that no one wants to talk about, that no one wants to do nothing about," he said.
"This is a child sex trafficking camp that no one wants to talk about, that no one wants to do nothing about."
Meyer did not present any evidence for this, but the video has nevertheless racked up more than 650,000 views over the past week. In daily video dispatches from the area, he has continued to insist authorities are ignoring horrific child abuse, and his claims have been amplified by credulous local TV outlets and right-wing national media, fueling outlandish online conspiracy theories in the process — even though police say there is no evidence any child abuse took place.
"Tucson Police Department officers, detectives, and command staff conducted a thorough inspection of the site, spoke to the reporting parties, and collected evidence," the police department told BuzzFeed News in a statement. "Based on the department's investigation to this point, there is no indication this camp is being used for any type of criminal activity, including human trafficking."
Police said they also looked into "an unsubstantiated assertion" that a body was buried at the site, but a cadaver dog was unable to find anything.
US Immigration and Customs Enforcement told BuzzFeed News it also looked into the "alleged child trafficking bunker" after learning about it on Facebook.

"As part of our work investigating criminal smuggling activity on the US/Mexico border, we are familiar with this area and the homeless camps. However, we concluded there is nothing there that would validate the reporting on social media," ICE said in a statement.

Meyer, who often goes by Lewis Arthur, has a knack for getting media attention. The former drug addict turned veterans advocate has been profiled by various news outlets for his work with Veterans on Patrol, which bills itself as a group for combat veterans to help each other avoid homelessness, mental illness, and suicide. However, Meyer is not himself a veteran, according to the Arizona Daily Star.
In May of 2015, Meyer climbed an 80-foot light pole to fly an American flag upside-down — a sign of distress — as a protest to bring awareness to veteran suicides. He was also involved in the 2014 Cliven Bundy standoff in Nevada, as well as the 2016 occupation by anti-government groups of a national wildlife refuge in Oregon, where he was part of a brawl, according to the Oregonian.
But nothing has brought Meyer more notoriety than his current mission.
Local TV news crews descended on the camp shortly after Meyer's videos went viral on Facebook, often repeating the child sex trafficking claims with minimal skepticism.
"Veterans on Patrol discovers disturbing abandoned camp in Tucson," KOLD said in one headline.
"Underground bunker possibly used for human trafficking of children found in Tucson," declared KGUN 9.
The local NBC affiliate, KVOA, ran a segment on the camp that concluded with the reporter posing a provocative question.
"So, is this a homeless camp or is it a camp that was trafficking children?" she asked. "We don't know, but we'll find out for you, and let you know."
KOLD and KVOA management did not reply to requests for comment. KGUN 9 news director Leeza Starks told BuzzFeed News the station stands by its reporting.
"Our mission is to be extremely transparent with our viewers without being salacious. We make sure to attribute information without drawing any conclusions on our own," Starks said in an email, adding that reporters would continue to follow the story.
"We do not believe we have been too credulous of any claims."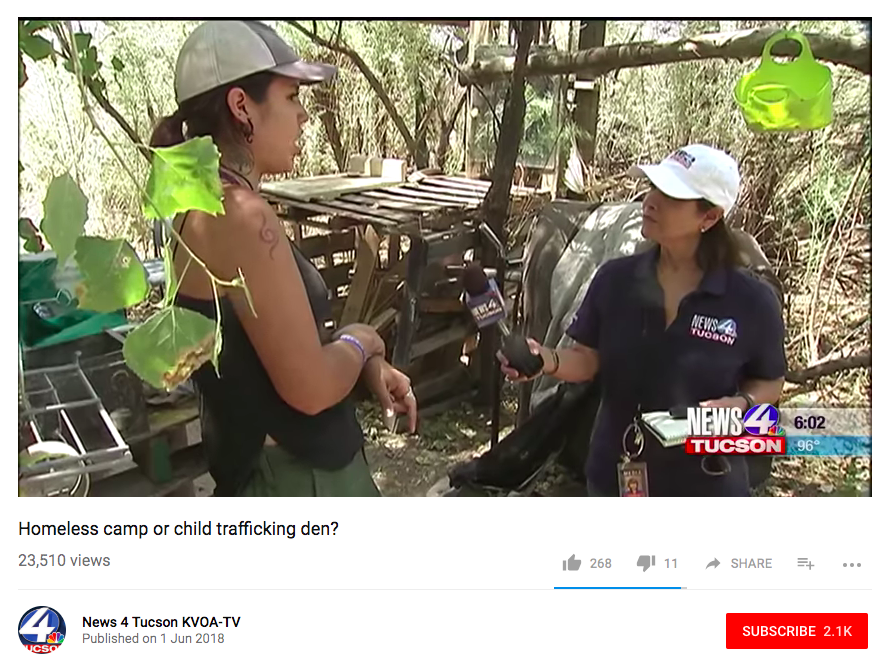 The notion of a dystopian child rape prison located off an interstate highway in Tucson quickly ricocheted through the conspiratorial right-wing media, with both Infowars and the Gateway Pundit promoting the unsubstantiated story. It was also quickly subsumed into preexisting conspiracy theories about child abuse, billionaire George Soros, and the Clinton Foundation — all common subjects of outlandish online conspiracy theories. The location of the camp is reportedly on property owned by Cemex, a Mexican construction materials company that a Soros fund once invested in and that did reconstruction work in Haiti, where the Clinton Foundation was also involved in projects following the 2011 earthquake.

Online forums dedicated to Pizzagate and the sprawling QAnon conspiracy theory also took up the cause, producing long threads of supposed "evidence" that the Tucson camp was part of a much larger child abuse operation involving global elites.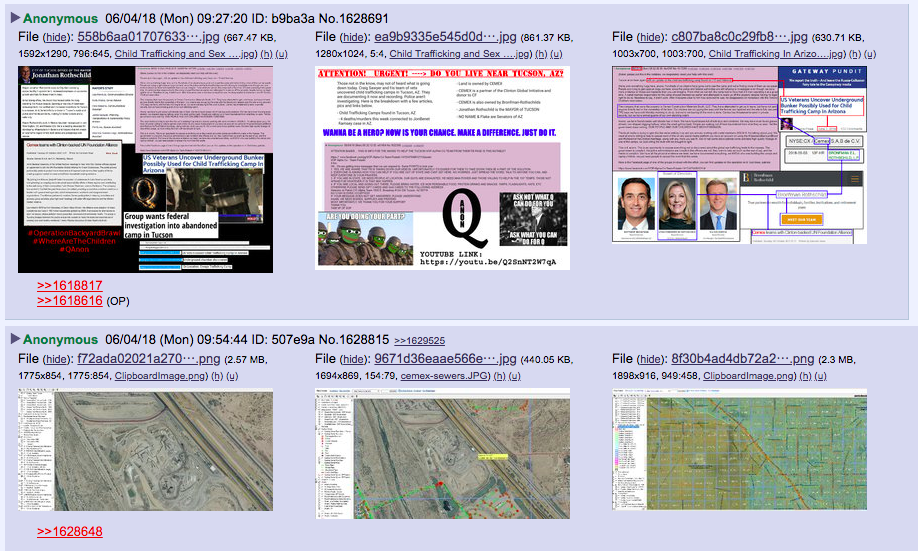 Meyer has continued to fuel those conspiracies with his regular livestream videos from the desert, where he is now leading what he calls "Operation Backyard Brawl" to go after criminals who have supposedly invaded the US's backyard.
"We are specifically targeting a pedophile ring," he said in his most recent dispatch, in which he also hinted darkly at Hillary Clinton's possible involvement.
In another video, Meyer said "certain Catholic parishes" and "banking" interests were impeding a full investigation into the alleged child abuse.
Meyer did not respond to repeated requests for comment from BuzzFeed News. He said he refuses to talk to media and dismissed those who doubt his story.
Kimberly Mehlman-Orozco, an expert on human trafficking, said the speed with which Meyer's claims have spread illustrates how willing many people are to believe any tale, no matter how far-fetched, about child exploitation. This "creates a moral panic" that can hurt investigations into real cases of abuse, she said, and she chided media outlets that spread such stories without proper fact-checking and skepticism.
"They're spreading misinformation because it's a clickbait-worthy story," said Mehlman-Orozco, author of Hidden in Plain Sight: America's Slaves of the New Millennium.
She said child sex trafficking rarely involves kidnappings, dungeons, and "boogie man" villains you might see in movies like Taken. Most of the time, the victims come from marginalized backgrounds and are lured away by someone they trust, or they're groomed over long periods of time on the internet.
"That's how human trafficking typically happens, but the media often latches onto these almost unbelievable accounts that are not necessarily reflective of the reality," Mehlman-Orozco said.
"A virtual, mental tether is much more powerful and stronger than a physical chain."
UPDATE
This post has been updated with comment from US Immigration and Customs Enforcement.