A fake image is being shared on social media that purports to show a GoFundMe campaign to raise bail money for Cristhian Rivera, the man accused of killing a woman in Iowa.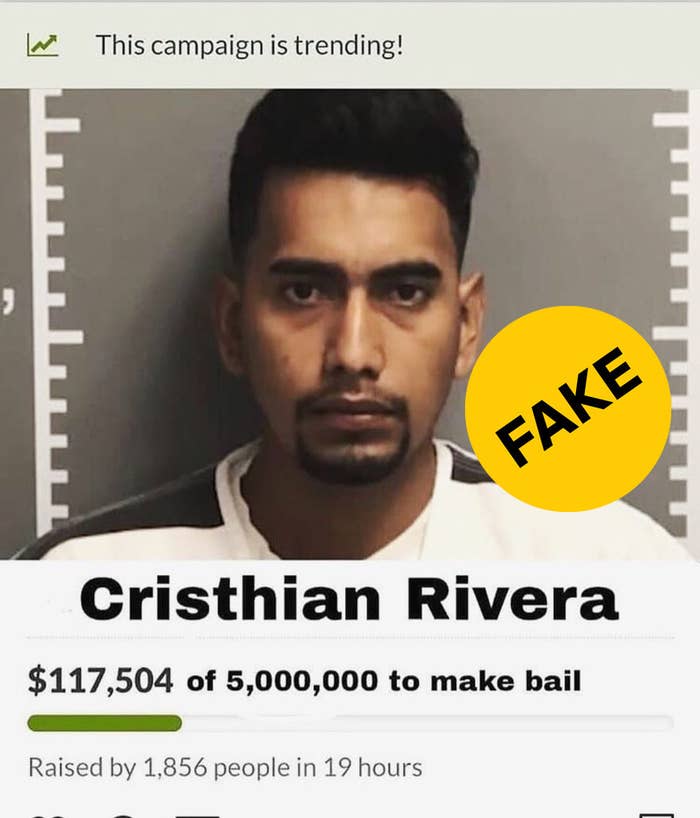 Rivera is charged with first-degree murder in the death of 20-year-old Mollie Tibbetts, who was last seen alive in late July. Her body was found Aug. 21.
The case drew national attention after it became a top story on Fox News and other conservative news outlets, and was mentioned by President Donald Trump at a rally. It has also gotten enmeshed in a larger debate about immigration. According to officials, Rivera is an undocumented immigrant from Mexico, although his lawyer disputes that, saying he is in the country legally.

The fake GoFundMe image has been widely shared on Twitter and Facebook, alongside claims that "liberals" are fundraising for Rivera's bail, which has been set at $5 million.
In a since-deleted tweet to her roughly 200,000 followers, far-right activist Laura Loomer linked the fake campaign to alleged anti-conservative bias from tech companies.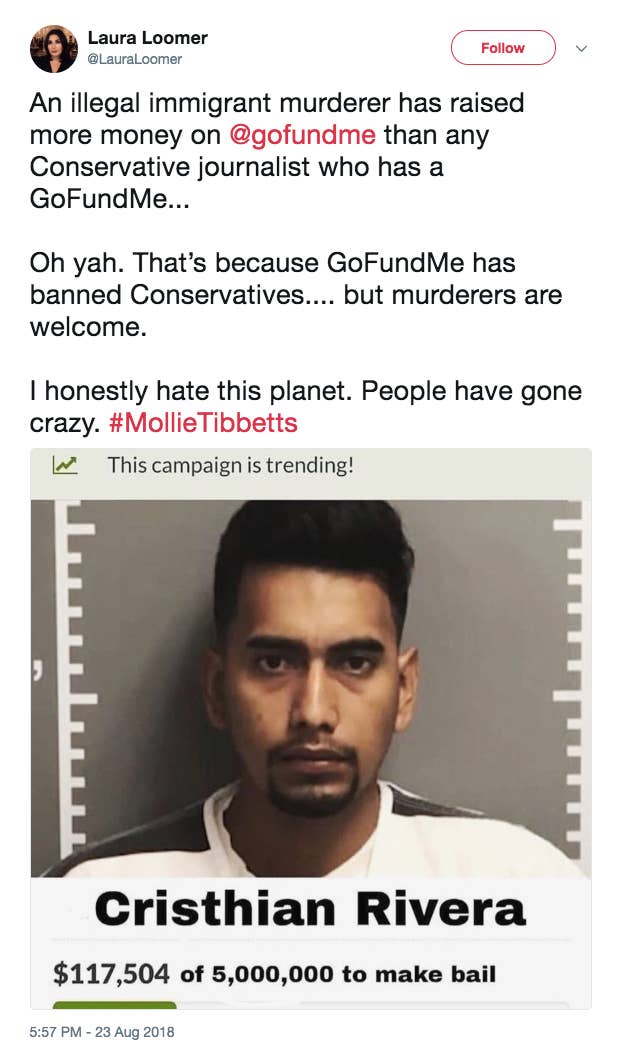 Loomer, who describes herself as an investigative journalist, has a long track record of spreading misinformation and conspiracy theories. Her tweet about the fake fundraiser was shared hundreds of times on Twitter and Facebook before she took it down.
GoFundMe confirmed to BuzzFeed News there was no such campaign to fundraise for Rivera.
"That's not an authentic image of a GoFundMe campaign," company spokesperson Bobby Whithorne said. "That photo has been altered and we can confirm a campaign does not exist for Cristhian Rivera."

As of Friday, the only GoFundMe campaign related to the Tibbetts case is raising $100,000 to pay for a billboard in Brooklyn, Iowa, to display Rivera's face with an anti-immigration message.